By Pat Harty
IOWA CITY, Iowa – Twitter had yet to be created, and Luka Garza was just 5 years old the last time the Iowa football team won at least a share of the Big Ten title in 2004.
In other words, it's long overdue for Iowa's title drought in football to end.
I'm not suggesting that Kirk Ferentz has performed poorly, or that his coaching seat should be hot because the numbers say otherwise.
The Iowa football team finished last season with six consecutive victories, and has a 53-21 record since the start of the 2015 season, including three bowl victories.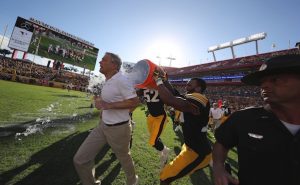 A lot of programs would give anything to have that level of success.
But Iowa isn't like most programs due to several factors, including the 65-year old Ferentz entering his 23rd season as head coach, and because his son, Brian Ferentz, is the offensive coordinator.
The Iowa program also was placed under a microscope last summer when multiple former Iowa black players accused the program of racial disparities and bullying.
Kirk Ferentz admitted to having a blind spot in the wake of the allegations, and has vowed to fix Iowa's culture, and he deserves a chance to do it.
The importance of the allegations certainly can't be minimized, but this column is strictly about football, and about the importance of winning a Big Ten title.
Ferentz has led Iowa to two Big Ten titles, but they occurred during a three-year stretch from 2002-04, and that's a long time ago.
And the longer a team goes without winning a conference title, the harder it becomes, or so it seems.
Iowa has a very loyal and passionate fan base, but even the most loyal fans get bored or complacent after a while.
A seven- or eight-win season just doesn't mean as much as it used to because Kirk Ferentz has had so many seasons that fall into that category.
It's time for Iowa to have a breakthrough season again.
The 2015 season certainly had its share of milestone moments as Iowa finished 12-0 during the regular season. But a gut-wrenching loss to Michigan State in the Big Ten title game, followed by a humiliating loss to Stanford in the Rose Bowl dampened the spirit and overshadowed what happened during the regular season.
But even that season is now almost six years ago.
Winning won't cure all that ails the Iowa football program right now, but there is no better distraction, or a better way of showing that things are moving in the right direction than winning a conference title, or at least by getting to the Big Ten title game.
Northwestern, despite its tough academic standards, has won the Big Ten West in two of the past three seasons, while Wisconsin has won five Big Ten divisional titles.
Wisconsin has also won three Rose Bowls since 1994, while Iowa has lost four consecutive Rose Bowls by a combined score of 164-78.
Iowa's only two victories in the Rose Bowl came after the 1956 and 1958 regular seasons when Forest Evashevski was coaching the Hawkeyes during the days of one-platoon football.
Needless to say, that's a long time ago.
Kirk Ferentz was just 3 years old when Iowa won its last Rose Bowl.
Some might counter this narrative by saying, okay, but what about the Iowa men's basketball team? It hasn't won a Big Ten regular-season title since the 1978-79 campaign.
Fair enough.
It goes without saying that the Iowa men's basketball team is long overdue when it comes to winning a regular-season title.
But this particular column is about the drought in football under the same head coach, whereas men's basketball has had six different head coaches since it last won a Big Ten regular-season title.
Again, I'm not ripping Kirk Ferentz or suggesting that his better days are behind him.
Ferentz might have had one of his best coaching performances this past season, how he took an 0-2 team and then won six games in a row as the nation looked on while waiting for Iowa to crumble under the pressure of adversity, both on and off the field.
In some ways, Kirk Ferentz is hurt by the standard he has created.
It was similar for his predecessor, Hayden Fry, during his latter years at Iowa.
It isn't easy winning nine or 10 games at a developmental program like Iowa. But the more it happens, the easier it becomes from a fan's perception.
Kirk Ferentz, fair nor not, also sets himself up for criticism by having his son as his offensive coordinator because it just gives the naysayers more ammunition.
The Big Ten West appears to be wide open this season, with Iowa certainly in the mix.
Wisconsin never can be overlooked, but Barry Alvarez is retiring as athletic director and the Badger squad that lost to Iowa 28-7 last season at Kinnick Stadium left something to be desired.
It's time for Kirk Ferentz to lift Iowa to a higher level, but that can only happen by winning a Big Ten title for the first time in 17 years.