By Pat Harty
IOWA CITY, Iowa – Kirk Ferentz met with the media for about 30 minutes after Saturday's final spring practice at Kinnick Stadium.
He addressed multiple topics, and voiced his frustration about one specific topic, that being the NCAA's decision to limit contact during preseason practice as part of a growing effort to make the game safer.
As for his team, Ferentz basically said that he was pleased with what he saw and heard this spring.
You can take that for what it's worth because every head coach is optimistic during the spring, and if they weren't, they probably wouldn't share those feelings publicly.
So in a lot of ways, Ferentz's press conference way typical for spring practice, a mix of guarded optimism, while also saying we still have a lot room for improvement.
But there were some quotes from Ferentz that stood out because of the message he was trying to send, or because of the importance of the topic, including the quarterback competition.
So here are 15 quotes from Kirk Ferentz's press conference that certainly caught my attention, and my take on the message Ferentz was trying to send.
Kirk on Spencer Petras and the quarterback competition: "I think he's improving, for sure. But I think more notable are the other guys kind of closing, I don't want to say closing the gap, but moving into the field of consideration."
My take: This was Kirk's way of throwing the fans a bone, but Spencer Petras still is firmly entrenched as the starting quarterback and that won't begin to change unless he struggles out of the gate and Iowa loses to Indiana and Iowa State in the first two games.
2. Kirk on freshman running back Gavin Williams: "The first thing that comes to mind with him is his attitude. He's really serious. He's a football-minded guy. He's just one of those guys that there's no maintenance, ever, academically, football-wise. He just does what he's supposed to do, and he does it in a real quality fashion. So we feel real good about him."
My take: Gavin Williams is an old-fashioned, no-nonsense football player with more substance than style, and that fits perfectly with Kirk Ferentz's mindset.
3. Kirk on freshman running back Leshon Williams: "He was feeling his way in the fall. We didn't have camp, so there's a lot of scout team work there and all that kind of thing. And then in the out-of-season program in shorts, he's okay. But when he has pads on he's a lot more impressive. He's a football player. He's not a combine warrior, one of those guys. And our defensive guys feel the same way, like if you've got to tackle him, it's a little different."
My take: Leshon Williams fits the description of so many other unheralded recruits who would go on to exceed expectations as a Hawkeye because playing football is different than starring in 7-on-7 drills.
4. Kirk on sixth-year kicker Caleb Shudak: "I don't feel great about a lot of things; I feel pretty good about that one. He could've been a starter the last two years.  We watched it every day in practice. So it's one thing the way he performs. But it's also the way he's wired mentally. He's a really mentally tough guy, focused, and just so serious."
My take: Iowa is very fortunate that Caleb Shudak stuck around this long because a lot kickers in his position, and with his skill, might have left after five years of not being the starter.
5. Kirk on the veteran leadership: "The guys that we think are really quality players that have proven themselves as quality players, they've had a great attitude all the way through spring. That sounds mundane. That sounds routine. But you don't always get that, especially with older guys. Sometimes, they think it's spring break instead of spring practice. And they've gone out and shown the other guys this is the tempo you're supposed work at and the other guys are chasing them."
My take: Kirk Ferentz feels pretty good about this team from a maturity, chemistry, focus and leadership standpoint.
6. Kirk on freshman defensive lineman Lukas Van Ness making plays: "He's made them all spring. He's really been going at a high pace."
My take: Lukas Van Ness will contribute this fall on the defensive line.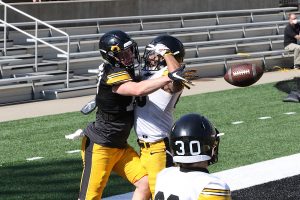 7. Kirk on the depth in the secondary: "I don't want to start celebrating things or whatever, but I almost kind of feel right now as I stand here, we have probably six starters in the defensive backfield. And that's probably a good thing since we play a lot of five DB-stuff right now. I feel like we've seen a lot of growth there."
My take: Kirk believes that the secondary, coached by Phil Parker, is without question the strongest and deepest unit on the team.
8. Kirk on starting safety Kaevon Merriweather: "He's emerged as a leader, too, not just a good player, but as a leader. And he's playing with confidence now. He was kind of a project when we recruited him. He was a better basketball player probably. But I think he's really hit full stride."
My take: Kaevon Meriweather is poised to become Iowa's next great story under Kirk Ferentz, a former high school basketball star, who took a chance on football due to his upside, and now it's starting to pay huge dividends in a program that has long and rich history of turning unheralded defensive backs into stars.
9. Kirk on redshirt freshman linebacker Jestin Jacobs: "Jestin Jacobs has made huge improvement in 15 days. He needed this work so badly. He's always been a good prospect, but, boy, he's turned into a pretty good player right now. And he's developing some confidence, too, because he's out there working and those are the good things that you see in the spring. So that's what you're hoping, all these little individual stories, and hopefully, they'll come together here in August."
My take: The light seems to have turned on for Jestin Jacobs, and look for this former 4-star recruit from Ohio to be Iowa's third linebacker with Jack Campbell and Seth Benson.
10. Kirk on the NCAA's recent decision to cut back on contact in practice: "We have to develop players. We have to do that. Most college teams do. There's some that don't. But we have to do that. And you have to practice to develop players. So I'm a little concerned, and it all starts with you can only learn how to play football by playing football."
My take: Kirk is all for trying to make the game safer, but he strongly believes that limiting the amount of contact in preseason practice will have just have opposite effect, and he's upset with NCAA officials for over-reacting, and for hurting the future of the game.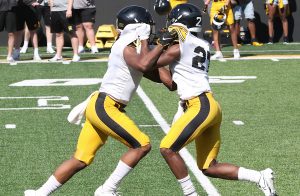 11. Kirk on cornerback Riley Moss and why he reminds Kirk of former Iowa cornerback Jovon Johnson: "Once we started practicing, he had a knack, and it seems that (Jovon) got his hands on a ball every day at practice. But he's a defensive back. That doesn't always happen. Riley's kind of had that kind of spring. He made two, not this week, but the week before, in one practice, balls were getting batted around and somehow he came out with two of them in the same practice, fighting for a ball with another guy, an offensive guy."
My take: Riley Moss has a chance to be special.
12. Kirk with more on his frustration with NCAA rule changes about practice: "It's just good to be practicing. We didn't do a pie-throwing, or a pie in the sky, or a pie in the face contest today, or anything like that. With the NCAA rules that are about to come out, we may end up doing that in August because I'm not sure we're going to be allowed to practice, so we'll have times for those kinds of things.
My take: Kirk Ferentz is really upset with the NCAA's decision to limit contact in practice, and this is just a subtle way of expressing that anger with a sarcastic jab.
13. Kirk on the hiring of Barbara Wilson, a long-time administrator at Illinois, as the University of Iowa's 22nd president: "Great news on that yesterday, and congratulate everybody involved with that whole process. I'm sure it was very time consuming, but it looks like it's been a great addition to the Hawkeye family. So I certainly welcome her to campus."
My take: Kirk Ferentz needs the support from the new president and this was good public relations and awareness, and a classy gesture on his part.
14. Kirk on fans returning to Kinnick Stadium: "I think one other thing of note, in college football right now we're really getting ready to, hopefully, get back to more normal circumstances football-wise, just like our whole country, hopefully, we're getting closer that way. I did wear a mask out there, and I'm pretty sure I heard a top medical officer say this week you don't have to wear them outdoors. So I fully appreciate that."
My take: If Kirk Ferentz has his way, Kinnick Stadium will be full for games this fall because he believes the circumstances are now safe enough from a health standpoint for that to happen.
15. Kirk on the changing times in college athletics with regard to the transfer portal, and with the growing popularity of name, image and likeness: "This is kind of the time where everybody accesses things, we're accessing things and trying to meet with our players and tell them what they need to do moving forward. And I'm sure we'll have some guys at some point, every year you have some guys that decide they're going to have other opportunities or whatever. But it's going to be interesting to see how all of this plays out because it's a new and a little bit different landscape than what we're used to."
My take: Kirk Ferentz knows that he has to change with the times, but he still doesn't want fans to be surprised or alarmed when some players enter the transfer portal this spring and summer because there is no avoiding it. And he isn't convinced that all of these new changes are what is best for college athletics.