By Pat Harty
IOWA CITY, Iowa – If I were to pick one word to describe Iowa Athletic Director Gary Barta at this stage in his career, it would have to be polarizing.
A polarizing person is defined as inherently divisive, and often loved and hated in equal measure.
To say that the 57-year old Barta is inherently divisive probably isn't fair, but to say that he is both loved and hated by Hawkeye fans is fair because it's accurate.
I can say that just from my many interactions with fans, either on social media, through e-mails or just in conversations.
On one side, are Barta supporters who appreciate his many successful head coaching hires, and his ability to generate revenue through fundraising.
On the other side, are the Barta naysayers and critics, who blame him for Iowa recently cutting four sports, and for not showing enough sympathy to the student-athletes in those four sports; for the Jane Meyer/Tracey Griesbaum discrimination law suits that cost Iowa more than $6 million; for the Roy Marble jersey retirement controversy, and for coddling Kirk Ferentz.
And that's just part of a list of complaints that I've heard from fans about Barta.
The most recent complaints about Barta's leadership came after former Iowa basketball player Devyn Marble tweeted that he never would watch another Iowa game again.
Marble's tweet came shortly after Iowa announced in the moments after the final the regular-season game that no one in the basketball program would wear Luka Garza's No. 55 again.
Devyn Marble was upset because he apparently felt that Iowa didn't show his father, Roy Marble Sr., the same respect.

Roy Marble had been Iowa's all-time leading scorer until Garza surpassed him this past season. Iowa also made the NCAA Tournament in each of Roy Marble's four seasons, and won a school-record 30 games in his sophomore season in 1986-87.
But instead of retiring Roy Marble's jersey No. 23, Iowa honored him during a home game in 2015 in a bittersweet ceremony as Marble was battling cancer.
Barta said at the time that Iowa would no longer retire jersey numbers. But that now seems more like it was convenient lip service because Iowa has since retired both Garza's jersey No. 55 and Megan Gustafson's jersey No. 10 in women's basketball.
Barta basically backed himself into a corner, and his words came back to haunt him.
Barta issued a public apology to Devyn Marble and his family if they were offended by how Garza's jersey retirement was handled.
It was a horrible look for Iowa, and for Barta, because it made what he said in 2015 about not retiring jerseys seem disingenuous to a Hawkeye legend who was suffering at the time.
Roy Marble lost his fight against cancer on Sept. 11, 2015 at the age of just 48.
Barta also clearly mishandled the discrimination cases involving former Iowa athletic administrator Jane Meyer and former Iowa field hockey coach Tracey Griesbaum, or at least that's how the jury felt, and that is really all that matters.

And Barta's contract negotiations with Kirk Ferentz have left something to be desired because they've been too one-sided with Ferentz having almost all of the leverage with his 10-year contract and enormous buyout.
The fact that multiple former Iowa black players accused the football program of racial disparities last summer also reflected poorly on Barta because it happened under his watch, and because there were warning signs that mostly were ignored.
I couldn't begin to tell you how many times an Iowa fan has reached out to ask how and why Barta still has a job.
That question resurfaced last summer during the racial unrest, and after Barta apologized to Devyn Marble and his family in March. And it will likely resurface every time there is a controversy involving Iowa athletics.
Some fans just don't respect Gary Barta's job performance and they are certainly entitled to their opinion because Barta has made some critical mistakes that have been costly, and that have caused resentment and shame.
However, with that being said, I still believe the good outweighs the bad with Gary Barta, and that's why I've never felt that his job should be in jeopardy.
I'm sure that will upset some people, including some who I consider friends, but I'm just being truthful.
For years, the Iowa athletic department had struggled, and in some cases failed miserably, to be competitive in multiple men's and women's sports. Iowa consistently finished near, or at the bottom in the Governor's Cup standings amongst Big Ten schools.
It was frustrating, embarrassing and maddening for fans, and it seemed there was no end in sight.
But then Barta started hiring head coaches in multiple sports, and most of those hires have since paid huge dividends.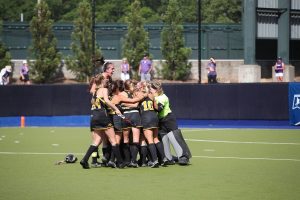 From Joey Woody in track and field to Lisa Cellucci in field hockey to Dave DiIanna in soccer to Rick Heller in baseball to Tyler Stith in men's golf to Sasha Smid in women's tennis, the list of Barta's successful head coaching hires is long and distinguished.
The Iowa softball program is also showing signs of making a resurgence under head coach Renee Gillispie.
Not since the mid-1980s has Iowa had this level of success in multiple men's and women's sports, and Barta deserves credit for that.
One could argue that hiring head coaches is the most important part of being a college athletic director, and Barta is currently thriving in that area.
He made a huge mistake in hiring Todd Lickliter as the Iowa men's basketball coach, but he also got rid of Lickliter after just three seasons, and replaced him with Fran McCaffery, who has since made Iowa respectable again.
Iowa still hasn't advanced past the second-round of the NCAA Tournament in 11 seasons under Fran McCaffery, and that's a point of contention with some fans.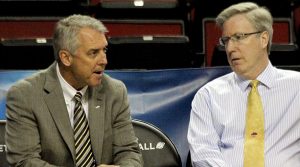 But the men's basketball program now consistently makes the NCAA Tournament after having been in shambles when McCaffery was hired in 2010.
It's also worth noting that Barta got Steve Alford to step down as the Iowa men's basketball coach in 2007 by applying public pressure on Alford to keep winning.
Barta had only been on the job since 2006, but he took a stand with Alford, who then resigned abruptly to take the New Mexico job, and much to the delight of Iowa fans, who had grown tired of Alford.
Barta's head coaching hires, combined with his ability to raise money and lead a program free of scandal and corruption is impressive.
The global pandemic has certainly presented some huge challenges, and the decision to eliminate four sports is part of the fallout. It's sad and unfortunate that so many many lives were impacted, and maybe Iowa did panic and overreact.
But there is no denying the financial shortfalls caused by the pandemic, or is there a simple answer on how to fix things.
Barta also took a leave of absence in 2017 after being diagnosed with prostate cancer.
So he has certainly had his share of obstacles to overcome, both personal and job-related. That's not an excuse, but just a fact.
It will be interesting to see how having a new president will impact Barta's job.
Barta and current president Bruce Harreld have had what appears to be a solid working relationship, and they both seem very supportive of each other, and have usually agreed on key issues.
But will it be the same between Barta and incoming president Barbara Wilson?
A long-time administrator at the University of Illinois, Wilson has dealt with a number of difficult athletic issues, including the firing of Illinois Athletic Director Mike Thomas and head football coach Tim Beckman in 2015 when she was interim athletic director.
The purpose of this column isn't to get fans to change how they feel about Gary Barta, because at this point, you either support him or you don't.
I just wanted to share where I stand with regard to Barta because I've been asked that question numerous times without having answered before.
And my guess is this column will be as polarizing as Barta himself.