By Pat Harty
IOWA CITY, Iowa – This column started with trying to choose one member of the Iowa football team to write about based on several factors, including the player's potential, his opportunity to contribute, and his importance to the team.
And while it would've been easy to pick star center Tyler Linderbaum, or all-Big Ten running back Tyler Goodson, or Grateful Dead-loving quarterback Spencer Petras, I instead picked middle linebacker Jack Campbell.
Why?
Because his potential is enormous, his opportunity is huge and his importance to the team as the starting middle linebacker can't be overstated.
Iowa has to replace three starters on the defensive line, including All-America defensive tackle Daviyon Nixon and All-Big Ten defensive end Chauncey Golston, so that puts even more pressure on the linebackers to perform at a high level.
Campbell is entering his third season in the program, making him a veteran in some ways.
But he also is just two years removed from high school, and just 20 years old.
Iowa finished spring practice on May 1, and for the 6-foot-5, 243-pound Campbell, it was his first experience with spring practice as a Hawkeye.
Iowa's 2020 spring practice was canceled due to the outbreak of the Covid-19 global pandemic.
Campbell met with the media after the final spring practice and talked about the progress that was made during the 15 practices spread out over five weeks, and about his goal of getting stronger during the summer.
But what really stood about Campbell's interview is what he said about trying to become a better leader.
"Something I'm going to focus on this summer is grabbing the young guys and just bringing them under the wing because this is what the Hawkeye program is built off of, just bringing young guys and getting them to grow," Campbell said. "I hate to say it, but we're not bringing in five-star athletes left and right. We're a developmental program."
Campbell was also asked about whether his height helps him as a linebacker, and his answer to that question also stood out.
"I feel like I can use my height to my advantage in coverage, just being able to cover a little bit more down (field)," Campbell said. "But I think it boils down to how bad do you want it, and your effort and attitude every single day.
"And that's something I try and pride myself on is I come in every single day ready to work, no matter if I feel terrible or not. It's go time."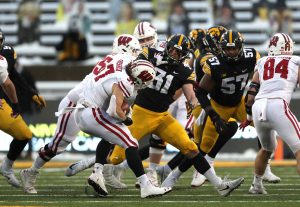 In other words, Campbell prides himself on being tough, hard-nosed and determined because it takes all three of those qualities to play football, especially at the Big Ten level, and especially at linebacker.
Football has been described as the ultimate team sport because it takes the effort and productivity from so many to be successful.
But if you were to rank positions in order of importance, linebacker, and especially middle linebacker, would be near the top.
Campbell appeared in 11 games as a true freshman in 2019, and then saw action in the final five games last season after having missed the first three games with an illness that was not Covid-19 related. He recorded 29 tackles, including 21 solo stops, had 4.5 tackles for loss and one sack last season. He also had an interception late in the fourth quarter of Iowa's 28-7 victory over Wisconsin in the regular-season finale at Kinnick Stadium.
Campbell seemed to get better with each game, and the Iowa defense will need him and fellow junior linebacker Seth Benson to stay on their upward paths throughout the 2021 season.
Built for football
The first time I saw Campbell compete in any sport was his junior year as a member of the Cedar Falls High School basketball team.
He wasn't the best player on the court, or the second or third best player on the court.
But right away, you could see what made Campbell a major college football recruit.
He certainly held his own on the basketball court on that wintry night in 2018. But his size and ruggedness were better suited for football, and as it turns out, Campbell was just a few months from committing to the Iowa football team, which he did in May of his junior year.
And now just three years later, Campbell is showing signs of being Iowa's next great linebacker.
He isn't there yet, and may never get there.
But his path to greatness is clearly defined.