By Pat Harty
IOWA CITY, Iowa – The sport of football has been very good to Marv Cook, and he has certainly reciprocated, first as a star player and then as a high school head coach.
Football changed the course of Cook's life, how it paved his way to the University of Iowa where he became an All-America tight end under Hayden Fry before playing seven seasons in the NFL, three of which he earned All-Pro recognition.
The game brought fame and financial reward, and has introduced Cook to countless people who he now considers friends for life.
The game brought him joy and happiness, and has allowed him to touch the lives of so many young kids in a positive way.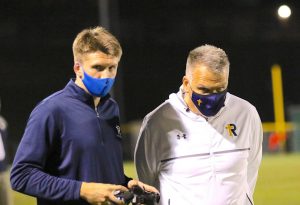 A relationship with a sport that has spanned nearly a half century now enters into a new phase as the 55-year old Cook has decided to step down as the head football coach at Iowa City Regina where he won seven state titles during 14 seasons.
Cook announced his decision to step down in an open letter to Hawk Fanatic on Thursday.
In addition to being one of the greatest Iowa football players of all-time, Cook is also one of the greatest high school football coaches of all-time in his home state.
Regina took a chance on him, partly because he was Marv Cook, but whatever he lacked in experience, he made up for with his passion for the game, and with his strong desire to help impact the lives of so many impressionable teenagers.
Football is much more than just a game, and that's how Cook has approached his job as the head coach at a Catholic school that used to be his biggest rival, with Cook having grown up in West Branch.
Cook was fortunate to have coached his two sons, both of whom were star quarterbacks for Regina. But every player was special to Cook, and no player was bigger than the team.
Football has allowed Cook to teach life's lessons to hundreds of kids during a critical stage in human development.
Much of what he learned from Hayden Fry has been used to inspire and guide his players at Regina. Fry was a master motivator, and a leader in every sense of the word.
And regardless of the level of football, being a head coach is about earning the trust and respect of your players.
It's about building a culture that breeds success, but without cutting corners or taking short cuts because nothing comes easy in football.
Cook ran the show at Regina, and the buck stopped with him.
But that was hard to tell during games because Cook always kept a low profile on the sideline, and gave his assistant coaches freedom and power to express themselves and to exert their authority.
Cook now enters into a new phase of his football life as a spectator.
The timing of his decision to step down makes sense with Cook's youngest of three children, son Ashton Cook, a graduating senior at Regina and a future Iowa State quarterback.
It's easy to forget, or overlook, the amount of time that it takes to coach a high school football team. Fans only see what happens on Friday night, but that is just a small part of the weekly grind and commitment, and the emotional investment.
Friday nights will now look and feel different for Marv Cook, but he has memories that will last forever.
Regina was respectable in football when Cook took over, and he has since made it much better, with the help of a close-knit community that has rallied behind him and his players.
It was obvious with the letter that Cook wrote to announce his decision to step down what coaching at Regina has meant to him, and to his family.
What started as a leap of a faith on both sides is now a significant part of Cook's storybook life that he will cherish forever.