By Pat Harty
IOWA CITY, Iowa – About 10 months ago, veteran recruiting analyst Tom Lemming traveled to central Iowa to visit with star defensive back recruit Xavier Nwankpa, who was beginning his junior year at Southeast Polk High School in Altoona.
Nwankpa already had multiple Power 5 scholarship offers when Lemming interviewed him, and Nwankpa's list of offers has just kept growing.
But Lemming also was introduced on that day to another star on the rise from Southeast Polk, and to say that offensive lineman Kadyn Proctor made a strong first impression would be an understatement.
Lemming was blown away by what he saw and heard from Proctor, and he immediately ranked him as a five-star recruit, which is the highest possible ranking, and Lemming now considers the 6-foot-7, 315-pound Proctor the top offensive lineman in the 2023 class.
"The kid's got great length," Lemming said of Proctor. "He's tall. He's got terrific feet. He's a natural athlete. And he dominated.
"So when you combine all of that, he's got all the tools to be a national recruit."
Nwankpa has earned similar praise as a 6-2, 185-pound defensive back recruit in the 2022 class. He also has great length and terrific feet, and is a natural athlete.
Lemming ranks Nwankpa among the top safeties in the country, and Nwankpa currently has at least 30 scholarship offers, with Ohio State, Notre Dame and Iowa among his top schools
Lemming also left that day impressed by what he saw and heard from 2022 quarterback Jaxon Dailey, who is committed to Arkansas State.
It was clear that day to Lemming that Southeast Polk, a school known more for its wrestling success, had three national football recruits, including two of the top recruits in the nation.
And while it, obviously, helps that the three players are physically gifted, Lemming also credits Southeast Polk head coach Brad Zelenovich for creating the right environment for his players to grow and excel.
"Even the quarterback is real good," Lemming said Wednesday during a telephone interview. "There's three players there.
"You've got to give a lot of credit to the high school coach. He's actually the reason. I don't remember going to that school until this guy got there."
Lemming also was impressed with how Proctor, Nwankpa and Dailey all conducted themselves during the interviews.
"The coach brought them out and we were talking and I always take notes about being respectful kids, and the whole group was real respectful," Lemming said. "You don't get that a lot. I go see everybody nationally and, sometimes, you see kids that aren't real respectful or just full of themselves and everything.
"But (Kadyn) and Xavier and the quarterback were all great kids."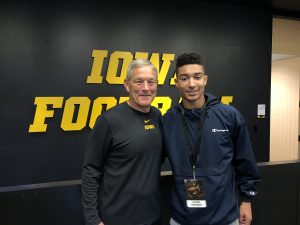 Proctor and Nwankpa are both high on Iowa's recruiting radar and wish list. But as Lemming pointed out Wednesday, convincing them both to stay home and play for Iowa won't be easy with practically every traditional powerhouse program also working hard to sign them.
"Once a kid becomes national, it's tough for Iowa with the superstars. And I don't know why," Lemming said. "Especially if you're an offensive lineman, you should be looking at Iowa."
Lemming, for years, has spoken very highly about Iowa coach Kirk Ferentz's ability to develop offensive linemen, and that was the case again on Wednesday.
"When you go to Iowa' you're always going to be good as an offensive lineman," Lemming said. "They're the best at developing offensive linemen under Kirk."
Whether Ferentz's influence turns out to be enough to convince Proctor to be a Hawkeye remains to be seen.
Proctor still has two years of high school remaining, and that gives him a lot of time to make an important decision, and a lot of time for schools to make their sales pitch.
Iowa fans are hopeful that Proctor will follow in the same path as former Hawkeye All-America offensive lineman Tristan Wirfs, but as Proctor said recently on Twitter, he is not a Tristan Wirfs clone.
Please let me be myself and yes we know where he went to school. It's up to me if I choose Iowa in the end. I am Kadyn not a Tristan clone. I am me.

— Kadyn Proctor (KP) (@KadynProctor1) June 15, 2021
Wirfs was a four-star recruit from Mount Vernon, and now starts at right tackle for the Super Bowl champion Tampa Bay Buccaneers after having been selected in the first round of 2020 NFL Draft.
Wirfs committed to Iowa before the start of his junior year, so his recruitment never really took off at his choosing.
Proctor's recruitment, on the other hand, continues to intensify as the nation's top schools try to land him.
"At this stage, he's ahead of Tristan Wirfs," Lemming said of Proctor. "He's more athletic and super dominant.
"Tristan was real good, too. We had him real high, but not this high. And then Tristan went on to get better and better in college, too."
Lemming has worked as a recruiting analyst since the late 1970s and he still travels across the United States in order to evaluate high school recruits in person.
Proctor might be the highest rated offensive lineman that Lemming has evaluated from Iowa.
Lemming bases his individual rankings on personal interviews, and from what he sees on tape, but pays little attention to a recruit's list of offers.
"I don't give anybody five stars based on offers," Lemming said. "I give it to them by production. And that's why I like to go see kids and talk to them. I don't care about offers. I care about seeing impact players."
Proctor and Nwankpa are the latest in a growing list of instate football recruits who have received national acclaim.
It seems every year now that Iowa has at least one or two elite recruits, whereas that didn't used to be the case.
Lemming thinks the success of Iowa and Iowa State in football has helped to upgrade the instate talent.
"I think a lot of it has to do with both Iowa and Iowa State being really good now," Lemming said. "So attention is put on football in college, and there's always that trickle-down effect where kids growing up say, 'hey, I want to be a Hawkeye. I want to be a Cyclone.
"So I think with both schools doing great on a consistent basis, kids are growing and maybe picking football over basketball or baseball, or other sports."
Recruiting also has evolved to where more schools are recruiting at the national level, and even beyond that with help from social media.
"When I started 43 years ago there were just two national teams, Notre Dame and UCLA," Lemming said. "Now everyone is national. Because of technology, you can recruit everywhere you want, including Canada and Europe.
"So because of technology, there's no longer a 300-mile sort of wall that people say, hey' we've got recruit within a 300-mile radius.' Now it's all national. Everyone is national. Iowa is national. No one offers more national people than Iowa State does. They might be like 500 offers a year."