By Pat Harty
IOWA CITY, Iowa – There was a time not long ago when a highly decorated football recruit from instate picking Iowa State over Iowa would have been almost unheard of because it rarely happened.
Hayden Fry in addition to dominating Iowa State on the field during most of the 1980s and 1990s also dominated instate recruiting during that time.
It wasn't until former Hawkeye Dan McCarney took over at Iowa State in 1995 that the Cyclones started to win some instate recruiting battles, but they were few and far between.
Kirk Ferentz also has won a lot more instate recruiting battles against Iowa State than he has lost, but it's getting harder as evidenced by Hunter Deyo's commitment to Iowa State on Saturday.
Deyo is a four-star defensive lineman from Lewis Central High School in Council Bluffs.
He picked the Cyclones over scholarship offers from Iowa, Wisconsin, Oregon, Arkansas, Kansas State and Minnesota.
He also picked the Cyclones because Matt Campbell has something special brewing in Ames.
Considered one of the rising stars in college football, Campbell has lifted Iowa State to unprecedented success.
The Cyclones are coming off a nine-win season in which they defeated Oregon 34-17 in the Fiesta Bowl. It was Iowa State's first New Year's Six bowl appearance, and most of the key players from that team are back, including All-America running back Breece Hall and three-year starting quarterback Brock Purdy.
There is a good chance that Iowa State could be ranked in the top 10 heading into the 2021 season, so it's easy to see why Deyo picked the Cyclones.
Campbell has a lot to sell, and as long as he stays in Ames, the Cyclones should be formidable because he's a winner and a leader.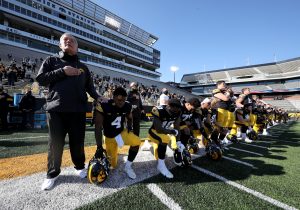 But with all of that being said, it's still premature to think that Iowa State has surpassed Iowa in football; not with the Hawkeyes having won the last five games in the series, not with Iowa having closed the 2020 season with six consecutive victories, and not with Iowa considered one of the top contenders in the Big Ten West Division.
This year's game in Ames has a chance to be a classic, at least on paper, as both teams could be ranked and destined to have great seasons.
But for now, the balance of power still tilts towards Iowa because Campbell has yet to defeat Iowa, and because Iowa has shown staying power under Ferentz, who is entering his 23rd season as head coach, and is the longest tenured head coach in college football.
Iowa has made 17 bowl appearances since 2001, and it would've been 18 if the 2020 Music Bowl matchup against Missouri hadn't been canceled due to Missouri having positive Covid-19 cases.
Ferentz's image certainly was tarnished by the racial unrest from last summer when multiple former Iowa black players accused the program of racial disparities.
Fair or not, opponents are now probably using that against Iowa in recruiting where it seems almost anything goes in the spirit of salesmanship.
But even with the racial unrest, Iowa responded to a 0-2 start last season by winning its final six games.
That wouldn't have happened without talent, unity and a winning culture.
Hunter Deyo's commitment to Iowa State didn't really come as a surprise. But that says more about Iowa State's rise under Campbell than anything else.
Those assuming that Iowa is on the verge of having a decline under Ferentz can only assume at this point because the results on the field don't suggest that.
Iowa has a combined record of 53-21 since 2014 with three bowl wins.
And while it's been a while since Iowa has won a Big Ten title (2004), Iowa State has won't a conference title since 1912.
This could be the year when the Cyclones finally end the drought, but Oklahoma should have something to say about that.
Deyo's commitment to Iowa State continues a tough recruiting stretch for Iowa, which also lost two tight ends over the past week, including one to the Cyclones.
But games still are won on the field, and Iowa State hasn't defeated Iowa since 2014 when Paul Rhoads was the head coach.