By Tyler Devine
IOWA CITY, Iowa – At long last, Iowa football season is upon us.
The No.18 Hawkeyes take on No. 17 Indiana in the season opener on Saturday in Kinnick Stadium.
Much has been written and talked about leading up the game, including which team holds the advantage at certain positions.
On paper, it appears to be Indiana strictly based on experience. The Hoosiers boast multiple graduate transfers from other Power Five schools and arguably the best quarterback in the Big Ten heading into the season.
So let's take a look.
Quarterback
After a rough start to the 2020 season, junior Iowa quarterback Spencer Petras led the Hawkeyes to six straight wins to close out the COVID-shortened season. During that six-game win streak Petras threw for 1,088 yards, eight touchdowns and two interceptions.
However, Iowa faces a stiff challenge in junior Indiana quarterback Michael Penix, who passed for over 1,600 yards in six games last season before suffering a season-ending ACL injury.
Prior to the injury, Penix led the Big Ten in several statistical categories including passing yards, passing touchdowns and completions.
Though his rushing statistics won't blow anyone away, Penix is also a threat with his legs.
Advantage: Indiana
Running Back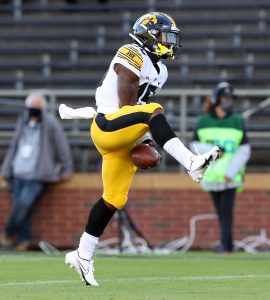 Iowa returns 2020 first-team All-Big Ten running back Tyler Goodson whose 762 rushing yards ranked third in the Big Ten. The 5-foot-10, 199-pound Goodson also ranked fourth in the Big Ten with seven touchdowns. The Hawkeyes also return senior Ivory Kelly-Martin who has six career starts and just over 600 career yards.
Indiana brought in Southern Cal graduate transfer Stephen Carr in May. The 6-foot-1, 215-pound Carr rushed for 1,329 yards and 12 touchdowns in 35 games at USC. He also caught 57 passes for 421 yards and a touchdown. Carr's backup, David Ellis, moved from receiver to running back during spring practice last season and had 61 rushing yards in 2020.
Advantage: Iowa
Wide Receiver
Iowa lost Ihmir Smith-Marsette and Brandon Smith to NFL. The Hawkeyes return juniors Tyrone Tracy and Nico Ragaini and senior Charlie Jones. Jones has primarily been used as a return specialist, but Tracy and Ragaini combined for 34 receptions for 345 yards in 2020. True freshman Keagan Johnson is the other receiver listed on the Iowa two-deeps.
Indiana's Ty Fryfogle was named the Big Ten Receiver of the Year and a third-team All-American in 2020. The Hoosiers also have graduate transfers D.J. Matthews Jr. from Florida State and Camron Buckley from Texas A&M, both of whom have a plethora of experience. Redshirt junior Miles Marshall had 19 receptions for 290 yards last season.
Advantage: Indiana
Tight End
Junior Sam LaPorta was Iowa's leader with 27 receptions in 2020 and was second on the team with 271 yards. Backup Luke Lachey saw action in one game last season before redshirting.
Indiana's Peyton Hendershot is a two-time third-team All-Big Ten selection. The 6-foot-4, 254-pound Hendershot started all eight games last season and had 23 receptions for 151 yards and four touchdowns. Backup Matt Bjorson has played in 33 games.
Advantage: Indiana
Offensive Line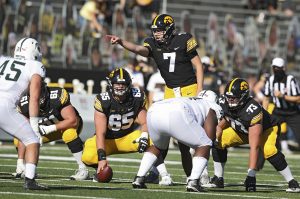 Iowa boasts arguably the best pound-for-pound offensive lineman in college football in junior Tyler Linderbaum. The 6-foot-3, 290-pound Solon native was named a preseason first-team All-American by five different publications. Senior Kyler Schott is out for at least the Indiana game. After that, Iowa's four other starters have a combined eight career starts.
On paper, Indiana seems to have the advantage strictly based on experience, and the Hoosiers led the Big Ten with just 1.25 sacks allowed per game in 2020. But it's hard to argue against an offensive line led by Linderbaum.
Advantage: Iowa
Defensive Line
Iowa lost consensus All-American Daviyon Nixon and it will now be up to redshirt freshman Yahya Black and junior Noah Shannon to pick up the slack. Black and junior defensive end John Waggoner are expected to make their first career starts. The Hawkeyes return 2020 second-team All-Big Ten selection Zach VanValkenburg.
Indiana led the Big Ten in sacks last season and returns 76% percent of that production. The Hoosiers added Ole Miss gradute transfer Ryder Anderson and Northern Illinois graduate transfer Weston Kramer. Senior Demarcus Elliott was an honorable mention All-Big Ten selection in 2020 and has started 18 games during his career.
Advantage: Indiana
Linebacker
Iowa returns Jack Campbell and Seth Benson who are preseason third-team All-Big Ten selections. Junior defensive back Dane Belton started all eight games last season, including six at the linebacker/defensive back hybrid CASH position.
Indiana returns a decent amount of experience at linebacker, including 2020 first-team All-Big Ten selection Micah McFadden. This one is close.
Advantage: Indiana
Secondary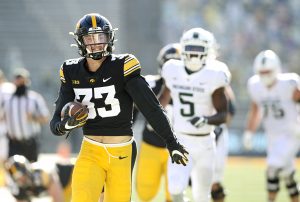 This is about as close as it gets between these two teams. Iowa returns all four starters from a year ago. Senior defensive backs Riley Moss and Matt Hankins, sophomore safety Kaevon Merriweather and junior safety Jack Koerner have a combined 66 career starts.
On the other side, Indiana returns 2020 first-team All-Big Ten cornerback Tiawan Mullen and second-team All-Big Ten cornerback Jaylin Williams. The Hoosiers also have Bryant Fitzgerald at the Husky position, who had three of Indiana's Big Ten-leading 17 interceptions last season. Senior safety and 2020 third-team All-Big Ten selection Devon Matthews enters his third year as a starter.
Advantage: Indiana
Specialists
Iowa placekicker Caleb Shudak missed his only career field goal attempt, but Iowa returns 2020 Big Ten Punter of the Year and Charlie Jones led the Big Ten with 10.5 yards per punt return last season.
Indiana's Charles Campbell was 10-for-11 on field goals last season, but the Hoosiers have true freshman James Evans at punter. Reese Taylor returned nine punts for 73 yards last season.
Advantage: Iowa