By Pat Harty
IOWA CITY, Iowa – At the risk of sounding like Captain Obvious, Tory Taylor is the Iowa football team's best punter since the great Reggie Roby.
And that covers a lot of successful punters over the past four decades.
Roby is the standard to which all Iowa punters are compared, and until Taylor, the comparisons were kind of silly.
Roby set the bar so high that his level of performance was beyond reach for every Iowa punter until Taylor came from down under.
A native of Melbourne, Australia, Taylor is part of a new trend in college football in which Power Five teams are recruiting punters from Australia.
The 24-year old Taylor was named Big Ten Co-Special Teams Player of the Week on Monday, along with Rutgers punter Adam Korsak, who is also from Melbourne, Australia.
Taylor averaged 51.1 yards on eight punts in Iowa's 27-17 victory over Iowa State this past Saturday in Ames. His longest punt traveled 69 yards, and four of his punts were downed inside the Iowa State 10-yard line.
Taylor's ability to shift field position, coupled with the Iowa defense forcing four turnovers, were the two biggest factors in the victory.
And to think, Taylor never had punted in a football game before joining the Iowa program before the start of the 2020 season.
He played Australian rules football while growing up in Melbourne where the object of the game is to kick an oval-shaped leather ball between the middle goal posts worth six points, or between a goal and behind a post for one point. Taylor became very skilled at using his foot to kick, but he never had participated in the kind of football played in the United States until becoming a Hawkeye just last summer.
His lack of experience had little effect, though, as Taylor would go on to become the Big Ten Punter of the Year as a freshman last season, averaging 44.1 yards on 40 punts.
He figured to be a strength for Iowa this season, but after two games, Taylor has exceeded expectations.
It's hard to think of an Iowa punter since Roby that dominated a game the way in which Taylor dominated the Iowa State game with his booming punts, and with how he pinned the Cyclones deep in their own territory.
Former Iowa offensive coordinator Don Patterson made his usual Monday appearance on the Hawk Fanatic radio show and podcast and he talked about the similarities between Taylor and Roby as punters, and about how the current Iowa team is starting to resemble Iowa's 1981 squad that relied mostly on a rock-solid defense and Roby's punting to win a Big Ten title.
Asked if Taylor is Iowa's best punter since Roby, Patterson said:
"Yes. I would think so. And what's encouraging to me, last year, the only complaint I had I was hoping he would also learn how to be a conventional punter. And he's proven, of course, that he can do that.
"As a matter of fact, there's an argument, especially when you're punting into a pretty strong wind is if it's  rugby punt, if the ball's end over end, you end up with quite a bit of wind resistance, or course, And the beauty of being able to spin the ball off your foot, which Roby could do so well, and that Tory can do well, it does a better job of boring through the wind. And we saw that on Saturday."
Taylor worked hard during the offseason to improve his spin on the ball, and now that work is paying off as he ascends to a level of greatness that seemed inapproachable.
That Taylor is even being mentioned in the same sentence with the legendary Reggie Roby is incredible.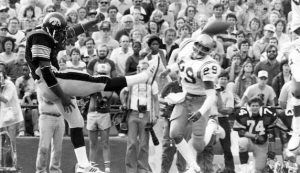 Sadly, Roby died far too young in 2005 at the age of 43, but his legend will live on forever, how he helped lead the rebuild under Hayden Fry in the early years just by repeatedly shifting field position.
The Iowa defense fed off Roby's punts, while Roby fed off the Iowa defense.
In 1981, Roby set an NCAA record with a 49.8 punting average, and Iowa also made it to the Rose Bowl for the first time in 23 years.
In 1982, he led the nation again in punting, this time with a 48.1 average.
Roby would go on to play for 16 seasons in the NFL with five different teams. He made three Pro Bowls, and twice made All-Pro in 1984 and 1994.
It was the stuff of legends, and to see finally see another Hawkeye punter perform at a similar level is stunning.
Iowa had plenty of high quality punters between Roby and Taylor, punters such as Jason Baker, Ryan Donahue, Nick Gallery, David Bradley and Ron Colluzi just to name a few.
And though Michael Sleep-Dalton only punted for one season at Iowa as a graduate student in 2019, he performed well, and as a native of Geelong, Australia, helped to tap the recruiting pipeline to Australia.
Iowa special teams coach LeVar Woods spent nearly a full day sitting in a cramped airplane while traveling to Taylor's home in Australia during the recruiting process.
Wood's flight to Melbourne was boring, uncomfortable and agonizingly long, but it was also well worth it based on what Taylor is now accomplishing.
Iowa is ranked fifth in this week's Associated Press poll and will be heavily favored in its next two games against Kent State on Saturday at Kinnick Stadium and against Colorado State the week after.
In some ways, fans would prefer not to see Taylor on the field because his presence is the result of a drive that stalled.
Teams would prefer not to punt, obviously, but it's unavoidable, and its impact is huge.
And with Taylor, there is a level of excitement and anticipation when he takes the field to punt. You almost forget that the Iowa offense just stalled because you're so eager to see the ball sail off his foot.
Last Saturday's game in Ames will be remembered mostly for Iowa State quarterback Brock Purdy being benched early in the fourth quarter, and for how Tory Taylor shifted field position with a performance that was reminiscent of Reggie Roby.
Iowa fans would be wise to enjoy Taylor while you can because he has future NFL punter written all over him, probably sooner than later, given his age.
It's also nice to think of Reggie Roby again because of what he means to Hawkeye football.