By Pat Harty
IOWA CITY, Iowa – Ten takeaways from the Iowa football team's 27-17 victory over Iowa State this past Saturday in Ames:
Iowa might have its best defensive backfield in 23 seasons under Kirk Ferentz, and that's saying a lot.
The top five defensive backs from last season returned this season and Matt Hankins, Riley Moss, Jack Koerner, Dane Belton and Kaevon Merriweather are all performing at an extremely high level.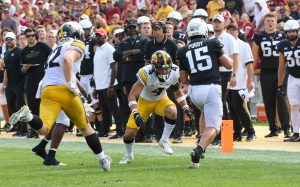 Moss had two pick sixes in the 34-6 victory over Indiana in the season opener, while fellow cornerback Hankins had two interceptions in this past Saturday's 27-17 victory at Iowa State.
Koerner also made a tackle in open field against Iowa State All-America running back Breece Hall early in the first quarter that prevented a long gain, if not a touchdown, while Merriweather has two breakups in two games.
2. Iowa center Tyler Linderbaum just keeps getting better as he showed on one particular play in which he pushed an Iowa State linebacker about 10 yards down field on a pancake block. Linderbaum has only allowed one pressure in two games and his leadership has been crucial for an Iowa offensive line that is breaking in three new starters.
3. Iowa quarterback Spencer Petras has to have better awareness in the pocket in order to avoid sacks that take his team out of field-goal position. Petras was sacked four times against Iowa State, and he hung on to the football and stayed in the pocket far too long on three of them.
Petras has to be more willing to scramble from the pocket, either to avoid a sack, or to gain yards.
His predecessor at quarterback, Nate Stanley, also was a reluctant runner and scrambler, but he improved over time. Stanley was also bigger and stronger than Petras and that allowed Stanley to absorb hits in the pocket without going down.
4. Iowa has two players in Linderbaum and sophomore punter Tory Taylor who are arguably the best players at their position in all of college football. Taylor punted eight times for a 51.1 average against Iowa State, and had four of his punts downed inside the Iowa State 10-yard line.
"It's a brotherhood, I can honestly tell you," Taylor said. "I honestly know it sounds cliche but everyone has got everyone's back from a football point of view, and from a personal point of view."
5. Iowa State's football facilities are top-notch, with exception to the press box, which doesn't have air conditioning. But that's also not football's concern or responsibility. The recently updated football facilities are visually appealing and conveniently located and that just sends out a positive vibe, which helps with recruiting.
6. Matt Campbell's decision to bench three-year starting quarterback Brock Purdy early in the fourth quarter against Iowa sent the wrong message because it seemed to indicate that Campbell was singling out Purdy for blame when there was plenty of blame to go around. Purdy without question struggled and made some poor throws and decisions. But Iowa State also had dropped passes and missed blocks that caused the offense to sputter.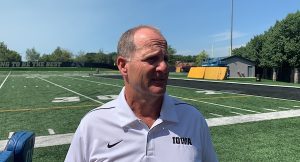 7. Iowa defensive coordinator Phil Parker makes approximately $1 million annually, but you could still argue that he is underpaid as one of the best defensive coordinators in college football. With some defensive coordinators such as Clemson's Brent Venables making over $2 million annually, Parker's salary is a bargain for Iowa.
Bo Pelini made over $2 million in salary during his brief and disastrous stint as the LSU defensive coordinator, but his defense performed woefully.
Iowa head coach Kirk Ferentz is fortunate to have the 58-year old Parker running his defense. But Ferentz might want to consider giving Parker another raise.
Parker also has been loyal to Iowa as member of Ferentz's original coaching staff dating back to 1999. And he also coaches the defensive backs in addition to being the coordinator.
8. Iowa's top three linebackers – Jack Campbell, Seth Benson and Jestin Jacobs – are all performing at a high level, especially in regard to making sure tackles. Jacobs also forced a fumble against Iowa State that Campbell returned six yards for a touchdown in the third quarter.
Campbell had eight tackles against Iowa State, including six solo stops, while Benson and Jacobs finished with five and four tackles, respectively against the Cyclones. Benson led Iowa with 10 tackles against Indiana in the season opener.
"We all want to see each other succeed," Jacobs said. "We all have a standard for each other. We all trust each other."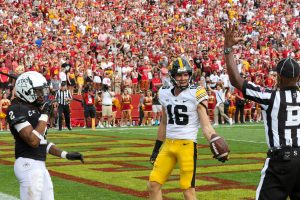 9. Two of Iowa's most important players transferred into the program wanting to show that they could compete at the highest level in college, and defensive end Zach VanValkenburg and receiver/return specialist Charlie Jones have certainly met the challenge.
VanValkenburg has had a strong start to this season after making third-team All-Big Ten last season, while Jones has developed into a force as a punt returner, and is now making an impact at receiver.
VanValkenburg played his first three seasons at Division II Hillsdale College in his home state of Michigan before transferring to Iowa in 2019. He had six tackles against Iowa State and one quarterback hurry.
Jones, a native of Deerfield, Illinois, and a transfer from Buffalo, caught a 26-yard touchdown pass from Spencer Petras in the second quarter against Iowa State, and also returned four punts for 53 yards. Jones led the Big Ten, and ranked 11th nationally last season, with a 10.5 average.
10. Iowa's defensive line has performed well so far this season despite having to replace three starters from last season, including Big Ten Defensive Player of the Year Daviyon Nixon and first-team All-Big Ten defensive end Chauncey Golston.
Iowa used eight defensive linemen against Iowa State, which was crucial on such a hot day, and they all held their own. The eight defensive linemen who played in addition to Van Valkenburg were Logan Lee, Noah Shannon, Joe Evans, John Waggoner, Yahya Black, Deontae Craig and Lukas Van Ness.
Defensive line coach Kelvin Bell and assistant defensive line coach Jay Niemann both deserve praise for having developed quality depth, and for how they have distributed playing time. Imagine how competitive practices are with eight defensive linemen in the mix for playing time. It's a tribute to Iowa's recruiting, and to how well the coaches develop players.