By Pat Harty
IOWA CITY, Iowa – Kirk Ferentz believes strongly that the game of football should be played a certain way in terms of style and approach.
Iowa's 66-year old head coach believes the run should be used to set up the pass with a 60/40 run-pass ratio almost always the goal, along with protecting the football, controlling the tempo, and melting the clock late in games when leading.
Ferentz is more about grit than flash.
He's more about enforcing his will than using gimmicks or trick plays.
Protect the football, move the chains with persistence, sound fundamentals and toughness, and good things will happen.
That's been Kirk Ferentz's philosophy since he became the head Hawk in 1999, and while there was the New Kirk era in which Ferentz switched quarterbacks, went for it on fourth down more than usual and started thinking outside the box just a little, his approach, and how he believes an offense should run hasn't really changed that much.
Ferentz's offensive philosophy has been a hot topic in the wake of Iowa losing back-to-back games against Purdue and Wisconsin by scores of 24-7 and 27-7, respectively.
It marks the first time since Ferentz's first season as head coach in 1999 that Iowa has scored seven or fewer points in back-to-back games.
Iowa has gone from being ranked second nationally to trailing Minnesota in the Big Ten West Division, and to being in a three-way tie for second place in the division with Purdue and Wisconsin, but without having the tie-breaker in either case.
But this is far from being the first time that the Iowa offense has sputtered, or the first time that fans have questioned Kirk Ferentz's approach to offense, or said that he has to modernize his offense, or accused him of being too stubborn.
You stay in one place for 23 years and certain storylines will be recycled, and that's what is happening right now with the offense struggling.
"The trick is getting everything to mesh at once, to get that '02 offense and that '04 defense to be on the same team," Ferentz said in reference to Iowa's 2002 and 2004 Big Ten champion teams. "You get that, boy, I will tell you, you're in business. That's what makes it challenging, I think, for most programs. It's a challenge because you just never know where those strengths are going to lie on a football team and then you just try to yield toward them.
"But yeah, I'm not even sure I know what modernize means anymore, quite frankly. To me the end game, the end result we're all shooting for, it's not about winning or losing but really it kind of is because that's how people feel good or they feel bad, and my wife has said that for probably about 40 years now, it's as simple as that."
In this age of spread offenses in which the pass is used to set up the run, or in which the pass is used almost exclusively, Kirk Ferentz is a throwback and a traditionalist.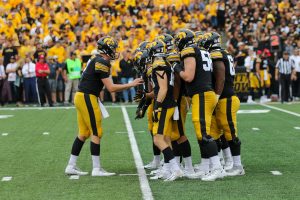 If he ever had an inkling to change, it probably would've happened by now.
Some thought that it might happen when Ferentz's son, Brian Ferentz, was promoted to offensive coordinator after Greg Davis retired from coaching after the 2016 season.
Brian Ferentz was largely responsible for the New Kirk phenomenon, but his influence over his father only goes so far.
Some fans are clamoring for Kirk Ferentz to make a change at offensive coordinator, saying that Iowa needs to hire an offensive-minded coach who will modernize the offense and better utilize the talent on offense.
Besides being a complete over-reaction to two losses, considering Iowa has won 12 of its last 14 games, and has a 59-23 record since the start of the 2015 season, it's a misguided way to think because fans also complained about the same thing when Ken O'Keefe and Greg Davis were the offensive coordinators.
When will those fans realize that the offensive coordinator, even if it's Kirk Ferentz's son, only has so much power and control?
Iowa's offense is Kirk Ferentz's offense, and will be his offense in terms of style and approach for as long as Ferentz is in charge.
That isn't meant as criticism, or as a complaint, because you don't accomplish what Kirk Ferentz has as the Iowa head coach without knowing what you're doing.
His offense might be boring at times, predictable at times and ineffective at times, but it's hard to argue with Kirk Ferentz's body of work.
"I feel like we've for the most part been able to find a solution somehow, some way fairly consistently," Ferentz said. "Nothing is perfect certainly, but fairly consistently. That's what we're trying to do right now. We're trying to find the next solution."
Ferentz was told on Tuesday that some Wisconsin players were quoted in the Wisconsin State Journal as saying that they knew every time Iowa came to the line of scrimmage what running play would be called.
While some fans might consider that alarming, Ferentz hardly seemed worried or surprised.
"I'd say based on their stats they've had a pretty good idea of what everybody is running against them because nobody has really run it well against them outside of Michigan," Ferentz said. "I think that's the only team. And Army, too. Army, that's what they do, option attack.
"We are fairly predictable and there's certain formations, all that type of thing. But I'm not too concerned about that really, quite frankly. They played a heck of a defensive game, and they have been. They've been playing pretty consistently all year outside of that Michigan game."
That wasn't the first time that Ferentz has acknowledged that his offense is predictable at times, and then downplayed it.
Ferentz believes that being predictable shouldn't matter if you execute properly and perform as a cohesive unit.
The problem is when you don't execute and run plays that are predictable against good teams, you get a result like last Saturday against Wisconsin, and then fans get frustrated with the offense being predictable.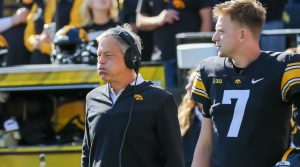 This has been an ongoing thing with Kirk Ferentz and Iowa fans. This is just the latest episode.
Kirk Ferentz is in an awkward situation with the offense struggling, and with his son running the offense.
Iowa is currently ranked last in the Big Ten in total offense (291.5), last in yards-per-play (4.43), 13th in rushing offense (105.0), 13th in yards-per-rush (2.88) and 10th in pass efficiency (117.9).
Those are dismal numbers that finally caught up with Iowa in the win/loss column in the last two games.
Fans have a right to expect more from the offense, but Kirk Ferentz also has a right to do what he feels is best based on his track record.
But as bad as things seem right now, Iowa still has a very realistic chance of winning the Big Ten West Division, and winning 10 games.
Iowa will likely be favored in its final four regular-season games against Northwestern, Minnesota, Illinois and Nebraska.
"It's kind of funny, let's say we started 0-2 and now we're on a six-game winning streak how everything would be turned around and different like last year," said junior center Tyler Linderbaum. "It's your next step forward and kind of pushing through some things. We've got a lot of good players and a lot of good guys on this team, a lot of great leadership, and obviously, a great coaching staff that has been around a lot of different teams."
"So, I'm excited to see how we respond."
Linderbaum was referring to Iowa winning its final six games last season after having started 0-2.
It's easy to overlook with all the gloom and doom that Iowa is 12-2 over its last 14 games dating back to last season.
The offense was a work in progress throughout the 2020 season, sometimes a slow and frustrating work in progress, and it's the same again this season.
There is no denying that Iowa's offense is by far the weakest part of the team.
And that has caused some to question the offense, and whether it's time for Kirk Ferentz to change his approach.
Fans and the media certainly have the right to question the offense, but to think that Kirk Ferentz would make wholesale changes at this stage in his career is just being naïve.
To think that he would do anything drastic or extreme during a season is even more far-fetched.
"You can't change your system wholesale in season," Kirk Ferentz said. "That would be really counterproductive, and you can't go out and get mercenary players, either. That's not part of the deal in college football.
"You try to forge ahead. I guess if there's any good thing here, we have plenty of experience. You can go back historically and look at a lot of our seasons. Can't think of many that didn't have bumps and adversity along the way."
Brian Ferentz might add a few wrinkles here and there in hopes of lighting a spark, but the offense is what it is under his father.
Iowa isn't built for a spread offense, and doesn't recruit many players that fit a spread offense.
There is a method to Kirk Ferentz's approach to offense that is deeply rooted in his belief about how football should be played.
And he's not about to let a two-game losing streak suddenly change what he believes.