By Pat Harty
IOWA CITY, Iowa – Jordan Bohannon is now the Big Ten's all-time leader in 3-point field goals with 378, his team is 4-0 and his sophomore teammate, Keegan Murray, continues to produce Luka Garza-like numbers.
That's a brief summation of Iowa's 108-82 victory over Alabama State on Thursday at Carver-Hawkeye Arena.
Iowa has won all four its games this season by at least 17 points and it should've won all four games in convincing fashion based on the level of competition.
That's meant as no disrespect to Alabama State, or to Longwood, Missouri-Kansas City or North Carolina Central, but they were all huge underdogs on paper, and it was the same on the court.
Bohannon made history on his third attempt from the game, and his 375th career 3-pointer came during a stretch in which Iowa outscored the Hornets 28-10 to begin the game.
He finished with four 3-point baskets and Iowa finished with a program record 20 treys overall.
"You have to work really hard to accomplish something like that," said Iowa coach Fran McCaffery. "I'm not talking about during the offseason.. I'm talking about since you are a little kid.
"Dreaming one day that you are going to play at this level and perform consistently the way he has is truly impressive, and I'm really happy for him and proud that I got to coach him."
Alabama State played zone defense throughout the game and Iowa feasted off of that.
"I don't see a lot of teams playing us 40 minutes of zone," Fran McCaffery said. "I just don't. And I didn't think they would play a zone in the second half because I've seen this team play man-to-man and play really well at Western Kentucky to start the season. They have athletes. I thought they would play more man, or I thought they would mix it.
"They had success against Iowa State, and Iowa State goes one for twenty from three the other night. So I think they felt good about it, so they came out in our game with it, but I think it's hard to hit twenty threes if a team is playing man-to-man."
McCaffery was referring to Iowa State's 68-60 victory Alabama State on Tuesday when the Cyclones missed all but one of their 20 3-point field-goal attempts.
Shortly after Thursday's game, Bohannon said he received a call from former Ohio State player Jon Diebler, who had held the 3-point record since 2011.
"He called me a couple minutes ago and just wished me the best," Bohannon said. "He congratulated me and asked how I was doing and everything.
"It's pretty special to see a guy like that I just passed in the record books. He gave me a little crap talk, too, for the extra year I had. But he's a great guy. I talked to him last year a little bit, and he's always been in touch. It's great to have him call me and wish me the best and congratulated me."
Story continues below
Bohannon is playing in his sixth season at Iowa and is on course to break the NCAA record for most games played.
The former Linn-Mar star, who is the son of former Iowa quarterback Gordy Bohannon, took advantage of the NCAA's decision to give student-athletes an extra year due to the global pandemic.
Bohannon waved to the fans as they cheered for him coming out of a timeout with just under 16 minutes left in the first half.
Iowa then continued to pour it on behind the 6-foot-8 Keegan Murray, who finished with 26 points, six rebounds and four assists, and behind a barrage of 3-point baskets.
Keegan Murray, who is the son of former Iowa basketball player Kenyon Murray, and the twin brother of Iowa forward Kris Murray, has now combined to score 102 points in four games.
Keegan Murray also grabbed a career-high 21 rebounds and blocked four shots in the 86-69 victory over Kansas City on Tuesday.
It was reasonable to assume that Iowa wouldn't for a while, if ever again, see another player score at the incredible rate that Garza did in each of the past two seasons. But Keegan Murray is doing that right now, less than a year after Garza played his final game as a Hawkeye.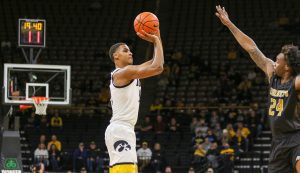 And Murray has made it look so easy, rarely forcing shots, or taking bad shots.
Keegan Murray scored 22 points in the first half to help give Iowa a 63-36 lead at the break. He also had five rebounds, four assists, one block and one steal in the first half.
Junior point guard Joe Toussaint also played well in the first half, scoring 11 points and dishing out six of his game-high 11 assists. The Bronx, New York native also made both of his shots from 3-point range in the first half.
Bohannon made without question the most celebrated 3-point basket in Thursday's game, but Toussaint's success from 3-point range was also significant, because if the 6-foot Toussaint can become any kind of threat from 3-point range, then watch out because that could take his game to a new level.
Keegan Murray is clearly taking his game to a different level, and the next step will be to do it against better competition.
Iowa should be heavily favored in its next two games against Western Michigan and Portland State, but then the level of competition will rise considerably when the Hawkeyes play at Virginia on Nov. 29th as part of the Big Ten/ACC Challenge.
Alabama State was playing its fifth road game in 10 days, and it looked like it.
Fran McCaffery started all reserves to begin the second half, but he put the starters back in the game for brief stretches in the second half.
Senior guard Connor McCaffery started Thursday's game in place of his brother, 6-9 sophomore forward Patrick McCaffery, who missed the game due to a sore leg.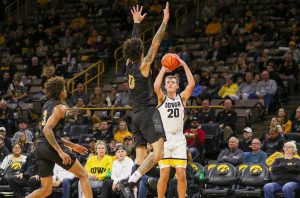 Freshman forward Payton Sandfort came to Iowa with a reputation as a talented 3-point shooter and he showed why in Thursday's game, making five treys and scoring a career-high 21 points.
The Waukee native, who helped lead his high school team to a state title as a senior, isn't bashful about shooting from 3-point range and it's easy to see why. Iowa has to develop more reliable 3-point shooters after losing so many from last season's team, and the 6-7 Sandfort could help fill that void.
"I hadn't been shooting it great in the past games, but coach (McCaffery) and Connor and J-Bo, they kept telling me to keep shooting it,' Sandfort said. "Jordan talked to me after the last game and said, what do you do after a miss? And the answer is keep shooting it.
"So that's been my mentality. I've been shooting it well in practice and I needed to see one go in in a game, and to finally get hot felt good."
Iowa lost some of its best 3-point shooters from last season's team, including Garza and guards Joe Wieskamp and C.J. Fredrick, so there should be plenty of opportunities for Sandfort to contribute in that role.
"That's obviously the role they kind of brought me here for," Sandfort said. "That's what I did in high school. That's what I've done my whole life. I'm looking forward to playing more games and keeping it rolling."
Sandfort was asked if he could imagine making 375 3-pointers, which had been the previous record set by Diebler.
"I made my seventh tonight," Sandfort said. "I've got a long ways to go. I mean that's awesome for him. He's been such an awesome leader and role model for me."
Kris Murray returned from an illness that caused him to miss the North Carolina Central game and contributed 17 points off the bench in Thursday's game.