By Pat Harty
ORLANDO, Florida – Kirk Ferentz owes it to the Iowa fans, and to his employer, to play who he feels gives the Iowa football team its best chance of winning.
Whether that turns out to be Spencer Petras or Alex Padilla at quarterback against Kentucky in the Citrus Bowl on Saturday remains to be seen.
Ferentz declined to say who would start at quarterback in the Citrus Bowl when asked Friday at a press conference.
"I guess you'll know at one o'clock, probably before that actually," Ferentz said in reference to the eastern time zone starting time for Saturday's game. "I really don't think it's that big of a deal. I know it is to everybody, been asked about it. But we have faith in both guys. Both guys have done a great job. "
While it is a big deal for some in the media, and for many fans, I have no issue with Kirk Ferentz refusing to say who will start at quarterback, although, I'd be shocked if it isn't Petras, who has a 13-5 record as Iowa's starting quarterback. There is no real benefit to saying in advance who will start behind center.
Ferentz has his reasons for being coy and secretive and more power to him. He doesn't owe anybody an explanation.
And it really isn't that big of a deal because the Iowa offense looks pretty similar regardless who plays quarterback.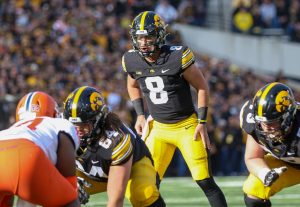 Padilla is more mobile than Petras, but the offense doesn't change much with Padilla behind center.
If Ferentz believes that not saying in advance who will start at quarterback helps his team, then fans and the media should just accept that.
The struggling Iowa offense needs all the help it can get, and perhaps this is Ferentz's way of helping just a little from a preparation standpoint.
Petras and Padilla both probably know who will start on Saturday, so it's probably business as usual for them.
Ferentz did say earlier in the week that he doesn't plan to use both quarterbacks, so whomever starts could go the distance if he performs well.
Iowa won all three games that Padilla started when Petras was injured, and Padilla had moments when he performed well, especially after he replaced Petras in the first quarter against Northwestern.
But Padilla also struggled at times and failed to do enough to win the job entirely.
A strong case could be made for playing both quarterbacks, but that's just isn't the way that Kirk Ferentz operates. He never has been comfortable rotating quarterbacks because he thinks it prevents the offense from establishing a rhythm.
However, if Petras struggles as the starter, Ferentz is more likely to turn to Padilla, or vice versa since both quarterbacks now have experience.
The handling of quarterbacks is a delicate process, so perhaps Ferentz is doing what he feels is in the best interest of both Petras and Padilla.
There is speculation that either Petras or Padilla will enter the transfer portal depending on who ultimately wins the job. So maybe Ferentz is just trying to quell that speculation for now.
Or maybe this is Ferentz's way of showing respect for both quarterbacks by not naming a starter. publicly.
Whatever the case, Ferentz certainly has the right to handle it this way.
Kentucky, on the other hand, is firmly set at quarterback as Penn State transfer Will Levis will enter Saturday's game with nearly 3,000 yards.
Levis made his first and only start for Penn State at quarterback against Iowa last season and completed 13 of 16 passes for 106 yards and also ran 15 times for 34 yards during a 41-21 loss.
Levis has blossomed at Kentucky, however, and will challenge the Iowa defense as a passer and runner.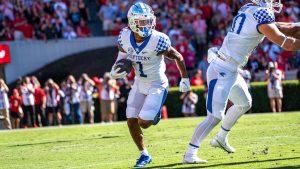 He also has the luxury of throwing to Wan'Dale Robinson, who started his career at Nebraska. Robinson leads Kentucky with 94 catches for 1,164 yards and seven touchdowns.
Ferentz was asked Friday if there are any advantages from having already faced Levis and Robinson.
"I don't know if it's an advantage," Ferentz said. "We know they are good players. I think they are playing at a really high level right now. They played well at their previous schools. But they are playing at a high level."