By Pat Harty
ORLANDO, Florida – There are so many factors that contribute to winning a football game at any level; effort, execution, intangibles, and some good luck, just to name a few.
But in the case of the Iowa football team, its matchup with Kentucky in the Citrus Bowl on Saturday could ultimately be decided by which offensive line performs better.
Iowa is known for having rock-solid offensive lines, and 66-year old Iowa head coach Kirk Ferentz is sort of regarded as an offensive line guru. He coached the Iowa offensive for nine seasons under Hayden Fry in the 1980s and was also a highly respected offensive line coach in the NFL for six seasons before replacing Fry as the Iowa head coach shortly after the 1998 campaign.
Iowa's reputation as an offensive line powerhouse was mentioned at a Friday press conference when a reporter asked Ferentz and Kentucky head coach and former Iowa defensive back Mark Stoops the following question:
Both programs have outstanding offensive lines, kind of the mainstay of the programs. In your opinion, what's the difference between a good offensive line and a really great offensive line?
The problem with that question is that both programs don't have outstanding offensive lines right now.
In fact, Iowa's offensive line isn't close to being outstanding, nor is it close to being as good as Kentucky's veteran offensive line, which is led by All-America senior tackle Darian Kinnard and senior center Luke Fortner.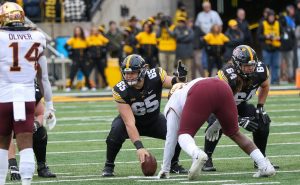 Iowa has arguably the top collegiate center in the country in junior Tyler Linderbaum, but his supporting cast leaves much to be desired due partly to injuries, poor execution and inexperience, although, it's hard to blame a lack of experience heading into the 14th game of the season.
"Compliment Kentucky's line, there is a difference right now," Kirk Ferentz said. "We're not as veteran as we'd like to be. We have as good a center as there is in the country, although, they've got an outstanding center as well. We had a tough year outside of that. We had a couple veteran players that were injured. So, we played a lot of young guys this year.
"But we're 13 games into it now. We should be better. We should be more developed than we were back in September. I think I've seen progress each and every day in practice with our good and hopefully that will show tomorrow. It's going to need to if we're going to have a chance in this game."
Iowa has a chance to win 11 games for just fourth time in program history despite only averaging 119.8 rushing yards per game.
Kentucky has a chance to win 10 games for the first time since 1977, and much of the credit goes to its offensive line, which has paved the way for Kentucky to average 206.1 rushing yards per game.
Kentucky averages 86.3 more rushing yards per game than Iowa averages, and that is perhaps the biggest reason Iowa could be in trouble on Saturday.
Iowa combined to rush for just 204 yards in its three losses to Purdue, Wisconsin and Michigan. That's less than what Kentucky averages per game.
The Badgers held Iowa to just 24 rushing yards on 30 carries during a 27-7 victory on Oc. 30 in Madison, Wisconsin.
The Iowa offense has a tendency to unravel when the running game sputters.
The inability to sustain a rushing attack takes away play action and that makes it difficult for Iowa quarterback Spencer Petras to function in the pocket where he is most comfortable.
Fellow quarterback Alex Padilla is more mobile than Petras, but even Padilla struggles when the running game sputters.
That's why the offensive line will have to rise to the occasion on Saturday and finally live up to its somewhat undeserving reputation as a powerhouse.
Iowa could catch a break if Kentucky defensive end Josh Paschal is unable to play due to health reasons, which seems likely based on what Mark Stoops said Friday.
"He really wants to play, but I don't feel like I can play him with a clear conscious," Mark Stoops said.
But on the other hand, Iowa will be without its leading rusher, Tyler Goodson, who has opted out of playing in the Citrus Bowl to prepare for the 2022 NFL draft.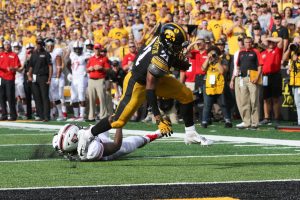 Fifth-year senior Ivory Kelly-Martin and redshirt freshman Gavin Williams are expected to share the rushing load with help from seldom-used redshirt freshman Leshon Williams.
"The answer is we will probably play all three of them, rotate them in there," Kirk Ferentz said. "In certain situations, we may favor one over the other, but feel good about the group as a whole."
It might not matter who plays running back if the offensive line fails to execute.
Iowa has relied mostly on its defense and special teams to win 10 games this season, but that might not be enough to defeat 9-3 Kentucky, which is battled tested from playing in the Southeastern Conference.
Iowa offensive coordinator Brian Ferentz, who is Kirk Ferentz's son, has been widely blamed for the offensive deficiencies, along with Petras.
But in fairness to both, their jobs become much more difficult when the offensive line struggles.
The Iowa offense looks entirely different when the offensive line excels at run blocking because that sets the table for everything else.
And it's the same with Kentucky.
"I will say for us I've always felt that way really going back all the way back to my college days, one thing about the offensive line is they kind of set the tone for your team," said Mark Stoops, who lettered as an Iowa defensive back from 1987 to 1989. "First of all, there's a large group of them. There's 15, 16, 17, 18 large men walking around all the time and just with their attitude and their persona and the way they carry themselves, the attitude, the toughness that they carry kind of sets the tone for your team.
"So, it's extremely important. Both leagues are line-of-scrimmage leagues. You need to be good on both sides of the line of scrimmage and it kind of starts there."
Iowa's offensive line will have to set the tone on Saturday or it could be a steep hill to climb.
But on too many occasions, the offensive line has failed to meet the challenge against quality opponents, even with Linderbaum playing at a star level.
That's why it's hard to see Iowa prevailing on Saturday.
Prediction: Kentucky 23, Iowa 20