By Pat Harty
IOWA CITY, Iowa – Kirk Ferentz met with the media on Wednesday, and for the first time since Iowa's loss to Kentucky in the Citrus Bowl.
College football's longest tenured head coach addressed multiple topics during the 45-minute press conference.
Wednesday marked the traditional national signing day for football, but there was little discussion about recruiting since Iowa only signed one player on Wednesday after having signed 17 players during the early signing period in December.
That one player is cornerback Deshaun Lee, who attends the same high school in Michigan from which current Iowa defensive backs Kaevon Merriweather and Brenden Deasfernandes graduated.
Kirk Ferentz said they're still recruiting for the 2022 class, and he didn't rule out adding more players.
Ferentz also addressed his decision to dissolve the advisory committee that was formed in the wake of accusations of racial disparities in the summer of 2020 and his plans for restructuring it.
He talked about Iowa's offensive deficiencies and was asked about concerns with nepotism since his son, Brian Ferentz, is the Iowa offensive coordinator.
Kirk Ferentz also explained why he is worried about the future of college football in this age of the transfer portal and with the growing impact from name, image and likeness.
And he addressed the remarks that Iowa quarterback Spencer Petras made after the Citrus Bowl in which Petras talked about how the criticism directed at him has affected his parents, and especially his mother.
There was a lot to cover in less than an hour, and some of what was discussed on Wednesday was uncomfortable, to say the least.
Ferentz was asked about David Porter's group message to members of the advisory committee on Jan. 2 in which Porter said that Ferentz should retire and that his entire coaching staff should also be replaced.
Porter, a former Iowa offensive lineman under Kirk Ferentz, was hand-picked by Kirk Ferentz to be the head of the advisory committee.
However, their relationship now seems strained even though Porter said recently that he still considers Kirk Ferentz a friend and a mentor.
When told Wednesday what Porter had said, Ferentz had this response:
"But he thinks I should retire apparently, right?" Ferentz said. "So, we have a difference of opinion. I'm not thinking about that right now, but I respect that. I've got no problem with that."
Ferentz also was asked Wednesday if this controversy could've been avoided if both sides, meaning he and Porter, would've communicated better.
"Well, everything could probably be communicated better," Ferentz said. "I don't have any regrets about my communication. I haven't heard any feedback, negative feedback from the people, and I've reached out to a couple guys individually. But I think the guys all kind of knew — I don't want to say all, but a lot of guys knew where we were heading on this thing. I think they had a good sense of it.
"One thing about life, everybody has opinions, and it doesn't make them facts, but everybody has opinions about things. Smart people can decipher through and try to figure out what's factual."
The subject of nepotism came up near the end of Wednesday's press conference when a reporter asked Kirk Ferentz about nepotism possibly being a factor in Brian Ferentz still having his job as the offensive coordinator despite the many problems on offense.
The reporter reminded Kirk Ferentz that Brian Ferentz has received even more criticism than Petras.
"He's an adult and he's getting paid," Kirk Ferentz said of the difference between criticizing Brian Ferentz and Spencer Petras. "I'm not saying he's fair game, but when you get paid, I look at the world a whole lot different if you're getting a salary versus being a college athlete. That's the way it goes. I've joked about it, but it is the worst position, and with social media it's become the all-time worst position is the guy who calls plays.
"The nepotism, I would say my approach, and believe me, I've thought about all this stuff, we didn't exactly light it up in '04. We were next to last in rushing. I can't remember who was last. But next to last in rushing, but we didn't torch it up or tear the playbook up after that. We were not a very good team, and I still remember like yesterday the spring of '08, Tom Moore in our facility Saturday morning or it was Friday morning, whatever time he got here, ridiculously early, I walk in the conference room and he's watching our film from '07, and I asked him what he was doing. He said, I'm watching your film. I said, why, because we were terrible on offense.
"But my answer there is after those two seasons, we just went back to work, and that's what we do."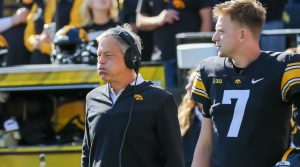 As for the criticism directed at Petras, Kirk Ferentz reminded the media about the pressure with being the Iowa starting quarterback, and in a state where there are no professional sports teams.
"Being a quarterback here is a real high-scrutiny position," Kirk Ferentz said. "We don't have — Terry Bradshaw doesn't play here or Ben Roethlisberger. And there was no social media back then. It was still — it was tough on everybody that was a quarterback during my nine years here. You can imagine what it's like now.
"My first advice to anybody — nobody is going to take this, stay off social media unless you're a glutton for punishment because you can predict when it goes good what's going to be written, you can predict, just like a lot of things, what it's going to look like the other way.
"But he's human, and I'm sure his parents are human, but the only encouragement I would give people is these guys are college students and they may have NILs and they may be able to transfer and all that. They're still college guys, and when you meet them and you guys get a chance to interface with them on a daily basis or a routine basis, they're college guys with a lot of things on their minds and what have you."
Kirk Ferentz also said Wednesday that every position on the team is wide open heading into spring practice.
Iowa has some key positions to fill from a team that won the Big Ten West Division and that finished 10-4 this past season, including the loss of All-America center Tyler Linderbaum, running back Tyler Goodson, defensive end Zach VanValkenburg and defensive back Dane Belton.
The top three quarterbacks all return in Petras, backup Alex Padilla and redshirt freshman Joey Labas.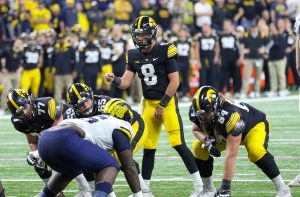 "I mean, everybody has a right to compete," Kirk Ferentz said when asked if the quarterback competition would be wide open this spring. "I'm anxious to see Joe compete, too. He was kind of getting spoon fed in December because he was the only guy out there for a while.
"But yeah, we have to do better. There's several positions, and everybody knows that, we have to do better if we're going to move the ball and score points the way we want to. We don't have to score 45 points a game. I'm hoping we'll continue to play good defense. That's the first thing we tried to establish here outside of special teams 23 years ago.
Ferentz also shared his grim view when asked if he was worried about the future of college football.
"I'm really worried. Yeah, really worried," Kirk Ferentz said.
When asked what worried him the most, he said:
"Everything. It's funny you bring that up, I ran into the first week on the road several coaches that we compete against and I've got a lot respect for, and I think we're all thinking the same thing," Kirk Ferentz said. "My fear is we're going to really ruin and screw up a really good game. College football is a great game. There are a lot of things that have to get worked through right now. The way we're going right now, I don't think it's sustainable. That's one person's opinion."