By Pat Harty
IOWA CITY, Iowa – Kirk Ferentz has problems on offense that are made even worse by his son being the Iowa offensive coordinator.
Brian Ferentz has been the Iowa offensive coordinator since 2017, and while there have been some nice accomplishments under his watch, the offense is without question the team's biggest weakness.
Some will say that Iowa won the Big Ten West Division and finished 10-4 this past season in spite of the offense.
Kirk Ferentz met with the media on Wednesday, and for the first time since Iowa lost to Kentucky 23-20 in the Citrus Bowl on New Year's Day, and his team's offensive woes, and the situation with his son being the offensive coordinator, not surprisingly, were among the topics discussed.
Kirk Ferentz was asked if he thinks the offense might need a scheme change or even a reboot.
"I guess my answer would be we're third in wins since '15. I mentioned '15. Last four years we were second in wins in the conference," Kirk Ferentz said. "That's the ultimate goal for us. It's not all about winning, but obviously when we line up and play on Saturdays, that's what we're trying to do, no matter who we're playing or where it is.
"You do get evaluated on that. I know it's a little bit more detailed now in the sophisticated world of evaluation, but for me that's what I'm fixated on. If they've got the ball 40 minutes and we've got it 20 and we win, I'm happy we won. I'm not happy about the way we won, I'd rather have the ball 40, but ultimately it's finding a way to win."
Critics would argue that Iowa's offense is preventing the team from reaching elite status, and most of the blame is centered on Brian Ferentz and on quarterback Spencer Petras.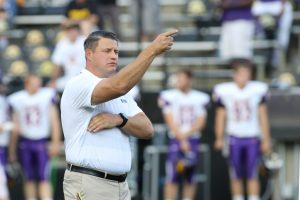 Kirk Ferentz knew what he was getting himself into when he promoted his son to offensive coordinator, and he seems determined to stay the course.
"I'm betting on us, if that's how you want to put it, which I typically do," Kirk Ferentz said. "I'm betting on us. I think we've got a good staff, certainly a capable staff, and I've got total confidence in the guys. I think we've got a good staff here."
Iowa should be loaded on defense next season and will have one of the top punters in the nation in junior Tory Taylor to help shift field position.
The concern is on offense where both the running game and the passing game have struggled.
Iowa also has to replace All-America center Tyler Linderbaum, who has declared for the 2022 NFL draft as a junior, and running back Tyler Goodson, who also has declared for the NFL draft as a junior.
Linderbaum was considered the top collegiate center in the country this past season, while Goodson led the team with over 1,000 rushing yards, and yet, the offense still sputtered for most of the season.
Some fans are hopeful that Kirk Ferentz will allow his son to modernize the offense, but that seems highly unlikely because Kirk Ferentz has said before that he doesn't even know what it means to modernize the offense, and he seems to resent that suggestion.
Kirk Ferentz believes that football should be a played a certain way and that the run should be used to set up the pass.
He also tries to avoid taking what he considers unnecessary risks on offense.
The problem with that approach is that it sometimes makes the Iowa offense predictable, conservative and sluggish.
And when your son is in charge of the offense, and being paid about $1 million annually, it creates a delicate and awkward situation when the offense struggles.
Iowa also hasn't had a quarterback make first-team All-Big Ten since Tate in 2004, or even second-team all-conference since C.J. Beathard in 2015.
"We have to do better," Kirk Ferentz said. "There's several positions, and everybody knows that, we have to do better if we're going to move the ball and score points the way we want to. We don't have to score 45 points a game. I'm hoping we'll continue to play good defense. That's the first thing we tried to establish here outside of special teams 23 years ago.
"That's fundamental 101. We've got to get that done. We don't have to score 45 points, but we've got to do better, and we've got to make the makeable plays. You have to do that, and that's kind of what I'm getting at on those fundamentals. Catch that ball Sunday, the game is over. There is no rest of the game, it's over, you take it and bleed the clock and you're done."
While some fans clamor for changes on offense, Kirk Ferentz seems to believe that it's more a case of just getting better at what Iowa tries to do on offense.
And he, obviously, still believes that Brian Ferentz is the right person to run the offense because Kirk Ferentz has given no indication that he is considering making any coaching changes, or any changes to the offense.
Kirk Ferentz has hooked his saddle to his son, and while there is a risk in doing that, Kirk Ferentz is willing to take that risk.
And right now, Iowa is winning enough games to give Kirk Ferentz leverage in this case. Ferentz also has leverage with his new contract that runs through the 2029 season.
Ferentz was asked at Wednesday's press conference about the concerns with nepotism and what gives him faith that Brian Ferentz can do the job well enough to remain as the offensive coordinator.
As part of his answer, Kirk Ferentz made reference to the 2004 season when Iowa had virtually no rushing attack due to injuries, and to the spring of 2008 when Iowa was trying to bounce back from a 6-6 season in 2007.
He mentioned a conversation that he had with longtime NFL coach Tom Moore in the spring of 2008 when Moore was visiting the Iowa football facility.
"I would say my approach, and believe me, I've thought about all this stuff, we didn't exactly light it up in '04," Kirk Ferentz said. "We were next to last in rushing. I can't remember who was last. But next to last in rushing, but we didn't torch it up or tear the playbook up after that. We were not a very good team, and I still remember like yesterday the spring of '08, Tom Moore in our facility Saturday morning or it was Friday morning, whatever time he got here, ridiculously early, I walk in the conference room and he's watching our film from '07, and I asked him what he was doing. He said, I'm watching your film. I said, why, because we were terrible on offense.
"But my answer there is after those two seasons, we just went back to work, and that's what we do."
That seems to be Kirk Ferentz's way of saying that wholesale changes aren't needed on offense, and that he has full confidence in his assistant coaches, including his son.'
"It's my judgment to decide if we've got the best people in the building," Kirk Ferentz said. "That's my obligation, my judgment. It's my obligation to the program, most importantly to our players, and again, I feel really good about our staff. I think we've got a real capable staff, talented staff. We're going to find solutions and get better, and that's my responsibility as the head coach."
The problem with comparing now to the 2004 season is that for one, the 2004 season was nearly 20 years ago, and two, Drew Tate was named the Big Ten Offensive Player of the Year as Iowa's starting quarterback that season.
Iowa also benefitted from the emergence of Shonn Greene at running back in 2008 when Green, in his only season as a starter, won the Doak Walker Award as the nation's top collegiate running back.
The odds of something like that happening again would seem pretty slim.
It seems reasonable to think that Kirk Ferentz would be more patient with and loyal to his son as the offensive coordinator because it's his son.
But Kirk Ferentz was also loyal to previous offensive coordinators Ken O'Keefe and Greg Davis, some will say to a fault with regard to Davis, who served as the Iowa offensive coordinator from 2012 to 2016.
Iowa has a unique situation with the 66-year old Kirk Ferentz preparing for his 24th season as head coach, and with his son as the offensive coordinator.
It was thought when Brian Ferentz was promoted to offensive coordinator that he was being groomed to replace his father as head coach.
Kirk Ferentz never has said that, but it's easy to assume that would be his master plan.
However, that type of succession plan would seem to be a long way from happening due to the struggles on offense.
It would be hard, even for Kirk Ferentz, to get fans to accept that plan for moving forward.
But the future can wait.
All that matters right now is fixing the problems on offense.
Kirk Ferentz believes that Iowa has the right coaches in place to make it happen, including his son.
Kirk Ferentz's loyalty to his son will either be rewarded, or will cause more problems down the road.
Or, who knows, maybe Brian Ferentz will decide to breakaway from his father and coach elsewhere.
There is a rumor that Brian Ferentz is considering a return to the NFL as an assistant coach.
Kirk Ferentz even mentioned Wednesday that NFL teams were in the process of hiring assistant coaches when talking about his staff.
Iowa lost running backs coach Derrick Foster to the NFL after the 2020 season.
"On the coaching front, as of right now, really nothing to announce on the coaching front," Kirk Ferentz said. "That being said, we're in the NFL hiring season right now, a lot going on there, and we did lose a coach to that a year ago when Derrick had an opportunity to go to the Chargers."
One thing seems certain at this stage; should Brian Ferentz chooses to leave Iowa, it'll be his decision because his father never would fire him.
If we've got makeable plays out there, we've got to make them. We've got to throw it and we've got to catch it and we've got to protect. That's kind of where it is, and we've got to make positive yards when we run the football. Doesn't always have to be five, six, seven, but it's got to be positive yards. Those negative yardage plays kill you, or dropped balls or makeable throws that we don't make.