By Pat Harty
IOWA CITY, Iowa – Words, of course, mean something.
When multiple black players on the Iowa football team say publicly that the culture has changed for the better since the turbulent summer of 2020, which has been the case, that message comes through loud and clear.
A cynic might say it's more a case of towing the company line or trying to stay on Kirk Ferentz's good side.
But the narrative has been rather consistent since multiple former Iowa black players accused the Iowa football program of racial disparities in June 2020.
The situation is getting better, according to the current players.
And who would know that better than them?
The culture is now more inclusive, according to the current players, while the team is more unified than it was before the accusations surfaced.
Iowa also has a combined record of 16-6 since the start of the 2020 season and won the Big Ten West Division this past season.
That wouldn't have happened without the players and coaches being unified and without the culture being more inclusive and understanding for all the players.
But perhaps the best sign that the culture is being fixed is that Iowa only has had five scholarship players enter the NCAA transfer portal since the start of the 2021 season.
That ranks among the lowest in the Big Ten.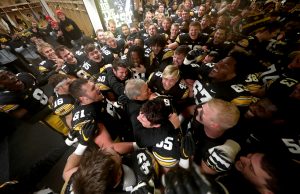 "Certainly, it is disappointing to lose anybody from the program, but that being said, sometimes it's the best thing for the individuals, and we certainly wish them all the best as they pursue their new options and opportunities moving forward," Kirk Ferentz said at a Wednesday press conference. "You guys probably know the portal stats probably better than I do and someone informed me of that recently that we've had five. We're pretty low in the rankings conference-wise and probably nationally from that standpoint, kind of like throwing offers out there, we don't do that, but I think it really just drives to the work that we've done and do to make this a good environment for our players and give them a chance to develop to their fullest.
"On top of that, being part of a team, enjoying a good team experience, so we remain committed to those things."
The five players that entered the portal are quarterback Deuce Hogan, who has since transferred to Kentucky; receiver Tyrone Tracy Jr., who has since transferred to Purdue; tight end Josiah Miamen, who has since transferred to Central Florida; receiver Desmond Hutson, who has since transferred to Northern Iowa and receiver Kaevon Matthews.
A desire for more playing time, or in Tracy's case, a chance to have a more prominent role, appear to be the biggest reasons why all five players entered the portal.
Tracy has been outspoken about how much better the culture is within the Iowa program. This past summer he described the environment as feeling more like a home than a house due to the progress that has been made from a culture standpoint.
However, on the field, Tracy saw his role greatly reduced this past season due to the emergence of freshmen receivers Keagan Johnson and Arland Bruce.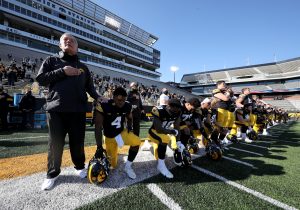 Tracy apparently believes that he will have a better opportunity to play a significant role at Purdue, and that appears to be why he left.
Hogan's decision to transfer also seems based mostly on playing time since he spent most of the 2021 season third on the depth chart  as a redshirt freshman.
Kirk Ferentz made it easier for Hogan to transfer when Ferentz joked about staying in Iowa City if Hogan would've had to play against Nebraska in the regular-season finale.
But Hogan would've started spring practice at Iowa no higher than third on the depth chart, and the odds of him playing a prominent role next season, barring injuries, would've been slim to none.
What happens during spring practice from a depth chart standpoint could have an impact on whether any more Iowa players enter the transfer portal this summer.
Rosters are very fluid in this age of the transfer portal.
But to only have five scholarship players leave since the start of 2021 season is an encouraging sign.
It shows that Iowa has taken steps to build trust amongst the players and coaches.
And it shows that Kirk Ferentz is committed to fixing what needs to be fixed.