By Pat Harty
IOWA CITY, Iowa – From a performance standpoint, sophomore forward Keegan Murray was without question Iowa's most valuable player against Minnesota this past Sunday with 24 points and 15 rebounds.
Junior point guard Joe Toussaint, on the other hand, only played six minutes, all of which came in the first half, and he didn't score in the 71-59 victory over Minnesota at Carver-Hawkeye Arena.
But Toussaint also deserves praise for handling what had to be a difficult situation with class and maturity.
After starting the first 21 games this season, Toussaint was demoted to third-team point guard behind Jordan Bohannon and Ahron Ulis.
Bohannon had started the first 21 games at shooting guard this season, but he shifted back to point guard for the Minnesota game to help jumpstart the offense and to help him get back on track.
Sophomore Tony Perkins was inserted as the starting shooting guard and Ulis was the first guard to come off the bench against Minnesota.
Ulis also played for most of the second half at point guard alongside Bohannon because that lineup was having success.
Toussaint, meanwhile, spent the entire the second half cheering from the bench.
Whatever anger or frustration he might have felt, he didn't show it, and that says a lot about the Bronx, New York native.
There isn't a tougher, more confident, or a more competitive player on the Iowa roster than the 6-foot Toussaint.
But the teams always comes first and Toussaint took one for the team this past Sunday.
"It's huge to have Joe Toussaint have that great attitude, great energy cheering on his teammates," said Iowa assistant coach Billy Taylor, who served as head coach for the Minnesota game in Fran McCaffery's absence due to Covid-19 health and safety protocols. "It is important. And really speaks to the culture of your program."
Fran McCaffery is expected to return for Thursday's game at Maryland as Iowa will try to complete a season sweep.
Bohannon and Perkins are listed as the starting guards for the Maryland game, but Taylor also pointed out that Toussaint played a key role in Iowa's 80-75 victory over Maryland on Jan. 3 at Carver-Hawkeye Arena with nine points, nine assists and three steals.
Toussaint also has the kind of quickness that could help in defending against Maryland point guard Fatts Russell.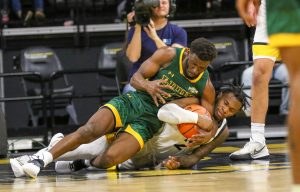 "The last time we played Maryland, Joe Toussaint had nine points, nine assists — really impactful in that game and was guarding Fatts, a tough assignment," Taylor said. "He did a good job for us.
"To have Joe that can still be a positive contributor for us, because he's going to have moments where he's going to play extremely well for us. Just like Ahron Ulis stepped up, we'll need different guys to step up. It's a unique roster, unique team that we have a lot of different guys that can play and can impact the game for us."
Fran McCaffery actually made the decision to change the starting lineup in preparation for last Thursday's game at Ohio State.
However, that game was postponed due to dangerous weather conditions, so the switch didn't happen until the Minnesota game on Sunday.
Part of the reason for the switch was to give Bohannon a boost.
The sixth-year senior has struggled for much of the season at shooting guard, so the hope was that moving Bohannon back to point guard would provide a spark.
Bohannon had played almost exclusively at point guard before this season, but he agreed to move to shooting guard during the offseason to make room for Toussaint as the starting point guard.
But with Iowa having lost three of its previous four games heading into the Minnesota game last Sunday, and with Bohannon struggling at shooting guard, Fran McCaffery decided that a change was needed.
"For some reason, I've just had a hard time getting rhythm at the two-guard spot the last couple games," Bohannon said. "Point guard is really the place where I've been at the last five, six years at Iowa. So, when I was able to move back there, and kind of get some transition threes going and get my confidence back, I was able to play a little bit more like myself."
Bohannon, who is the Big Ten's all-time leader in 3-point field goals, made two treys early in the Minnesota game and played 36 minutes overall.
However, he didn't score in the second half and only had one assist in the game.
Perkins also struggled on offense, making just 1-of-4 field-goal attempts for two points in his first career start.
Ulis helped to pick up the slack by scoring nine points, and by performing well on defense in the second half as Perkins as Toussaint watched from the bench.
Nobody cheered harder from the bench than Toussaint as Iowa seized the momentum and then pulled away in the second half. Toussaint had to be in agony as he watched from the bench, but he made sure to not show any frustration.
It couldn't have been easy for Fran McCaffery to bench Toussaint because McCaffery thinks so highly of Toussaint.
Sophomore forward Patrick McCaffery, who is Fran McCaffery's son, is also one of Toussaint's closest friends on the team.
They were in the same recruiting class and have been roommates at Iowa.
Patrick McCaffery was asked Tuesday if he has said anything to help lift Toussaint's spirit.
"He's a pretty confident kid just by nature," Patrick McCaffery said. "That's just how he is. So, I don't really feel I need to keep his spirit up.
"I just continue to be a friend, be a brother to him and somebody he can talk to about whatever."
There still is plenty of season left with nine Big Ten games still to be played.
Toussaint has to keep working, grinding and scraping while realizing that his chance to contribute could come at any time.
He also can take satisfaction in knowing that his teammates think highly of him as a player and as a person.
"He's been always great about taking advice from me and from other guys on the team," Bohannon said. "And I think that's why he is going to continue to be great. You've seen him do great things already at Iowa. So there's still a lot of basketball left for him. And I think he's going to keep working like he always has."
Toussaint will keep working like he always has because that's who he is as a person and because he wants what is best for the team.
But Toussaint also probably thinks he still should be starting because he is extremely confident.
A person's true character often gets revealed during times of adversity, and when things don't go your way, and Joe Toussaint showed a lot of character and maturity after being benched.