By Pat Harty
IOWA CITY, Iowa – As expected, freshman pitcher Brody Brecht drew a crowd at Iowa baseball media day on Thursday.
The hard-throwing right hander is one of the most heralded pitchers to ever sign with Iowa, and reporters were eager to hear from him with the season set to start next Friday.
Brecht has a fastball that is clocked in the high 90s, and he compiled strikeouts at a stunning pace in high school.
The Ankeny native is also a receiver for the Iowa football team, but was redshirted this past season and didn't appear in any games.
"I'm excited," Brecht said. "Obviously, I didn't play this year in football, so I still don't know what that college athletic experience is like. And I think I'll have an opportunity to do that here in baseball. So I'm really excited."
There is no doubt that Brecht will be a factor for the Iowa baseball team, as will fellow freshman pitcher Marcus Morgan.
Iowa head coach Rick Heller said Thursday that Morgan is slated to start the third game of the season next Sunday at the Swig & Swine Classic in Charleston, South Carolina.
As for Brecht's role, Heller isn't sure at this point.
But with Brecht's overpowering fastball, he could be used in short relief, long relief, or even as a starter.
Brecht relied mostly on just striking out batters in high school.
However, he knows that college will be different, or at least, he's preparing for it to be different.
"In high school, there's not a lot of kids throwing that hard so you get a lot of swings and misses throughout the zone or kids just trying to put a bat out," Brecht said. "But here, guys can hit that. So you have to be able to hit the corners, even if it means them hitting the ball.
"In high school, I was always trying to strike them out. But now I know that I've got a really good defense behind me, so I can let them play and I don't need to strike everybody out."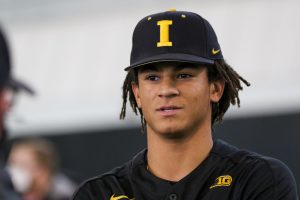 It is rare that Iowa has had two freshmen pitchers as heralded as Brecht and Morgan.
Much is expected from them, as evidenced by Morgan being named D1baseball.com's preseason Big Ten Freshman of the Year.
Morgan was asked Thursday at media day if he feels any pressure to live up to that honor.
"There's no pressure there," he said. "I haven't proven anything yet. All that stuff, that's cool, that's great. But that's not what I'm thinking about right now. I'm focused on going out there and competing and doing my best given the opportunities that I have."
Morgan and Brecht now spend a lot of time together as pitchers, and that has helped to build a friendship based partly on friendly competition.
"Oh yeah, definitely a healthy friendship," Morgan said. "We get after each other. We're both super competitive guys and we're always giving each other crap or whatever.
"But he's going to be a hell of a player and having us in a position to be able to help the team is awesome."
Brecht and Morgan share a mutual respect.
One is known for his overpowering fastball, while the other is known for his late-breaking slider and control.
"There's things that I want to emulate from Marcus," Brecht said. "He's got really good stuff. His slider spins really well. He's got a good change up. So, I'm obviously going to try and learn from that. And I'm sure there are things that he wants to learn from me."
The one big difference between the two freshmen pitchers is that Morgan is now concentrating solely on baseball after having been a four-sport star at Iowa City West High School, while Brecht is juggling football and baseball at the Division I level.
Brecht told reporters at media day that the brother of former Major League pitcher and Notre Dame receiver Jeff Samardzija is acting as a personal advisor for him.
"I've been talking with him, how did Jeff do it?" Brecht said. "All the lifting, all the travel, classes, whatever it may be."
Samardzija was a two-time All-America receiver at Notre Dame before pitching in the Major Leagues with four different teams from 2008 to 2020. He is currently a free agent.
"If I can be even close to where he was that would be pretty cool," Brecht said.