By Pat Harty
IOWA CITY, Iowa – While most in the media focused on heralded freshmen pitchers Marcus Morgan and Brody Brecht, and deservedly so because they both are special talents, I took a different angle while covering the Iowa baseball team's annual media day event on Friday.
I chose to focus on the fifth-year senior and former walk-on from Iowa City High School who will be catching their pitches this spring.
Brett McCleary's decision to return as a fifth-year senior catcher didn't draw near the reaction or make the headlines like when Morgan and Brecht both committed to Iowa.
But McCleary's importance to the team as both a player, and as a veteran leader, can't be overstated.
Iowa baseball coach Rick Heller made that abundantly clear at media day.
"I'll start out by saying when Brett told us that he was going to come back for his fifth year, all of us we're just ecstatic because we all love Brett McCleary," Heller said. "He's a good person. He's a good teammate, and always has been since day one. He went about his business when he wasn't in the mix the same way he did when he was in the mix the last two years. And I'm just super pumped for Brett to be one of the leaders of this team, the guy who is going to be controlling our pitching staff, a veteran like that who has been through the wars.
"I think he'll be great for those young guys. He'll give the older guys somebody they'll have faith in to do a good job with the receiving. Just couldn't happier that Brett came back, and really happy for him that he's going to be in a spot where's he's the guy."
McCleary has waited patiently for his chance to be Iowa's full-time catcher. He played a key role in each of the past two seasons as the backup catcher, and as a designated hitter.
But now it's his time to shine behind the plate, and to help lead an Iowa baseball team that is determined to make the NCAA Tournament for the first time since 2017.
"It's been a really fun time, and obviously, I've made a lot of really good friends and a lot of crazy memories, and I've put in a lot of work and a lot of years," McCleary said. "It's great to be in this position that I had an extra year to come back.
"I'm really looking forward to it."
McCleary made the decision to return for a fifth season this past summer.
He said it really wasn't that hard of a decision after the NCAA granted a free year to student-athletes in response to the Covid-19 global pandemic.
"As soon at the Covid year happened I kind of assume that I would take it," McCleary said. "And then I had a great summer. It never really even crossed my mind.
"I talked to coach (Heller) right after the season and I was pretty confident about coming back."
Iowa returns four starters, its designated hitter, one weekend starter, eight pitchers and 20 letterwinners from last season.
Offensively, the Hawkeyes return 67.1 percent of their doubles from last season, and 47.2 percent of their home runs.
On the mound, Iowa returns weekend starter Cam Baumann, who finished 5-5 last season with a 4.19 earned-run average last season, and ace reliever Dylan Nedved, who finished second in the Big Ten last season with nine saves.
Iowa also welcomes three key transfers on the mound in right-handed pitchers Adam Mazur and Connor Schultz, who transferred from South Dakota State and Butler, respectively, and sophomore right-hander and former Pleasant Valley star Will Christophersen, who transferred from Michigan State.
Mazur and Schultz were both Friday starters for their previous team, and Heller said Thursday that Mazur would start the season opener against Air Force next Friday at the Swig & Swine Classic in Charleston, South Carolina, while Schultz would start the second game and that Morgan would start the third game next weekend.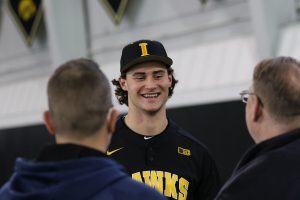 Heller also said that Brecht would have a big role, but they're still trying to figure out the best role for the hard-throwing right hander from Ankeny, who also plays receiver for the Iowa football team.
"We've got Brody Brecht coming into the mix who's going to be a factor and have a big role whatever that role may be," Heller said. "That's one that I don't even think we're sure of because you've got a lot of options.
"He could be a short guy. He could be a bookend starter. He's built up to a point now where he could go several innings."
Brecht and Morgan are two of the more heralded pitchers to ever sign with Iowa.
In fact, Morgan, who graduated from Iowa City West High School, was named D1Baseball.com's Big Ten preseason Freshman of the Year.
Brecht throws in the high 90s, while Morgan throws a late-breaking slider that Heller said is one of the best he's ever has seen at the high school level.
Morgan is also playing baseball exclusively for the first time in his life after having been a four-sport standout in high school.
And both freshmen will have a grizzled veteran catching them behind the plate.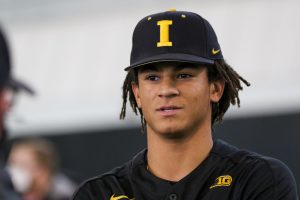 Morgan and McCleary were rivals in high school, but now they're two key pieces to a team for which they both grew up cheering in Iowa City.
"It helps tremendously," Morgan said of having McCleary's experience at catcher. "He's helped me since day one. He's always been encouraging me and giving me tips and tricks.
"He's a big presence back there and it always helps knowing that you've got a guy back there catching you and supporting you."
McCleary was previously committed to a junior college before deciding to walk on at Iowa.
"I always kind of had my eye on Iowa," McCleary said.
Turns out the interest was mutual.
Heller gave McCleary the chance to walk-on and McCleary seized the opportunity.
McCleary knew that it would take some time before he would be in the mix for playing time, but he has just kept working and doing whatever he could to help the team.
He was more polished as a hitter upon entering college, but his defensive skills have improved considerably just from having worked hard each day on the little things to get better.
It has taken patience and perseverance for the 6-foot-2, 220-pound McCleary to reach this point.
He was asked Thursday what advice he would give to a kid who has to prove himself as a walk-on, and who has to wait for his turn to contribute.
"My advice would be, keep your head down and keep working, the right place will find you if you're a great kid and a hard worker," McCleary said.
Of course, it also takes talent to play baseball at the Big Ten level, and McCleary has seen plenty of that already from Morgan and Brecht.
McCleary is eager to catch the two rising stars, and to help guide and lead them.
"It's really easy to let the game speed up on you and having that experience in my back pocket I think I'll be a huge help," McCleary said. "I talked through with a lot of them about certain situations. I know, obviously, we haven't played a game yet. But when they're in those positions, just ways to slow game down and just be yourself and execute pitch to pitch, I think they'll do a great job."
As a fifth-year senior, McCleary has worked with multiple pitching staffs while at Iowa. But he thinks this one could be special with the new additions and with the returning pitchers.
"I think this pitching staff is one of the best I've been a part of and I think there's a ton of confidence, old guys to young guys, a ton of pieces," McCleary said. "I think if everyone just does their part, I think we're going to have a ton of success."
The fact that Iowa hasn't made the NCAA Tournament since 2017 is not something the players and coaches dwell on, but it's definitely in the back of their minds.
"It's not something we just sit here and focus on," McCleary said. "It's day-to-day. You know that if you put your work in every day that ultimately that's where you're going to end up. And that's how we look at it."