By Pat Harty
IOWA CITY, Iowa – Payton Sandfort had just committed to the Iowa men's basketball team in the fall of 2020 when I asked Fran McCaffery about his newest addition.
McCaffery was prohibited from commenting publicly about Sandfort because it's against NCAA rules for a college coach to say anything publicly about a recruit before the recruit has signed a letter of intent.
Sandfort had only committed to Iowa at the time, so I asked Fran McCaffery to comment off the record.
And what McCaffery said that October day in 2020 still is fresh in my mind and makes so much sense right now.
"The kid is fearless, he wants the ball in his hands to take that final shot," McCaffery said of Sandfort, a 6-foot-7 freshman from Waukee. "He plays with great confidence, not cocky. He just believes in himself and that's a big part of it."
Sandfort's freshman season has had peaks and valleys, which is common for a kid making the transition from high school.
His playing time has fluctuated, but the one thing that hasn't changed is Sandfort's confidence as a shooter.
It's hard to remember a Hawkeye freshman who displayed the level of confidence that Sandfort has shown throughout the season.
Sandfort is by no means a ball hog, nor does he hunt for shots.
But if he's open, it's going up, and without hesitation.
He scored 10 of his 12 points in the first half of Sunday's 98-75 victory over Nebraska and was 2-of-4 from 3-point range.
He also led Iowa with eight rebounds and only needed 16 minutes of playing time to record those numbers.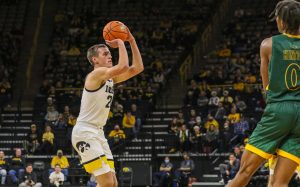 Iowa has won three games in a row and faces Michigan on Thursday at Carver-Hawkeye Arena and the Wolverines had better pay attention to Sandfort or he could make them pay.
Sandfort has made 26 3-point baskets, which is the fourth highest total on the team, but he only ranks 10th on the team in playing time, averaging 10.5 minutes per game.
While some freshmen might shy away from taking a big shot, it's hard to think of one time this season when Sandfort has turned down an open look.
He even takes contested shots at times because he probably figures they will go in the basket.
Sandfort was asked after the Nebraska game how confident he is right now.
"It's grown quite a bit over the last couple weeks," Sandfort said. "I went through a really rough stretch there. But I'm really proud of myself. Even though I wasn't getting the minutes I was hitting shots I normally hit , and I stuck with it.
"It felt really good over the past few games to finally get myself going and doing what I know I can do.'
Sandfort had a difficult six-game stretch in conference play in which he combined to score just five points and was held scoreless in four of the games.
That would've been enough to crush the confidence of some players, especially a first-year player.
But Sandfort has just kept working and believing in himself, and it helps when your head coach believes in you, too.
"I totally understand, it's really tough to get minutes as a freshman in this league, and I really wasn't doing anything to earn those minutes at the time," Sandfort said. "Fran has always been super good with me and talking me through it and helping me remain positive.
"Coach has been working with me, and I've been watching film and everything like that to keep me getting better even though maybe I wasn't contributing on the court."
Sandfort recently moved to the scout team, but instead of treating it like a demotion, he used it as an opportunity to get better while practicing against star forward Keegan Murray.
"I moved to the scout team for a little bit, which really helped me get my confidence back going against Keegan every day," Sandfort said. "I can't thank him enough to for really helping me get through that rough stretch and now we're on the other side."
The freedom that Fran McCaffery gives his players to shoot is one of the main reasons Sandfort signed with Iowa.
He also had scholarships offers from Utah, Drake, Minnesota and Stanford.
"It's unbelievable," Sandfort said of the green light that Fran McCaffery gives his players as shooters. "The same thing with my high school coach, the main reason I picked (Iowa) is because of that green light that I've seen Fran give his previous players and growing up watching the program.
"So, I can't thank Fran enough. He's really let me come in and play my game."
Keegan Murray also deserves some credit for helping Sandfort adjust to the college game.
The transition started this past summer when Sandfort started practicing with his new college teammates.
To say that he get off to a rough start would be an understatement.
"When I first got here in the summer, I was going against (Keegan) every day and I would call my dad; I mean this dude is just kicking my butt, I don't know if I'm built for this," Sandfort said. "And then I started getting a little better playing against him and then I see him go out here and he's doing a lot worse than he did to me.
"So, it makes me feel a lot better."
Sandfort's ability to make 3-pointers could be beneficial down the stretch for an Iowa team that has struggled in that area for much of the season.
Sixth-year senior Jordan Bohannon recently switched back to point guard after having started the first 21 games at shooting guard, and the move seems to have provided a boost as Bohannon made a school-record 10 3-pointers in the 110-87 victory at Maryland last Thursday.
Opponents will have to pay close attention to Bohannon, and that could provide room for Sandfort to shoot.
And with multiple 3-pointers on the court at the same time, it is easier to space the floor.
Sandfort, like Bohannon, is nearly automatic from the free throw line where he has made 11-of-12 attempts this season. That's another part of Sandfort's game that could help Iowa down the stretch, and in the postseason.
Sandfort served notice early on when he combined to score 40 points and made 10 3-point baskets in back-to-back games against Alabama State and Western Michigan in November.
And even during his slump, it's hard to think of a time when Sandfort passed up an open shot.
He could miss 10 shots in a row and still think that the 11th shot would go in the basket, and that's how a shooter should think.
Iowa has also offered a scholarship to Sandfort's younger brother Pryce Sandfort, who is a 6-6 junior at Waukee. Pryce apparently plays with the same confidence and moxie as his older brother, who helped lead Waukee to a state title as a senior in 2021.
Payton Sandfort is likely to struggle at times down the stretch because the Big Ten grind can be brutal on freshmen.
But regardless of the circumstances, if he's open, and in position to take a pivotal shot, Sandfort won't hesitate to take it.
The shot might not go in the basket, but it wouldn't be a from a lack of confidence.