By Pat Harty
IOWA CITY, Iowa – After learning that Ken O'Keefe is stepping away from his on-field role as the Iowa quarterbacks coach, I reached out to some people who have forgotten more about football than I will ever know.
They didn't want to speak on the record, and they didn't make any suggestions about who should replace O'Keefe, assuming Iowa does fill the vacancy, nor did they say anything specific about what role Iowa offensive coordinator Brian Ferentz should now have without O'Keefe.
And they didn't say that Kirk Ferentz should overhaul his offense.
But one thing each of them did say, and in some cases without me even having to bring it up, is that Iowa's play caller should also coach the quarterbacks moving forward.
O'Keefe has coached the quarterbacks since 2017, but Brian Ferentz, who is Kirk Ferentz's son, has called plays during that time, in addition to coaching the tight ends since 2018.
Brian Ferentz also has coached the running backs and the offensive line since joining his father's staff in 2012. He was the offensive coordinator and running backs coach in 2017, and he was the run game coordinator and offensive line coach in 2015 and 2016.
And though the results under Brian Ferentz have been average to below average, the conversations I had Wednesday night weren't about whether Brian Ferentz still deserves to be the offensive coordinator.
The conversations were more about how to make the offense better and the common theme/belief was that the play caller should also coach the quarterbacks for reasons they say are obvious.
Nobody spends more time with the quarterbacks on a daily basis than the quarterback coach. They are sort of an extension of each other.
In most cases, the play caller is also the offensive coordinator and quarterback coach.
It was that way at Iowa under Hayden Fry as Bill Snyder and then later Don Patterson called plays as the offensive coordinator and quarterback coach.
Fry, of course, had final say, and the power to overrule any play call, as Kirk Ferentz does now.
But the difference between now and then is that the play caller also coached the quarterbacks.
In fact, that's how it was at Iowa under Kirk Ferentz until Brian Ferentz became the offensive coordinator in 2017.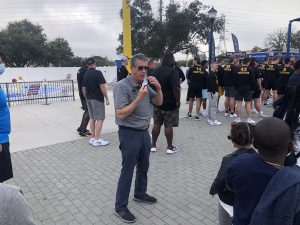 It'll be interesting to see how Kirk Ferentz responds to O'Keefe having stepped down.
Ferentz could simply hire another quarterback coach and then continue to have Brian Ferentz, a former Iowa offensive lineman, call plays as the offensive coordinator.
Or Ferentz could make Brian Ferentz the quarterback coach, the offensive coordinator and the play caller.
However, that seems unlikely due to Brian Ferentz's lack of experience with coaching quarterbacks, and due to the struggles on offense under Brian Ferentz.
It would be hard for Kirk Ferentz to justify giving his son more responsibility under the current circumstances.
It also seems highly unlikely that Kirk Ferentz would hire a quarterback coach, and then also have that person call plays, while Brian Ferentz is the offensive coordinator. That setup is almost unheard at any level.
There is also the chance that Brian Ferentz could leave Iowa for another job, perhaps to the NFL where he coached at New England from 2008-11 before joining his father's staff at Iowa.
Should that happen, Kirk Ferentz could either hire an offensive coordinator and also have him coach the quarterbacks and call plays, while paying the person about $1.5 million annually, or he could hire an offensive coordinator and a quarterback coach and divide the salary.
O'Keefe will assume a position away from the playing field, so his 18-year relationship with Hawkeye football will continue.
He served as the offensive coordinator under Kirk Ferentz from 1999 to 2011 and also called plays and coached the quarterbacks during that time.
Greg Davis was the Iowa offensive coordinator from 2012 to 2016 and also called plays and coached the quarterbacks.
The setup didn't change until Brian Ferentz was promoted to offensive coordinator after the 2016 season.
O'Keefe returned to Iowa to coach quarterbacks exclusively after having been an assistant coach for the Miami Dolphins from 2012 to 2016.
It made sense at the time since O'Keefe knew Brian Ferentz  personally and had extensive experience with coaching quarterbacks.
O'Keefe was also no threat to Brian Ferentz because O'Keefe wasn't looking to climb the coaching ladder, and because they were friends.
This could be a critical offseason for Kirk Ferentz as he tries to make his struggling offense more productive.
He no longer has a quarterback coach, and his offensive coordinator has little experience with coaching quarterbacks on a daily basis.
The Iowa program as a whole is on solid ground after having won 10 games in two of the past three seasons.
However, some will say Iowa won 10 games this past season in spite of the offense.
There is no denying that the offense has to get better in a hurry.
And with O'Keefe having stepped away from coaching the quarterbacks, Kirk Ferentz and Brian Ferentz both now have some serious thinking to do.