By Pat Harty
IOWA CITY, Iowa – With the season set to start on Friday, something just feels right about the 2022 Iowa baseball team.
Not that it hasn't always felt right since Rick Heller became the Iowa head coach in 2014.
But there is just an extra buzz surrounding this team, a gut feeling that says that Iowa could be on the verge of having a special season.
Iowa hasn't participated in the NCAA Tournament since 2017, which is a while ago, but this team seems fully capable of ending that little drought.
And before Heller arrived, Iowa hadn't played in the NCAA Tournament since 1990, but twice has done it under Heller.
Iowa is picked by the league coaches to finish third in the Big Ten this season behind Nebraska and Michigan, and a third-place finish would in most cases be enough to earn a postseason bid.
Iowa returns four starters, its designated hitter, one weekend starter, eight pitchers and 20 letterwinners overall.
Iowa also welcomes 22 newcomers, including 12 transfers, and three of the newcomers –  transfers Adam Mazur and Connor Schultz, and heralded freshman Marcus Morgan, are scheduled to start the first three games, respectively, on the mound.
Iowa will face Air Force on Friday at 11 a.m. in the first of three games at the Swig & Swine Classic in Charleston, South Carolina, followed by Ball State on Saturday and Bucknell on Sunday.
"It's been a challenge that first semester to get everybody to come together, which I feel like we did extremely well," Heller said at media day last Thursday. "And we're to that point that we always are when you guys show up. We just kind of need to go play to see if we are where we think we are."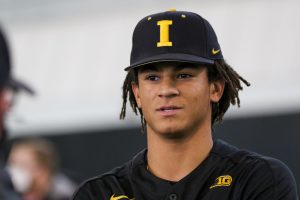 The combination of returning players and newcomers has created a roster filled with tremendous upside.
Iowa's 44-man roster features one graduate transfer, Connor Schultz, five seniors, four juniors, 14 sophomores two redshirt freshmen and 10 freshmen.
All five of the seniors are redshirt seniors, including Brett McCleary, who takes over as the full-time starting catcher.
This could be Heller's deepest and most talented pitching staff with a nice mix of returners and newcomers.
Senior southpaw Cam Baumann was a weekend starter last season, but he might pitch mostly in relief this season due to the newcomers on the mound.
All three of Iowa's pitchers who are scheduled to start this weekend weren't on the team last season.
The presence of freshman Brody Brecht and his fastball that clocks in the high 90s is another reason to be excited about the pitching staff. Brecht and Morgan are two of the most heralded pitchers to ever sign with Iowa.
Morgan was tabbed as D1Baseball.com's Big Ten Preseason Freshman of the Year, while Brecht has the potential to be overpowering on the mound.
He was considered a potential high pick in the Major League draft, but Brecht made it clear heading into the 2021 draft that he wanted to play baseball and football for Iowa.
The Ankeny native was redshirted as a freshman receiver this past season in football.
Brecht will certainly not be redshirted in baseball this season.
Heller could use him in short relief, long relief, or as a starter because Brecht's stuff is that good.
"Pitching depth is good and a lot of good problems to have is making decisions," Heller said.
The youth, the experience and the newcomers on the mound combined with a solid group of veteran position players led by Izaya Fullard, Peyton Williams, Brayden Frazier and Brendan Sher makes Iowa look very respectable on paper.
Dylan Nedved also returns after having ranked second in the Big Ten last season with nine saves. Nedved is also an accomplished infielder.
It's hard to find any real weaknesses on the Iowa roster. But again, it's only on paper.
The challenge is to live up to the hype on the field.
Even without making the NCAA Tournament last season, Iowa still had a respectable season, finishing 26-18 overall against Big Ten competition only and tied for fourth in the conference standings.
Iowa also won seven of its final 10 series last season, but still fell short of making the NCAA Tournament.
"I know they're motivated to have a good year and to give ourselves a chance to get to postseason," Heller said. "But I don't think that last year specifically is motivating them that much. It's a completely new team and a new set of goals.
"We really don't talk about that stuff a lot, other than just being the best you can every day and just go out and play as hard as you can and see what happens."
Rick Heller (9th season)
Overall record: 930-721-4
Record at Iowa: 240-156
Big Ten record: 107-79
NCAA Tournament appearances: 2015, 2017