By Pat Harty
IOWA CITY, Iowa – The starting frontline for the Iowa men's basketball team combined  for 48 points against Michigan on Thursday as Keegan Murray, Patrick McCaffery and Filip Rebraca all scored in double figures.
Murray led the way with 23 points despite being slowed by cramps, while Patrick McCaffery scored 13 points despite not feeling well and Rabraca finished with 12 points despite being matched against 7-foot-1 Michigan center Hunter Dickinson.
And yet, Iowa still lost 84-79 despite Michigan only making 4-of-20 shots from 3-point range.
Multiple factors contributed to the loss, not the least of which was a lack of scoring from the Iowa guards.
Jordan Bohannon was the only guard for Iowa to score in double figures against Michigan with 11 points. But he only attempted five shots and made two, both of which were 3-point baskets.
Connor McCaffery played over 16 minutes, but he didn't attempt a shot or a free throw.
Tony Perkins started his fourth consecutive game at shooting guard and played slightly more than 15 minutes, but he finished with just four points, making 2-of-4 field-goal attempts.
Payton Sandfort played 13:40 minutes, but he missed five of his six field-goal attempts, including all four shots from 3-point range, and scored just two points.
Joe Toussaint played 13 ½ minutes, but only scored two points on 1-of-2 shooting from the field.
And Ahron Ulis played just under 11 minutes and finished with four points.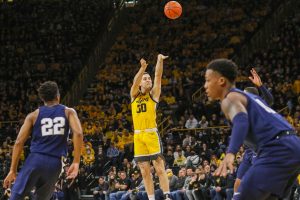 Connor McCaffery, Perkins, Sandfort, Toussaint and Ulis also finished a combined 0-for-0 from the free throw line.
Iowa could be in trouble again on Saturday against No. 18 Ohio State if the guards continue to struggle on offense.
Bohannon was the only guard for Iowa to make at least one 3-point basket against Michigan, and he and Sandfort were the only guards for Iowa to even attempt a 3-point shot in the game.
Bohannon, who is averaging 10.6 points per game, is also the only guard for Iowa averaging more than seven points per game.
Iowa has been plagued by a lack of 3-point shooting throughout the season, with the Michigan loss the latest struggle as Iowa only made 4-of-18 treys.
Maybe this should have been expected since Bohannon was the only proven 3-point shooter on the roster at the collegiate level heading into the season.
That is much different than last season when Iowa had multiple 3-point shooters, including small forward Joe Wieskamp, center Luka Garza and shooting guard C.J. Fredrick.
Garza and Wieskamp are now playing professionally, while Fredrick transferred to Kentucky.
Forward Jack Nunge was also a threat from 3-point range when healthy, but he now plays for Xavier after transferring in the offseason.
Perkins, Toussaint and Ulis all have good athleticism and excel on defense, especially the lightning-quick Toussaint.
Connor McCaffery, at 6-foot-5, is arguably the best passer on the team and can guard multiple positions because of his size and strength.
But when it comes to 3-point shooting, they all struggle.
Connor McCaffery, Toussaint, Perkins and Ulis are a combined 28-0f-104 from 3-point range this season and none of them have made more than nine treys.
Sandfort has made 26 3-pointers this season, but he also has been streaky, which is typical for some first-year players.
Even Bohannon has struggled for long stretches this season despite being the Big Ten's all-time leader in 3-point field goals made.
Bohannon has had four games in which he didn't a make a 3-pointer, nine in which he made one or fewer and 16 in which he has made two or fewer.
Sophomore Kris Murray, who is Keegan Murray's twin brother, has been productive from 3-points range, shooting around 40 percent for much of the season. But at 6-8, Kris Murray plays more on the frontline than in the backcourt.
Incredibly, Iowa is 17-8 overall and 7-7 in the conference, and in position to make the NCAA Tournament, despite having so few reliable 3-point shooters.
The lack of 3-point shooters makes it hard for Iowa to space the floor on offense, and also makes it easier for defense to put the clamps on Bohannon.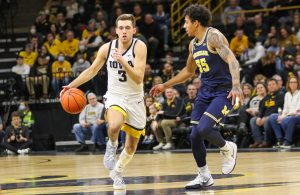 Maryland was reminded that Bohannon still can be a force from 3-point range as he made a school-record 10 in a recent win over the Terrapins.
Overall, however, Bohannon has struggled from 3-point range, especially by his incredibly high standards.
He recently switched back to point guard after having started the first 21 games this season at shooting guard.
The hope was that it would provide a spark for Bohannon on offense, and it certainly did against Maryland.
But with so few reliable 3-point shooters playing alongside him in the backcourt, it might not matter what position Bohannon plays.
Fran McCaffery down the stretch against Michigan made multiple substitutions based on whether Iowa was on offense or defense.
His strategy nearly worked, but the lack of offensive productivity from the backcourt was too much to overcome.
The loss shouldn't be blamed exclusively on the guards, considering Keegan Murray missed five free throws and at least two dunks while struggling with cramps, and considering that Iowa's three starting frontline players combined for seven of Iowa's 11 turnovers.
However, the lack of productivity from 3-point range has lingered throughout the season and is making it hard for Iowa to sustain any momentum, and making it hard for Iowa to beat quality opponents.
Iowa vs. Ohio State
When: Saturday, 1:30 p.m.
Where: Columbus, Ohio, Value City Arena
TV: Fox
Radio: Hawkeye Radio Network