By Pat Harty
IOWA CITY, Iowa – Kirk Ferentz has made it a priority throughout his 23-reign as the Iowa football coach to win the instate recruiting battles in a low-population state that has two Power 5 football programs.
He watched how Hayden Fry dominated Iowa State in signing instate recruits and has carried on that tradition for the most part.
Iowa State's rise under Matt Campbell has narrowed the gap some when it comes to landing players from in state, but if the start of Iowa's 2023 recruiting class is any indication, Kirk Ferentz still has the most power and influence.
Marion junior Alex Mota announced his commitment to Iowa Friday morning on social media, becoming the third player from instate in the 2023 class to pick Iowa despite having an offer from Iowa State.
The others are Iowa City High linebacker Ben Kueter and Norwalk defensive tackle Maddux Borcherding-Johnson.
Kueter's decision to pick Iowa was hardly a surprise since he lives in Iowa City and grew up cheering for the Hawkeyes.
The multi-sport star also plans to wrestle at Iowa.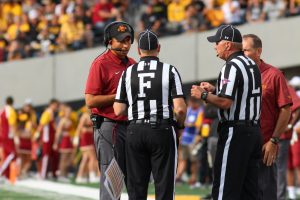 Borcherding-Johnson, on the other hand, lives closer to the Iowa State campus in Ames than Iowa City, and yet, he still picked Iowa, and did so partly because he grew up cheering for the Hawkeyes.
Five-star Southeast Polk defensive back Xavier Nwanpka also signed with Iowa's 2022 class despite having a long and distinguished list of scholarship offers that included Ohio State, Notre Dame, Alabama and Clemson among others.
Nwanpka had narrowed his list to Iowa, Notre Dame and Ohio State before picking the Hawkeyes in December.
Iowa State was among the many schools that offered Nwankpa a scholarship, but he eliminated the Cyclones before trimming his list to fewer than 10 schools.
Five-star offensive lineman Kadyn Proctor, who also attends Southeast Polk, and is in the 2023 class, recently trimmed his list of schools to seven, with Iowa making the cut, while Iowa State didn't.
Iowa fans take pride in saying that it's a Hawkeye state, and with Iowa having won the last six games against the Cyclones, and with Iowa still winning most of the instate recruiting battles, that claim hardly seems unreasonable.
Although, in fairness, Iowa State did have three players from instate in its 2022 class that picked the Cyclones despite having an Iowa offer.
They are Council Bluffs defensive lineman Hunter Deyo, and linebackers Will McLaughlin and Jacob  Imming, who are from Harlan and Sergeant Bluff, respectively.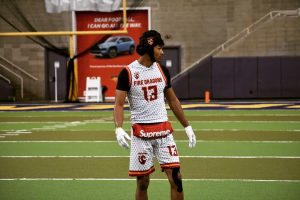 Former Clear Creek Amana star T.J. Bollers also signed with Wisconsin in 2021 despite having an Iowa offer, and despite his father having played fullback at Iowa, while 2021 Council Bluffs tight end Thomas Fidone picked Nebraska over an Iowa offer.
Iowa finished 10-4 this past season and won the Big Ten West Division. It marked the second time in the past three seasons that Iowa has won 10 games.
Iowa State, on the other hand, was thought to have its best team ever heading into the 2021 season, but then finished just 7-6 overall.
On-field success plays a big role in recruiting, and right now, Kirk Ferentz and the Hawkeyes are using that success to help secure the border in the 2023 class, and to help prevent a shift in recruiting power to Ames.