By Hawkeyesports.com
GENEVA, Ohio – University of Iowa track and field won its second consecutive Men's Big Ten Indoor Championships at the SPIRE Institute on Saturday. The Hawkeyes edged Ohio State by a 117-102 margin.
"We have an expectation to be Big Ten Champs every time we step on the track and start our season," Iowa Director of Track and Field Joey Woody said. "I'm really proud of the guys because they had to be resilient this weekend. They had to fight through a lot of adversity and this was a total team effort."
The Hawkeye men tallied two Big Ten Champions (Jenoah McKiver; 600m, men's 4×400-meter relay) and six additional medalists on the afternoon. On the women's side, sophomore LaSarah Hargrove earned two medals. Hargrove was the runner up in the 200 meters (23.55) and took third in the 60 meters (7.35).
McKiver claimed the first Big Ten title of his career, winning the 600 meters in 1:15.67. He doubled back to run the anchor leg on the 4×400-meter relay, consisting of Everett Steward, junior Julien Gillum, freshman Armando Bryson and McKiver and helping the Hawkeyes to their second Big Ten title of the day.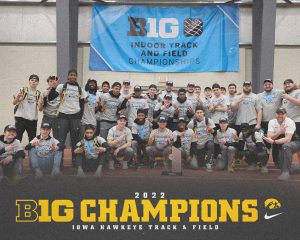 All five Hawkeyes who were entered in the event ran in the 600-meter final. Gillum took third place (1:16.11), earning his third-career Big Ten medal to move into second on Iowa's all-time list. Sophomore Spencer Gudgel (1:16.82) moved to sixth all-time at Iowa and took fourth for the second. Bryson (1:16.89; ninth all-time) and fellow freshman Phillip Jefferson (1:17.76; personal best) finished fifth and seventh, respectively.
Sophomore Austin West improved on his third-place finish in the heptathlon from a year ago, finishing runner up. West completed the weekend with a win in the heptathlon 1,000 meters to total 5,783 points.
In the 60-meter hurdles, sophomore Grant Conway earned his first career Big Ten medal with a runner-up finish (7.72). Sophomore Gratt Reed (7.73) earned his second-career Big Ten Indoor medal in the hurdles and third Big Ten medal overall, finishing third.
Junior Wayne Lawrence, Jr. finished third in the 400 meters (46.09) to earn his ninth career Big Ten medal. Freshman Chadrick Richards finished fourth (46.19).
Sophomore Kalen Walker (6.70) picked up a bronze medal in the 60 meters during his first Big Ten meet. Sophomore LaSarah Hargrove (7.35) also won a bronze medal in the 60 meters, and doubled back to take silver in the 200 meters (23.55). The women's team finished sixth with 59 points on the weekend.
Sophomore Max Murphy and freshman Nick Trattner clinched the title for the Hawkeyes in the 5,000 meters. Murphy finished sixth (13:58.87; third all-time) and Trattner finished eighth (14:00.69; sixth all-time), logging four team points combined.
Iowa's 4×400-meter relays ended the meet on a strong note. The women's quartet of junior Mariel Bruxvoort, seniors Payton Wensel and Mallory King and freshman Tesa Roberts took bronze (3:35.73).
Iowa competes next at the NCAA Championships in Birmingham, Alabama, March 11-12.
Athletes and events in the hunt to qualify include:
• Men's 4×400-meter relay
• Women's 4×400-meter relay
• 400 meters: Jenoah McKiver, Chadrick Richards, Wayne Lawrence, Jr.
• Heptathlon: Austin West
• Weight Throw: Tyler Lienau
• Shot Put: Nik Curtiss
• 60 Meters: Kalen Walker
• 60-meter Hurdles: Grant Conway, Gratt Reed
A full list of rankings can be found at: bit.ly/3HpkYBg
HAWKEYE RESULTS:
Heptathlon Day 2
2. Austin West / 5,783 POINTS
5. 60 Hurdles – 8.31
8. Pole Vault – 4.40m (14'5.25"), Personal Best
1. 1,000 Meters – 2:38.76
Women's Weight Throw:
4. Amanda Howe – 21.23m (69'8"), No. 2 all-time, Personal Best
7. Jamie Kofron – 20.54m (67'4.75"), Personal Best
16. Nia Britt – 18.34m (60'2")
24. Alivia Bauer – 16.60m (54'5.50")
Men's Weight Throw:
9. Jordan Hawkins – 19.74m (64'9.25")
11. Tyler Lienau – 19.47m (63'10.50")
13. Jordan Johnson – 19.21m (63'0.25")
18. Sean Smith – 18.73m (61'5.50")
Women's Triple Jump:
10. Jade McDonald – 12.20m (40'.50")
12. Kayla Hutchins – 12.16m (39'10.75")
Men's Triple Jump:
8. James Carter Jr. – 15.42m (50"7.25")
Women's 400 Meters Final:
7. Tesa Roberts – 53.92
Men's 400 Meters Final:
3. Wayne Lawrence Jr. – 46.09
4. Chadrick Richards – 46.18
Women's 60 Meters Final:
3. LaSarah Hargrove – 7.35
7. Lia Love – 7.42
Men's 60 Meters Final:
3. Kalen Walker – 6.70
Women's 800 Meters Final:
5. Mallory King – 2:05.64
Men's 800 Meters Final:
5. Alec Still – 1:49.97
7. Antonio Abrego – 1:50.03
Women's 60 Hurdles Final:
6. Paige Magee – 8.39
7. Tionna Tobias – 8.61
9. Myreanna Bebe – 9.37
Men's 60 Hurdles Final:
2. Grant Conway – 7.72, Personal Best
3. Gratt Reed – 7.73
Women's 600 Meters Final:
6. Payton Wensel – 1:30.11
7. Clare Pitcher – 1:30.70
Men's 600 Meters Final:
1. Jenoah McKiver – 1:15.67
3. Julien Gillum – 1:16.11, No. 2 all-time, Personal Best
4. Spencer Gudgel – 1:16.82, No. 6 all-time, Personal Best
5. Armando Bryson – 1:16.89, No. 7 all-time, Personal Best
7. Phillip Jefferson – 1:17.76, Personal Best
Women's 200 Meters Final:
2. LaSarah Hargrove – 23.55, Personal Best
7. Lia Love – 23.94, Personal Best
Men's 200 Meters Final:
4. Khullen Jefferson – 20.98
5. Gratt Reed – 21.03
6. Wayne Lawrence Jr. – 21.10
7. Chadrick Richards – 21.15
Women's Seeded 5,000 Meters:
Women's 5,000 Meters:
Brooke McKee – 16:50.17, Personal Best
Kelli Tosic – 17:21.27
Men's Seeded 5,000 Meters:
6. Max Murphy – 13:58.87, No. 3 all-time, Personal Best
8. Nick Trattner – 14:00.69, No. 6 all-time, Personal Best
Women's 4×400 Relay:
3. IOWA (Bruxvoort, Wensel, King, Roberts) – 3:35.73
Men's 4×400 Relay:
1. IOWA (Steward, Gillum, Bryson, McKiver) – 3:05.47, No. 6 all-time