By Susan Harman
IOWA CITY—The Iowa women's basketball team ran out of the tunnel Sunday and into the arms of a noisy, passionate full house at Carver-Hawkeye Arena to take on No. 6 Michigan with the Big Ten title at stake.
"I had the chills," said Gabbie Marshall and Caitlin Clark said simultaneously.
The Hawkeyes returned the favor.
Overcoming an early deficit, Iowa roared through the second quarter, making 13-of-18 shots, to take control and dispatch the Wolverines, 104-80. The victory earned the Hawkeyes (20-7, 14-4) a share of the Big Ten regular-season title with Ohio State. It is Iowa's 10th regular-season title, the last coming in 2007-08.
"I've played a lot of basketball games in my life, and that was by far the most fun," Clark said.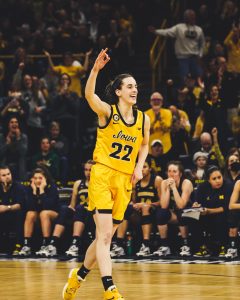 "We dreamed about a sold-out arena when we came here, (assistants) Jan (Jensen), Jenni (Fitzgerald) and I when we came her 22 years ago, and today you couldn't have scripted it any better," Iowa coach Lisa Bluder said.
Iowa (20-7) made 16 3-point shots in 29 attempts, with Clark cashing 8-of-11.
"It's unbelievable they made 16 threes," Michigan coach Kim Barnes Arico said. "It's hard to counter 16 threes. That's a pretty special night for them in front of this amazing crowd."
 The crowd arrived early and ready, but it took a quarter for Iowa to get its shooting legs. When the Hawkeyes finally found the range the place rocked. Iowa scored on 15 of its 19 second-quarter possessions. Clark's threes, a couple from the Mediacom logo on the court, ignited the crowd as did some sleight-of-hand passes to set up Addy O'Grady inside.
"My first three went down, and when they go through the net that's always nice," Clark said. "And then you just keep shooting it. I think once we got stops and pushed the ball in transition, that's when we're most effective."
Reserve Kylie Feuerbach had seven points in the quarter, including a rebound follow, a drive down the lane and a last-second three to close the half. With McKenna Warnock and Monika Czinano on the bench with foul trouble, Iowa got 13 points from O'Grady and Feuerbach in that quarter.
Meanwhile Michigan struggled to make shots.
"I think some of our shot selection led to some transition for them," Barnes Arico said. "They were able to get some fast-break points. That really ignited them, and they started to get going. Then Caitlin Clark made a couple threes, and they started to make threes and their confidence got going a little bit."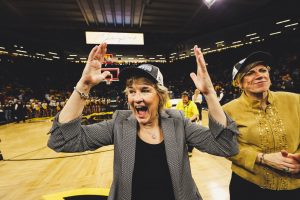 "It was our defense in the second quarter because in the first quarter we couldn't stop them," Bluder said.
After trailing by 11 in the first period, Iowa took a 53-39 lead into halftime. Michigan worked hard in the third quarter to cut into the lead, but every time they closed the gap to single digits Clark sank a 3-pointer. She had three in the third quarter.
"The threes that I shot were just kind of to keep us alive then we got everyone involved in the fourth quarter," Clark said. "Gabbie and McKenna started hitting and that's just so fun."
Iowa's lead was 27 with 6 minutes left, and it was all over. The 104 points were the most Michigan has given up all year. The last time Michigan gave up 100 points was in 1994.
Clark had a game-high 38 points and 11 assists.
After a few subpar games, Marshall had a rebound in the scoring column with 14 points and gave credit to an unorthodox heave for three at the end of the first quarter.
"I saw there was like 5 seconds so I looked for (Clark)," she said. "I couldn't get it to her, so I just dribbled it and threw it up there. That just kind of gave me confidence to keep shooting."
Iowa shot 58.7 percent for the game. Czinano had 19 points in just 24 minutes, Kate Martin eight and Warnock four. Senior Tomi Taiwo had five. Michigan had four players in double figures led by all-American Naz Hillmon with 18.
In the heady glow of a championship it's important to remember that the Hawkeyes were more or less dead in the water after demoralizing losses to Ohio State and Maryland at home. Somehow they got themselves together and put together an scintillating final week, beating Indiana twice in three days, winning at Rutgers and then dismantling Michigan (22-5, 13-4).
"We knew that we were going to need a little help," Clark said. "Michigan beat us at Michigan and then lost two in a row (to Michigan State and Northwestern), so we knew the door was open. We just had to win the games that were in front of us. I think it speaks to the strength of the Big Ten; we have four losses in conference and we're still champions.
"We suffered some bad losses. And we probably could have made it easier on ourselves to win the Big Ten, but every team goes through that type of thing. But we came back and hit our stride in that Indiana game at Indiana."
Iowa was presented with the silver Big Ten championship trophy and then cut down the nets. The Hawkeyes' inexperience with the tradition showed. Marshall confessed to cutting her piece from the bottom of the net.
𝗖𝗵𝗮𝗺𝗽𝗶𝗼𝗻𝘀𝗵𝗶𝗽 𝗕𝗲𝗵𝗮𝘃𝗶𝗼𝗿 😤#Hawkeyespic.twitter.com/v8zviuo460

— Iowa Women's Basketball (@IowaWBB) February 28, 2022