By Pat Harty
INDIANAPOLIS – As Saturday's Big Ten Tournament semifinal showed in dramatic fashion, Iowa and Indiana are equal in so many ways except for one thing – making 3-point shots.
And that ultimately proved to be the difference in Iowa's 80-77 come-from-behind victory over Indiana at a packed Gainbridge Fieldhouse.
Sixth-year senior guard Jordan Bohannon banked in a 3-point shot from beyond the top of the key with 1.1 seconds left to play that proved to be the difference in a game in which Iowa rarely had the lead until it mattered the most.
Iowa made 14-of-32 shots from 3-point range, including three in the final 2 ½ minutes of the game, while Indiana only made 5-of-19 3-point attempts.
That's a difference of 27 points in a game that was decided by just three points.
"That's kind of how we've been all year," said Indiana head coach Mike Woodson. "We've had a lot of good looks from the perimeter. There were a lot of wide open looks tonight, we just didn't make them and that's a part of basketball. I mean, I got to keep positioning our guys."
Iowa an Indiana both have a marquee performer who stepped up huge on Saturday as sophomore forward Keegan Murray scored a game-high 32 points for Iowa, while Indiana star forward Trayce Jackson-Davis led his team with 31 points.
What separated them on Saturday, however, was 3-point shooting as Murray made 8-of-10 shots from 3-point range, while Jackson-Davis didn't attempt a three because it's just not part of his skill set.
"When Trayce is being double teamed, our guys have got to step up and make shots," Woodson said. "I thought Iowa made shots when they had open looks and we struggled to make them tonight in that area."
Iowa appeared to be in serious trouble when Jackson-Davis made a basket that gave Indiana a 67-58 lead with about 5 ½ minutes left to play.
But Iowa would go on to make four 3-point baskets down the stretch, including Bohannon's Big Ten record 452nd of his career.
His game-winning basket, which came in his school-record 177th game as a Hawkeye, triggered a wild celebration on the court, and it also lifted Iowa into Sunday's Big Ten championship game against third-seed Purdue, which defeated Michigan State in the other semifinal game on Saturday.
It will mark the first time that Iowa has played in the Big Ten championship game since 2006.
"It's something that can't even be put into words," Bohannon said when asked to describe the adrenaline rush from making a game-winning shot in a mostly hostile environment. "You dream about it as a little kid, throwing up shots in the backyard and throwing up shots at the local YMCA when you're a kid and hoping one day that you get to this stage.
"I was running in circles. I didn't know where to go because I was so excited being in that moment. It's been so much fun. What makes it more fun is the group of guys that we have to celebrate with."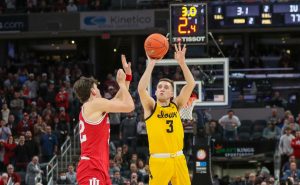 Bohannon decided to return for a sixth season for moments like Saturday.
His decision was huge because Iowa lost most of its top 3-point shooters from last season, including Joe Wieskamp, Luka Garza and C.J. Fredrick.
"That's what makes this year so much fun, too, because we lost some of those guys last year and we have a guy like Keegan step back up into the role and I don't think he got enough acknowledgment for what he just did the last game," Bohannon said. "He broke Luka Garza's single-season record. After how phenomenal and dominant Luka Garza was, he decided to break his record the next year after.
"There wasn't a lot of hype around Keegan and that just shows the type of person he is. He continued to put his head down and work. That's what makes this group so special. We have a lot of guys that just want to work and want to win."
Keegan Murray has gone from being a top reserve for Iowa last season to one of the best players in the country this season and a potential lottery pick.
He also broke Garza's single-season scoring record in Friday's quarterfinal victory over Rutgers.
Keegan Murray wasn't considered a serious threat from 3-point range heading into this season, but he's now making threes at an incredible rate.
Bohannon was looking at the stat sheet during the post-game press conference when he noticed that Keegan Murray had made 8-of-10 3-point shots in Saturday's victory.
"Sorry. I just looked at — I saw Keegan had eight threes," Bohannon said. "No one said anything about it. I was like oh, my gosh. that's insane."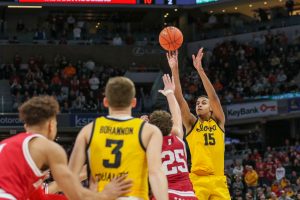 Keegan Murray's presence on the court allowed for Bohannon to get open looks down the stretch because Indiana was so pre-occupied with trying to contain Murray.
"Got to give credit to Keegan because I got a lot of open threes at the end of the game because of him," Bohannon said. "They put so much attention around him I was able to get open for a couple of shots and when I see a couple go in, it starts getting a little fun."
Keegan Murray also showed his leadership after Bohannon made his final three.
There still were 1.1 seconds left on the game clock when Keegan Murray huddled with his teammates to remind them to finish the job.
"He hit a big shot obviously and there's still time on the clock and you've seen crazy things happen in March," Keegan Murray said. "I didn't want our team to get too high that we hit a three, but there's still a time to get a shot up.
"I just wanted them to lock back in on defense, make sure they didn't get a clean look. We stuck to the game plan to guard the last final possession. That's what I was trying to do for our team."
Iowa has now won 11 of its last 13 games and also has combined to make 40 3-point baskets in the three tournament games, including a Big Ten Tournament record 19 against Northwestern in the second round on Friday.
Iowa coach Fran McCaffery puts an emphasis on 3-point shooting when evaluating players during the recruiting process.
And it's easy to see why.
"It's huge and I think it has gotten even more pronounced," Fran McCaffery said. "We, obviously, are looking for shooters, but you're looking for athletes, you're looking for size, you might look to replace a position, but as we move to position less basketball, you want your one, two, three, four and five.
"We don't even use those terms anymore. We want everybody to shoot threes. Everybody we're looking at, that is a big component of the evaluation process."
The ability to make 3-pointers is also the biggest reason Iowa still is alive in the Big Ten Tournament and one of the hottest teams in the country.