By Pat Harty
INDIANAPOLIS – Iowa sophomore forward Patrick McCaffery hadn't been himself in recent games due mostly to a nagging hip injury.
He also struggled in the first half of Saturday's game against Indiana in the Big Ten Tournament semifinals.
But when his team needed him the most, the son of Iowa head coach Fran McCaffery rose to the occasion in spectacular fashion, scoring 12 of his 16 points in the second half as No. 5 seed Iowa edged the Hoosiers 80-77 at a packed Gainbridge Fieldhouse.
Patrick McCaffery's performance in the second half helped set the stage for Jordan Bohannon's game-winning 3-point basket with 1.1 seconds to play.
"I didn't play great yesterday and I really haven't felt like myself now for a while, but I felt like I picked it up when we needed it most, get some buckets and get us going in the second half," Patrick McCaffery said. "I just felt more like myself. I'm starting to kind of get my legs back underneath me and get my wind back.
"I was kind of out of commission for three or four days and I was hurt before that. There was a bunch of random stuff that was going on. It's a hard time to be going through stuff like that, but so is everybody else."
In addition to his hip injury, Patrick McCaffery also recently dealt with an illness that hampered his performance.
He credited Iowa trainer Brad Floy for helping get healthy just in time to play a key role in Saturday's victory, which improved Iowa's record to 25-9 overall.
"That was just something that I've been trying to work through and Brad's been great with me, coaches, everybody's been great," Patrick McCaffery said. "I knew after yesterday that I was going to have a big today, and I'm glad I did, and I'm glad we won."
Patrick McCaffery has dealt with more than his share of physical ailments, including having a malignant tumor removed from his thyroid in junior high.
But he never has stopped working or believing in himself, and he was rewarded for his perseverance, toughness and resolve with Saturday's performance on a huge stage.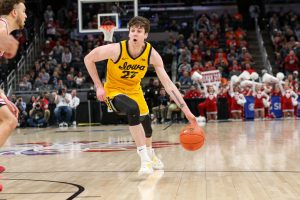 His performance on Saturday was in stark contrast to Friday's semifinal game against Rutgers when Patrick McCaffery played less than 16 minutes and scored just three points.
Fran McCaffery kept his son on the bench for most of the second half against Rutgers, and instead, used a lineup that included Patrick McCaffery's older brother, Connor McCaffery, Tony Perkins and Payton Sandfort for long stretches because they were playing well together.
The decision to sit Patrick McCaffery in the second half might have actually paid dividends in Saturday's game because he was fresh and rested.
"I think one of the things that helped, I didn't go back to him yesterday, I kind of stayed with Connor and Payton and Tony, I didn't give him a chance to go back in there," Fran McCaffery said. "And I need to do that, he deserves that, he's earned that, so that's part of it. Missed a couple early. I don't think he was aggressive enough. I think he did have four points in the first half, got a big tipped dunk when we weren't offensive rebounding. They were offensive rebounding in the first half, we were not, so that was a big play, a momentum play.
"But I challenged him to be who he is, affect the game the way that you can, driving the ball, moving without the ball, running the floor, use your length on defense. And he was special and I'm proud of him."