By Pat Harty
According to NCAA.com since the NCAA Tournament field expanded back in 1985, the 12 seed is 51-93 against the five seed. And since 2017 this upset has occurred five times, including three times in 2019.
I don't usually get caught up in stuff like this, but those numbers do seem somewhat alarming if you're an Iowa fan.
The fact that since 2010 the 12 seed has upset the five seed 17 times certainly grabs your attention, and makes you wonder if No. 5 seed Iowa might be vulnerable heading into Thursday's game against 12 seed Richmond in the first round of the NCAA Tournament in Buffalo, New York.
Fran McCaffery probably couldn't care less about the history of the five seed vs. 12 seed because nobody lives in the moment more than he does.
McCaffery doesn't have to warned or scared into respecting an opponent anymore than he already does because McCaffery has the utmost respect for any opponent under any circumstance.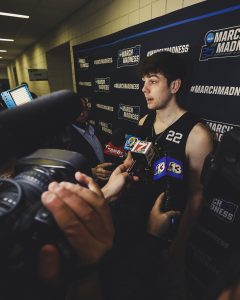 "Just really excited for our guys to have this opportunity. It's so special," Fran McCaffery said at Wednesday's press conference in Buffalo. "I always say I hope every one of my guys gets to go to it at least once. You want them to do it every year if you can. I'm very fortunate that as a player, as an assistant coach, and as a head coach, I have tremendous respect for every team that's in this tournament and how they got here. We're excited for tomorrow."
Fran McCaffery and Richmond head coach Chris Mooney both grew up in Philadelphia and played basketball for Ivy League schools, and they have since become friends on the coaching circuit.
"Chris and I are a little bit different being Ivy League guys that just kind of grinded our way through the business, and I enjoy seeing him on the road," Fran McCaffery said. "We sit next to each other when we're recruiting and talk. He has a great sense of humor. I have a lot of respect for what he has done."
Iowa and Richmond are similar in that they both had to overcome mid-season struggles to reach this point.
Iowa was only 4-6 in Big Ten play heading into February, but has since won 12 of its last 14 games, along with winning the Big Ten Tournament, while Richmond had to win the Atlantic-10 Tournament championship as a six seed to make the NCAA Tournament.
Richmond is peaking at the right time and that could be from having six graduate students on the roster, including 5-foot-9 star point guard Jacob Gilyard, who is lightning quick and the NCAA's all-time leader in steals with 466 heading into Thursday's game.
Junior Tyler Burton is the team's leading scorer and rebounder with per-game averages of 16.3 points and 7.7 rebounds Burton also leads the team in 3-point field-goal percentage at .377
Grant Golden, another graduate student, and Gilyard each average double-digits scoring at 14.1 and 13.3, respectively. They were both named to the A-10 All-Championship team, with Gilyard earning Most Outstanding Player.
"They're a really experienced team," Iowa forward Keegan Murray said Wednesday when asked what concerned him most about 23-12 Richmond. "They have a lot of seniors on their team, so that helps them a lot going into March, but they're a team that plays really well together.
"They share the ball really well. They have a couple of good players, and I feel like they are team — their experience helps a lot, and that's what you need and that's how they made the run in this tournament as a six seed. So, yeah, for us, it's all hands on deck because we know they're a really good team."
Richmond's last NCAA Tournament appearance came in 2011, when it won the A-10 and entered as a 12 seed, and then made a Sweet Sixteen run before losing to No. 1 seed Kansas in the Southwest Region.
So that could be perceived as another sign that Iowa could be in trouble on Thursday.
This season marks the first time that Iowa has won the Big Ten Tournament since 2006, but remember what happened to that team?
The 2006 squad didn't lose to a 12-seed in the first round of the NCAA Tournament, but rather to a 14 seed as Northwestern State pulled off a stunning 64-63 upset against an Iowa team that was seeded third and on a roll.
A big part of what makes the Big Dance so captivating are the early-round upsets.
Should Richmond pull off an upset on Thursday, it would become one of the Cinderella storylines, while Iowa would fade into oblivion and also face a future without Keegan Murray, who is almost certainly headed for the 2022 NBA Draft as a sophomore.
That hardly seems fair, but that's just how it is nowadays with the NCAA Tournament having so much power and influence.
"I think in the last two months, they've probably been one of the top five teams analytically," Gilyard said of Iowa. "They're a really good team. We're excited to be able to play against a Big Ten team. Doesn't really matter who it is. To be in the tournament, all you have to do is win one game. We're going to take it one game at a time and see where we go."
Gilyard brings up a good point in that all it takes is winning one game.
It probably would be asking too much from Richmond to beat Iowa in a three, five or seven-game series.
But to do it just once is more realistic as the history of the five vs. 12 seed has shown.
Iowa hasn't made a Sweet 16 appearance since 1999, and that just puts more pressure on the current team to end the drought.
Regardless of how the five vs. 12 matchups have played out over the years, Iowa should win Thursday's game if it plays up to its potential.
However, the better team doesn't always win in the NCAA Tournament, and the challenge for Iowa is to avoid falling into that trap.
This Iowa team has met all of its challenges recently, and my hunch is that will continue on Thursday despite the five seed being vulnerable.
Prediction: Iowa 82, Richmond 73
Iowa vs. Richmond
When: Thursday, 2:10 p.m. CST
Where: Buffalo, New York (KeyBank Center)
What: NCAA Tournament first-round game
TV: TruTV
Radio: Hawkeye Radio Network
Records: No. 16 Iowa is 26-9; unranked Richmond is 23-12.
All-time series: This is the first meeting between the two teams.