By Susan Harman
IOWA CITY, Iowa – When Monika Czinano was staring at the ceiling hoping to get some sleep Thursday night she probably conjured up a game much like Iowa's first-round rout of Illinois State. The full house at Carver-Hawkeye arena found it a dream come true.
The Hawkeyes smoked the Redbirds, 98-58, Friday to move to a second-round date with Creighton, an 84-74 victor over Colorado. The game will be Sunday at a time to be announced. It is also a sell-out.
"It was huge," Czinano said of Iowa's exclamation point to begin the tournament. "Just kind of coming off from this break, getting our legs under us again, just kind of getting a feel for it. It wasn't really that long of a break, but it kind of feels like it when you go from playing games every two to three days. I think (today's game) just built confidence for everybody whether they were a bench player or a starting five member."
            While not always the case, the stat sheet in this game tells the story.
            *Iowa shot 60 percent from the field; Illinois State shot 29.6 percent.
            *Iowa had 25 assists on 33 baskets, evincing its ball movement;
            *Iowa shot 46 percent from 3-point range, making 12-of-26; Illinois State 16.7 percent.
            *The Hawkeyes committed 11 turnovers, four less than their average.
            *Iowa outscored Illinois State 23-6 on points after turnovers.
            *Iowa's bench outscored Illinois State 28-5.
            "Iowa's an outstanding team," Redbird coach Kristen Gillespie said. "I thought they played exceptionally well today. We knew we had a tall task on hand, and they just, they had a few more weapons than we did."
Illinois State started well behind the 3-point shooting of Iowa City Regina grad Mary Crompton. The Redbirds held a 7-2 lead early, and Crompton scored eight points before the first TV timeout. She got another three to start the second quarter but then was shut down.
"I really credit my team for identifying somebody that was really hurting us and really doing a good job of keeping the ball out of her hands," Bluder said.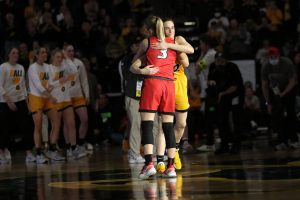 "They started the game in a man defense, and I think they were kind of struggling with our ball-screen offense, and I got some good looks off of that," Crompton said. "So then they shifted to the zone and were just kind of keying in specifically on me and Juju (Redmond). Then we started getting good looks so they switched to a triangle-and-two."
Still Iowa couldn't break away until it established an inside game.
Czinano didn't get her first shot (and first basket) until the beginning of the second quarter to give Iowa a 23-18 lead. She ended with nine in the quarter and finished with 18 points and seven rebounds.
"I'm kind of disappointed she didn't get more shots," Bluder said. "She's 6-for-6, she's perfect from the field, she's perfect from the free-throw line, 6-for-6. Why aren't we getting her more shots?
"You know she can take over a game inside. She's so talented. But, yeah, we've got to give her the ball a little bit more, too, to let her go to work."
Czinano explained that the Redbirds' double teams in the post made it hard to get shots early.
"I think as the game goes on it's hard to come double and leave my teammates open," she said. "They're all deadly, all four of them. Once that kind of settled down, and we were hitting from the outside, it made it a lot easier to get it inside in that second quarter, and I think that just getting everybody involved, including me, was huge."
Redmond led the Redbirds with 25 points and Crompton finished with 11. Illinois State shot 36 times behind the arc and made only six.
The Hawkeyes got 27 points and 10 assists from Caitlin Clark. Gabbie Marshall and Tomi Taiwo each had 13 points, and Addison O'Grady added seven off the bench.
A big key was getting Iowa's transition offense going, and 13 Redbird turnovers (10 on Iowa steals) helped. "Transition is always our best offense," Clark said. "
"We beat ourselves with turnovers before half, and they just executed those, and they made plays out of our turnovers; it was just our offense that got them the lead," Redmond said.
The Redbirds average 13 turnovers per game, so this game wasn't especially an outlier.
Iowa's defense will have to be even better against Creighton. The Bluejays shot 51 percent from the field and 42 percent from 3-point range in beating Colorado.
Czinano is prepared to stare at the ceiling again Saturday night in anticipation of the sold-out crowd and the high stakes.
"Eventually I fell asleep, but I think I just, having a sold-out crowd, there's nothing like it, and having experienced it once before, you just, you have a taste of it and you just want it every time."