By Susan Harman
IOWA CITY, Iowa – Creighton fell behind early, rallied in the second quarter when Colorado was in foul trouble, and then withstood every surge the Buffaloes could muster to win their NCAA first-round women's basketball game, 84-74.
The Bluejays advanced to Sunday's second-round game against Iowa at Carver-Hawkeye Arena. The game is sold out and a tip time has yet to be announced.
Creighton shot 51 percent against the Buffs and 42 percent from 3-point range (8-of-19).  They countered Colorado's size inside with rapid ball movement, back cuts and other adjustments to the defense. They showed strength and toughness in a game in which the whistles were mostly left in the referees' pocket.
The Buffaloes led after a quarter, but Creighton tied the game at 27 midway through the second period. Colorado had 6-4 Mya Hollingshed and quick point guard Jaylyn Sherrod on the bench with two fouls when the Bluejays finished the quarter with a 7-0 run for a 36-31 halftime lead.
Colorado tied the game in the third period and several times got within a basket or two, but invariably Creighton answered.
"We just stayed the course," Creighton coach Jim Flanery said. "To get down 11-2 to start the game…the game's not going to be decided in the first five to eight minutes. I had to tell myself that when we got down 11-2."
Colorado starts a front line of 6-foot-4 and 6-1 and brings in 6-3 junior Quay Miller off the bench. It's what Dick Vitale used to call an all-airport team. They are very imposing, and Sherrod is as quick a guard as there is.
"They're a really hard-working, physical defensive team," Flanery said. "They were super physical early, and I thought the officials let both teams play."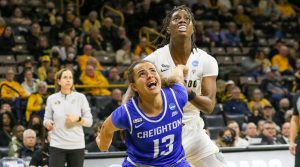 But somehow Creighton, whose biggest players are 6-1 Emma Ronsiek and 6-1 Payton Brotzki, managed. Four players were in double figures including Morgan Maly, who came off the bench to lead the team with 20 points. Guard Molly Mogensen had 16 off the bench for the Jays. Former Iowa guard Lauren Jensen had 16 and Ronsiek added 10.
They all can shoot and most of them can shoot from anywhere. And they were deadly at the foul line, making all 12 shots in the final quarter when they had to have them.
"I think the majority of our losses have been within less than 10, so we've been in that position before," Jensen said.
The Bluejays took advantage of mismatches and guards took wandering post players on a fast ride to the basket.
"We kept saying 'Rachael (Saunders) and Molly (Mogensen), you have to be toed up on the 3-point line and aggressive, trying to make a play against their post, which is easier said than done," Flanery said. "They went back and put a guard on her, but she had the kind of confidence to be able to continue to make plays."
Creighton and Iowa scrimmage each other before the season starts, and that may nullify at least some home-court advantage for the Hawkeyes.
"I do (like playing at CHA)," Maly said. "That's what Lauren said on the bench at the end of the game. It's like the ball falls here. Hopefully that's the case on Sunday."