By Pat Harty
IOWA CITY, Iowa – After a brutal three-day stretch in which both the Iowa men's and women's basketball teams were eliminated from the NCAA Tournament, and the Iowa wrestling team finished a distant third at the NCAA Championships and had no individual champions, Hawkeye fans were in serious need of a pick-me-up on Sunday afternoon.
And it came thanks to the Iowa baseball team.
Pitchers Ty Langenberg and Dylan Nedved combined to hold No. 12 Texas Tech to just four hits and had 17 strikeouts, including 10 by Langenberg over five innings as Iowa evened the two-game series with a 6-3 victory at a sunny Duane Banks Field.
The victory improved Iowa's record to 9-8, while Texas Tech fell to 17-4.
"This is the type of game that snow balls," Langenberg said. "This is a game that we think we can really build upon.
"Six games left until our conference play and we're really hoping we can string together a couple after this big win."
Iowa will look for two wins in a row when it faces St. Thomas Monday at Banks Field.
In facing Texas Tech, Iowa was up against one of the best teams in the country and it showed in Saturday's game as the Red Raiders cruised to an 11-3 victory against a mistake-filled Iowa team.
Iowa committed two costly errors in Saturday's loss and also allowed eight walks.
That overshadowed the fact that Iowa's pitchers combined for 15 strikeouts in Saturday's loss.
So in two games against the 12th-ranked team in the country, the Iowa pitchers combined for 32 strikeouts.
"Today I felt my best coming off a little ankle injury last week, so it was definitely good to be back and healthy," Langenberg said. "I would say my fastball command today was the biggest thing.
"We knew they were a big, physical team, especially the top part of the lineup. So I knew I'd have to locate the fastball and the slider. As along as I could hit with my slider, just mixing those two up, it would be a good day."
Langenberg gave way to Nedved in the sixth inning, and Nedved would go on to allow just one hit and had seven strikeouts in four innings of relief.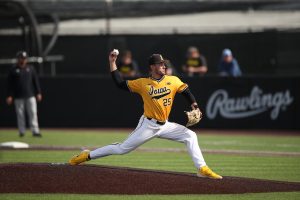 Nedved also didn't allow a walk, while Langenberg only had two walks in five innings.
"The big thing for us as a staff is fastball command and you see what you can do when you have fastball command, and that's really what we've been lacking," said Iowa head coach Rick Heller. "We've done a good job at times, but it just hasn't been consistent.
"And then you're down in the count and then you end up walking guys and nibbling too much, or whatever it might be. But that was just a good example for the rest of our staff what going out and pounding the strike zone with your fastball can definitely do."
The score was even at 1-1 when Iowa erupted for four runs in the bottom of the sixth inning.
Third baseman Andy Nelson sparked the rally by belting a two-run home run that smacked against the Sharp Family Video Board in left centerfield.
"Everybody was doing their job and we just felt like we needed to break it open there, and luckily for me, it was my opportunity, my chance to do that out there and it got done," Nelson said. "I usually don't try to hit a home run. But in that situation I just kind of felt everything from the fans to the dugout, just the level of intensity that arose, and I was just looking for a fastball and saw it and took a swing at it."
Shortstop Michael Seegers had one of Iowa's five hits and he also drove in two runs from his lead-off spot.
Heller was pleased to see his team execute in all phases after what happened in Saturday's game.
He now hopes that Sunday's win is the start of a hot streak.
"We've still got six games left until conference starts, today was a positive day, win or or lose, we played better, we played with more intent, we were more focused and we were more confident," Heller said. "Let's just try and string something together and it starts tomorrow."
Iowa pulled off the upset on Sunday despite being without Izaya Fullard, who still is hampered by a hand injury, without Brendan Sher, who injured his knee in Saturday's game, and without Sam Hojnar, who missed Sunday's game with what Heller said was a stomach ailment.
"The day didn't start out making the lineup very easy," Heller said. "But it's what we're always talk about, but hadn't really done a lot this year is it was a get-it-done day, find a way regardless of who was out there. The next man up mentality, and go out and find a way to put a good game together and they did."