By Susan Harman
IOWA CITY, Iowa – Monika Czinano bent over and put her hands over her face. Her personal grief was palpable after the Iowa All-American post racked up 27 points while carrying her team but left a game-tying shot short in the final second. Creighton celebrated midcourt with a hard-fought, physical, 64-62 victory over second-seeded Iowa at Carver-Hawkeye Arena in an NCAA second-round tournament game.
Creighton (22-9) advances to the regional semifinal in Greensboro, N.C., while Iowa's season ended at 24-8.
Former Iowa player Lauren Jensen hit a 3-pointer with 12.6 seconds left that proved to be the winner. Jensen made the Bluejays' final four baskets of the game in an impressive clutch performance.
"I was just super excited," Jensen said. "I honestly didn't know if it was going to go in.
"I came off of (a screen) kind of assessing my options. I knew that if they were going to switch I could possibly have a 3-point shot because they were kind of sagging off on that. And I ended up passing it back to Tatum (Rembao) and that kind of freed me up a just a little bit to be able to get the shot off."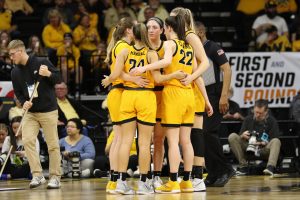 "At that point we were switching on all ball screens," Czinano said. "All of their players shoot threes. They're all good from the 3-point line. We had hands up; she shot over it. It's a great shot down the stretch. She's a great shooter so props to her."
CU led 63-62 after Jensen's shot, and a teammate added a free throw after Iowa failed to score at the other end on a Clark drive with 6 seconds left.
An Iowa timeout with 3.4 seconds moved the ball to the front court. Bluder said they were looking for Clark or Czinano to try to tie the game. The ball went inside the lane to Czinano. She turned and lofted a soft shot that barely failed to clear the front rim. McKenna Warnock's follow shot was also short in the melee under the basket.
The huge crowd was stunned.
"I think I had a hook shot," she said. "I've shot a million hook shots in my life, and that one happened to not go in."
Creighton coach Jim Flanery figured the ball would go to Czinano inside or Clark for perhaps a drive to the basket. He was not real pleased that Czinano was able to catch the inbounds pass so easily, but it worked out in the end.
"I thought we battled and battled and battled," Clark said. "Obviously we didn't perform the way we needed to to win. I think we had a lot of opportunities to win the game. But overall they executed down the stretch and we didn't. There's a lot of little things that you can go back and pick out from a one-possession game."
Iowa held two four-point leads late, 58-54, and 60-56, the latter with 3 minutes left. But Iowa scored only one more time in six possessions and missed seven shots. Jensen, on the other hand, twice drove for layups, hit a 15-footer from the elbow and nailed the go-ahead three with 12.6 seconds left.
Jensen, who saw only spot action last year at Iowa as a reserve, finished with a team-high 19 points and seven rebounds.
Iowa fell behind early, and it took a monumental effort to only trail by 38-32 at halftime. The Hawkeyes were done in by rebounding once again. The Jays outrebounded them by 15 and had a whopping 15 offensive rebounds. Creighton scored 19 second-chance points.
"Rebounding was an issue," Clark acknowledged.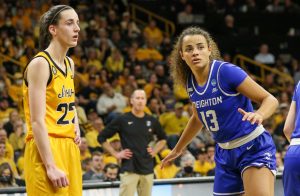 "I think something too that they do a little bit differently is they shoot a lot of threes, and when you shoot threes it's a lot of long rebounds, which is something we know, but we might not be as used to the volume of 3-point shooting," Czinano said. "But I agree with Caitlin that that is something that needs to improve for our team."
The Bluejays did a great job defending the dynamic Clark. Flanery used three guards (Rachael Saunders, Tatum Rembao, Molly Morgensen) who face guarded and chased the paripatetic Clark all game. He wanted to keep the ball out of her hands and jam her when she did have it, although she did end up with 11 assists.
Clark finished with 15 points but made just 4-of-19 shots and only got to the foul line four times, making all four. But she had company. Iowa made just five of 22 3-point shots.
It wasn't just threes. Iowa missed a number of close shots that you have to have in a tight game. Take away Czinano's 12-for-20 shooting and the rest of the team was 13-for-50 from the field.
"I think we got some shots that we usually make, but I do think we started adjusting our shots a little bit based on… we were getting really bumped hard, and so you just alter your shot a little bit. I don't think that boded well for us."
Bluder and the players complimented the sellout crowd, the third of the season for women's basketball at Iowa, which nearly willed the team to victory.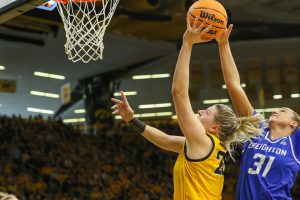 "I think what Iowa does and how they support women's basketball is unlike anything anywhere," Czinano said. "Walking out of the tunnel and seeing that many people is almost unexplainable.
"I just thank you so much to everybody who came out today. It does suck to have that volume of people here and not be able to perform. But I really think that getting that many people in one gym to watch women's sports is huge."
NOTE:  Bluder made a point of talking about the officiating albeit carefully.
"I do believe that that game was called differently than what we've seen all year, and I really think that's unfortunate," she said. "We average going to the free-throw line 18 times; we go eight tonight. We averaged 34 fouls being called in a game; 22 were called tonight. It's pretty frustrating when an NCAA championship game is called completely different than the 30 games that prepared you."
She clarified that she was upset with the inconsistency from the rest of the schedule and not necessarily with how the game itself was called. Bluder was also vocal about officiating at Iowa State and after the Ohio State loss at home.