By Pat Harty
IOWA CITY, Iowa – Tyler Goodson is trying to go where very few Iowa running backs have gone before.
The Georgia native hopes for a long and successful career in the NFL, and Goodson is so confident that he's ready to make the leap that he will bypass his senior year at Iowa to pursue his dream.
Goodson wants to take care of himself, and his family, which a career in the NFL would help considerably in doing, and he wants to play the game that he loves at the highest level.
But there's also one other thing helping to motivate Goodson, and that's the chance to show that an Iowa running back can not only make it in the NFL, but also play a key role for an extended period because it hasn't happened very much.
"Most definitely," Goodson said Monday after participating in Iowa's annual Pro Day event. "I think for me it's just all about going in there and trying to prove myself to the world. Knowing that I am one of few running backs in this program is definitely motivation for me.
"And motivation also comes from my family, going in there and be able to take care of myself and take care of my family is really why I play this game. They're my rock. And I love this game with a passion. There isn't anything else I would do. I just love to play the game of football, and that's what motivates me."
Iowa head coach Kirk Ferentz has built and sustained a productive NFL pipeline with 79 Iowa players having been selected in the draft since 2000, including 10 in the first round and 10 in the second round.
But only two former Iowa running backs have been picked in the NFL Draft since 2000, and there currently are no former Iowa running backs on an active NFL roster.
Shonn Greene was the last Iowa running back taken in the draft in 2009.
He was picked in the third round by the New York Jets after having won the 2008 Doak Walker Award as the nation's top collegiate running back.
Greene lasted for six seasons in the NFL, which is considered long for a running back, and he rushed for 4,110 yards and scored 24 touchdowns.
Greene never became a star in the NFL, but he played long enough to have earned a significant amount of money.
Goodson said Monday that his decision to declare for the NFL Draft as a junior didn't have anything to do with wear and tear on his body, or the fact that most NFL running backs don't last for very long.
"That wasn't a factor," Goodson said. " It was just all about what I felt I needed to do. And I felt like I accomplished everything I could, or mostly everything I could do. And did the best I can to put myself in this position. So, I didn't think about the amount of years going into the league or how much contact I've taken. It was just all a personal decision."
Goodson, who was listed at 5-foot-10 and 199 pounds as a Hawkeye, led Iowa in rushing in each of his three seasons on the team.
In fact, he became the first true freshman to lead Iowa in rushing for a single season with 638 yards in 2019.
He also made first-team All-Big Ten during the Covid-shortened 2020 season, and he rushed for over 1,000 yards this past season.
Those accomplishments, coupled with having run the 40-yard dash in 4.42 seconds at the NFL Combine in February has Goodson feeling optimistic that he is ready to make the leap from college to the NFL.
"My main goal was to open a lot of guys' eyes and go out there and run as fast as I can and I did that," Goodson said of the combine. "I totally believed in myself, and I had confidence in myself and I knew I was going to run fast.
"It was just all about going out there and executing and that's what I did."
Goodson worked extremely hard to prepare for the 40-yard dash because he knows that a fast time carries a lot of weight and can be influential heading into the draft.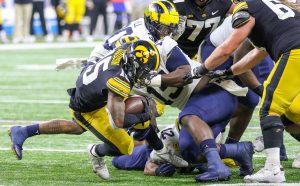 "Nowadays everything is based on the forty," Goodson said. "Everybody wants to see if you have that breakaway speed. So, it definitely is a good thing to go out there and show."
Goodson also showed that he could catch the ball as a Hawkeye. He finished second on the team with 31 receptions this past season.
"I think the ability of running backs to catch the ball is definitely the difference in guys lasting longer in the league," Goodson said.
Former Iowa running back Ronnie Harmon lasted for 12 seasons in the NFL from 1986 to 1997 due largely to his pass-catching skills.
Harmon is the only player in NFL history to average 4.5 yards per carry on 600 rushing attempts and 10 yards per catch on 550 receptions. He is also one of only five running backs to ever gain over 10,000 all-purpose yards and have less than 20 fumbles.
Even though he was born three years after Harmon retired from the NFL, Goodson knows all about Harmon's long and distinguished NFL career, and why he lasted for so long.
"That why he lasted (so long) because he could go out there and catch the ball," Goodson said of Harmon. "This game is definitely based on the ability to run routes and catch the football."
The NFL game has changed considerably since Harmon was selected in the first round of the 1986 NFL Draft by the Buffalo Bills.
Running backs aren't valued nearly as much these days due partly to how the game is played, and because of the high risk of injury.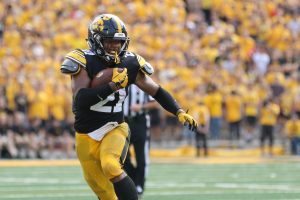 The game is more spread out now and running backs have to be more versatile.
"Now that I'm in the process, I definitely pay attention to it more to see what schemes fit me best," Goodson said of the different offenses and schemes being used in the NFL. "Every team is trying to get to the point where they're trying to get running backs in the passing game.
"So, right now, it's just all about where I could have good balance where I could catch the ball and run the ball, or maybe just go in there and fit in as a role player."
Goodson said it wasn't easy giving up his senior season at Iowa. He loves being a Hawkeye and he will cherish the memories forever.
But it was a personal decision that Goodson feels is in his best interest right now.
Iowa center Tyler Linderbaum an defensive back Dane Belton also will skip their senior seasons to enter the 2022 NFL Draft.
"It most definitely was hard deciding to come out just because I know the guys in the locker room and I love playing with these guys," Goodson said. "I did what I think is the best situation for me. I feel that I accomplished most everything that I wanted to do here and I did everything I can to put myself in position to where I'm at now. So overall, it was hard a decision, but I think it worked out."
Goodson was among a handful of former Iowa players that met with the media after the Pro Day event on Monday.
Fellow running back Ivory Kelly-Martin also participated in Pro Day and he also hopes to go where few Iowa running backs have gone before.
Kelly-Martin was pleased with his performance at Pro Day, so now it just comes down to seizing whatever opportunity should come his way, most likely as a free agent.
He played a number of roles at Iowa, from being a starter to being a standout on special teams. He also showed that he could catch and block.
"The value of running backs might be going down, but that just puts more emphasis on increasing your value, and finding ways to increase your," Kelly-Martin said. "There's plenty of ways you can increase you value as far as being a running back.
"Just being more dynamic, being able to not only run the ball, but catch the ball. And not only those, two, but being able to block."