By Pat Harty
IOWA CITY, Iowa – Basketball coaches, both men and women, almost always have the same answer when asked what they want most from a game official, which is consistency.
It's easier for coaches and players to adjust if they know what to expect from officials.
If touch fouls are being called early in a game, you would like to assume they would also be called late in a game.
If touch fouls aren't being called early in a game, you would like to assume that would also be the case late in a game.
The stage of a game should not determine if a foul should be called. If a touch foul gets called one minute into a game, it should also be called with one minute left in a game.
The point in a season also should not determine if a foul does or doesn't get called.
What's a foul in January and February should also be a foul during March Madness or vice versa.
I bring this up after having watched the first two rounds of the NCAA Men's and Women's Tournaments and being left somewhat confused and disappointed by the lack of consistency with the officiating in both tournaments.
In no way am I suggesting that the officials caused the Iowa men's basketball team to lose in the first round to Richmond last Thursday, or caused the Iowa women to lose to Creighton in the second round this past Sunday.
But it makes sense why Iowa women's basketball coach Lisa Bluder was so frustrated with the officiating after Sunday's 64-62 loss because fouls that were called during the regular season weren't called in Sunday's NCAA Tournament game.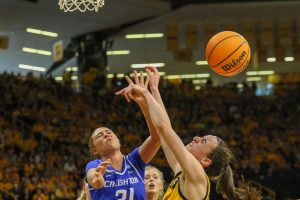 "I do believe that that game was called differently than what we've seen all year, and I really think that's unfortunate," Bluder said. "We average going to the free-throw line 18 times; we go eight tonight. We averaged 34 fouls being called in a game; 22 were called tonight. It's pretty frustrating when an NCAA championship game is called completely different than the 30 games that prepared you."
Bluder clarified that she was upset with the inconsistency from the rest of the schedule and not necessarily with how the Sunday's game itself was called. Bluder was also vocal about officiating at Iowa State and after the Ohio State loss at home.
Bluder also made a point to congratulate Creighton for its preparation because she didn't want to take anything away from what coach Jim Flanery's team accomplished in a hostile environment.
But Bluder has a point about the officiating in Sunday's game, and it impacted both teams.
There were several times when full body contact near the basket wasn't called a foul, but touch fouls away from the basket were called.
But there were also times when full body contact was called a foul, and deservedly so, while touch fouls were ignored.
Iowa sophomore guard Caitlin Clark seemed annoyed and distracted by how Sunday's game was called, and it was probably due mostly to the lack of consistency with the foul calls.
Clark is used to getting to the free throw line, but she struggled to draw fouls in Sunday's game because the officials allowed way more contact compared to the regular season, and what was considered a foul on one trip down the court wouldn't get called on the next trip.
At least, that's how I saw it.
And again, it worked against both Iowa and Creighton.
Players become tentative when they don't know what is or isn't considered a foul.
I would prefer that games aren't over-officiated by having too many touch fouls called, but I also believe that basketball is a free flowing sport in which contact should be kept to a minimum.
It's up to the officials to find that balance, and then stick with it.
I also normally don't critique officials because more times than not, they get the calls right, and because they certainly know a lot more about how a game should be called than I do.
And in many cases, calling out the officials is just an excuse for why your team lost.
But I've watched several games in both the men's and women's tournaments in which the lack of consistency with foul calls was glaring.
And that's unfortunate.