By Pat Harty
IOWA CITY, Iowa – When you take the time to really think about it, which I did before writing this column, what Brody Becht is doing this spring is truly spectacular.
It's a testimony to his discipline, work ethic, focus, stick-to-it-iveness, stamina and self-confidence.
Just playing one sport at the Power 5 level is a daunting task, and yet, Brecht as a true freshman is playing two sports, and for the next month, he's playing them at the same time with baseball and spring football both underway at the University of Iowa.
A hard-throwing right-handed pitcher in baseball, and a big and physical receiver in football, the 6-foot-4, 205-pound Brecht is an intriguing prospect in both sports, but especially in baseball where his fastball is consistently clocked in the high 90s and sometimes over 100 miles per hour.
The Ankeny native has made seven relief appearances for the Iowa baseball team this season and has 19 strikeouts in 10 ½ innings pitched. But he also has struggled with his control having walked 12 batters.
In addition to practicing and playing with the baseball team on pretty much a full-time basis, Brecht is also practicing with the Iowa football team twice a week during spring drills, and communicating with Iowa receiver coach Kelton Copeland, Iowa head coach Kirk Ferentz and strength and conditioning coach Raimond Braithwaite on a regular basis.
"Him splitting time between the two is very tough, very tough," Copeland said. "As you can imagine just being a one-sport college athlete is very time demanding on a lot of different levels.
"But to do two sports, it's literally double the load. And he has been tremendous working with not only myself communicating with me, but communicating with Ray, coach Ferentz and the rest of the staff on where he can navigate some time with us and navigate time while with baseball."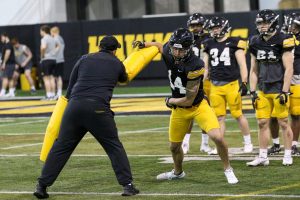 Brecht is currently on the road with the Iowa baseball team as it prepares to face Michigan in a three-game series to open Big Ten play beginning on Friday.
"They're in season right now, so that's the priority," Copeland said of baseball. "No question, that's the priority. So, when he can, and he's available, basically non game days with baseball, he's practicing with us. On game days he's still with us and he still meets with me. He still meets with the group, and he still is attending practice.
"But most of those baseball game days he's not dressed (for football practice) for obvious reasons because he has to go play a game potentially later on that afternoon."
It is easy to overlook that Brecht is also a full-time student, in addition to playing two-sport status.
So, imagine trying to juggle a schedule that pulls him in so many different directions.
Brecht is expected to meet with the media some time next week, and for the first time since the Iowa baseball team started playing games in February, in response to a handful of requests to be interviewed.
He drew quite a crowd at Iowa baseball media day due partly to his immense potential and because of playing two sports.
It just doesn't happen very often because it's so demanding from a time and energy standpoint.
"I have a lot of respect for Brody," said Iowa receiver Arland Bruce. "I had trouble balancing school and football when I first got here. But for him to have two sports and school, that's insane.
"And when he's at (football) practice, he has the best attitude and he's working hard. So, that is awesome."
Awesome is a good word to describe it because I remember having trouble balancing just school, social activities and vegging in college. What Brecht is doing is almost beyond comprehension.
Brecht is fortunate that the football and baseball seasons don't overlap because that would've made it virtually impossible to play both.
Connor McCaffery has attempted to do it in basketball and baseball, but it just hasn't work out because the two sports overlap.
The baseball season is well under way by the end of the basketball season, and it's been so hard for Connor McCaffery to catch up as a position player.
He also has been hampered by injuries, which is always a concern when trying to juggle two sports.
Brecht is having to make sacrifices as a two-sport athlete because he can't spend all his time and energy focusing on just one sport.
He misses out on certain things in both sports, and he also has to train differently to meet the demands and expectations from each sport.
And then think about all the things he misses from a social standpoint as a student.
But he's willing to do it and that says a lot about his spirit and drive, and his ability to manage time.
It also says a lot about Kirk Ferentz and Iowa baseball coach Rick Heller and their willingness to make sacrifices and work together so Brecht can live out his dream.
Brecht turned down big money in professional baseball to be a Hawkeye.
The chance to play two sports at Iowa was just too good to pass up, and Brecht is determined to make it work in both sports.
Just making the attempt is impressive in itself.