By Pat Harty
IOWA CITY, Iowa – When I think back to the journey traveled by the 2021-22 Iowa men's basketball team, these 10 takeaways will always standout more than how the season ended.
Keegan Murray's ascent to greatness: Not since Brad Banks went from being Iowa's backup quarterback in 2001 to the Heisman Trophy runner-up in 2002 has there been a one-year ascent as incredible as what Keegan Murray pulled off this past season.
From averaging seven points as a freshman reserve to averaging 23 points as a sophomore and being named a consensus All-American, Keegan Murray made the spectacular look easy, and he showed that anything is possible if you work hard, stay focused, driven and humble, and win the gene pool.
Keegan Murray is fortunate to stand 6-foot-8 and weigh about 225 pounds. But he also has showed appreciation for his good fortune by working extremely hard to reach his potential.
He and his twin brother, Kris Murray, both inspire each other to get better, and it's been that way ever since they started playing competitive basketball.
Next season will mark the first time they've been separated as basketball players with Keegan Murray headed to the NBA as almost certainly a lottery pick, and with Kris Murray poised to become one of Iowa's top players next season.
2. Joe Toussaint's team-first mentality: So many factors contributed to Iowa winning the Big Ten Tournament and 26 games overall, which is the second most in program history, and the way in which Toussaint handled losing his starting position after 21 games with class and maturity, and then became a spark off the bench, ranks near the top.
His ability to pressure the ball on defense with his cat-like quickness was critical to Iowa's success, especially in the Big Ten Tournament.
Iowa coach Fran McCaffery took a chance by moving Toussaint to the bench when Iowa was struggling heading into February because some players might have thought they were being made the scapegoat and then lashed out in subtle ways, or in ways not so subtle.
The move could've have destroyed Iowa's chemistry and morale, but Toussaint refused to let that happen.
He embraced his role off the bench, and it's hard to argue with Fran McCaffery's decision to switch Jordan Bohannon from shooting guard back to point guard, and to start Tony Perkins at shooting guard, since Iowa won the Big Ten Tournament and 12 of 15 games with that lineup.
Team chemistry was perhaps one of Iowa's biggest strengths and Toussaint deserves credit for not allowing his situation to change that.
Toussaint deep down probably hated the move because he's an intense competitor and highly confident as a native of New York City where confidence is required.
He stayed the course for the sake of the team, but he has since decided to look for school where he can play a more substantial role.
Iowa fans should be forever grateful to Joe Toussaint for always putting the team first.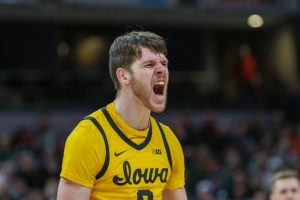 3. Filip Rebraca's support role: He could've easily stayed at North Dakota where he was a double-digit scorer and the star of the team, but he wanted to play on a bigger stage, even if it meant playing a support role.
In no way was Rebraca expected to fill the massive hole caused by Luka Garza's departure.
What Iowa needed a was post presence, somebody who would guard opposing post players, pound the boards and score when the opportunity presented itself.
The 6-9 Rebraca, who is from Serbia, filled that unglamorous role, and he did so by playing extremely hard and by doing much of the dirty work.
He probably wanted to take more shots because who wouldn't besides maybe Dennis Rodman?
But Rebraca was willing to sacrifice for the team, and making sacrifices is a big part of winning.
4. How Tony Perkins seized the opportunity: The Indianapolis native had shown some flashes before Fran McCaffery made him a starter heading into February.
But Perkins as a sophomore hadn't played well enough to think that this move was fail proof.
He was given an opportunity at a critical point of the season, and to say that the 6-4 Perkins seized that opportunity would be putting it mildly.
He already was a good defender, but it's on offense where Perkins lifted his game to another level down the stretch, scoring in double figures in five of the last nine games.
In fact, Perkins became so comfortable with the ball in his hands that he even played some at point guard.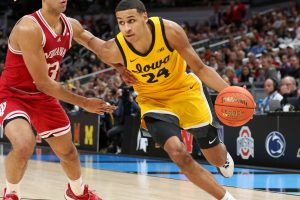 5. Kris Murray's potential: There were times this past season when Kris Murray was Iowa's best player on the court, even when his more celebrated twin brother was playing.
Kris Murray's performance against Indiana in the regular season in which he scored 29 points and grabbed 11 rebounds was a thing of beauty, and proof of his vast potential.
Kris Murray's game, much like his brother's game, is built around being versatile.
They both can score at all three levels and defend multiple positions.
Kris Murray's biggest problem at this point is inconsistency.
But he should have the opportunity to play through his inconsistencies next season as one of Iowa's top players.
This past season was only a glimpse of Kris Murray's potential, considering he only played an average of 17.9 minutes per game.
But his contributions were crucial to Iowa's success, and the best is yet to come.
6. Patrick McCaffery's energy and aggressiveness:  Unlike his older brother, Connor McCaffery, the first thought on Patrick McCaffery's mind when he has the ball in his hands is usually to score.
It's just how Patrick is wired.
He played that way in high school, and little has changed while playing for his father.
Patrick plays with extreme confidence on offense, and his combination of length at 6-9 and his ability to make tough shots in traffic while floating either to his left or right makes him unique and effective.
Patrick was arguably Iowa's best player in the loss to Richmond in the first round of the NCAA Tournament as he scored 18 points, including 12 in the second half.
Patrick finished third on the team in scoring with a 10.5 per-game average.
He only shot 42.2 from the field, but that was partly due to his shot selection, which should improve over time.
Patrick loves to attack the basket despite his slender 6-9 frame and he is comfortable taking what some would consider difficult shots in traffic. He also made enough difficult shots this past season to show why he takes them, and why his father lets him take them.
Patrick McCaffery and Kris Murray should form a potent duo at forward next season with both  having shown star potential.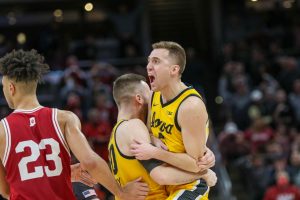 7. Jordan's Bohannon's clutch gene: Say what you want about his defensive weaknesses, and  about his lack of quickness, and his inability to beat defenders off the dribble, but Iowa wouldn't have won the Big Ten Tournament for the first time since 2006 without him.
Bohannon's game-winning three against Indiana in the Big Ten semifinals might have been lucky since he banked it in from way beyond the top of the key.
But the two 3-pointers he made during the late-game surge were vintage Bohannon in that they were timely and impactful.
He showed a knack for making those kinds of shots on the way to becoming the Big Ten's all-time leaders in 3-point baskets with 455 made.
He made 10-of-16 shots from 3-point range in a win at Maryland this past season, and that would've been hard to do without any defenders.
Bohannon certainly has flaws that were exposed at times over six seasons.
But he also had a gift for making pivotal shots from 3-point range, and that gift will be hard to replace.
Fran McCaffery knew that he couldn't take Bohannon out of the starting lineup because Bohannon's ability to make perimeter shots was something defenses had to account for at all times.
8. Payton Sandfort's fearlessness: He plays as if every shot he takes is going in the basket, even the ill-advised shots, and that is meant as a compliment.
Sandfort appears to have a little bit of Jordan Bohannon in him in that he is willing to take big shots at any point in a game.
And he showed that as a freshman.
And though Sandfort only shot 41.8 percent from the field, that was partly due to his willingness to take difficult shots.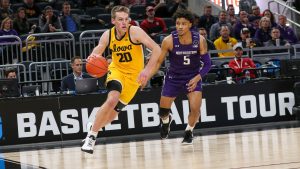 The Waukee native made 34 shots from 3-point range, which ranked fourth on the team, despite only playing an average of 10.5 minutes per game, which ranked 10th on the team in minutes played.
He also proved to be almost automatic from the free throw line where he made 15-of-16 attempts this past season.
Sandfort's shooting ability combined with his size at 6-7 should allow him to play both small forward and shooting guard depending on matchups moving forward.
9. Connor McCaffery's role off the bench: Fran McCaffery's son went from being a two-year starter who played substantial minutes to playing 17.1 minutes this past season as a fifth-year senior, and mostly off the bench.
Connor McCaffery started four games this past season, but that was due mostly to his brother being injured or sick.
Connor's main role as a 6-5 guard was to provide a spark of the bench with his toughness, versatility and leadership.
He embraced that role and the team benefitted greatly from it.
Connor is now leaning towards returning for a sixth season, and he would most likely play a similar role as a spark off the bench.
Connor is mature beyond his years, and his presence is almost like having another coach on the floor because of how well he understands the game, and how well he understands how his father wants to play the game.
10. Point guard depth: Iowa had three point guards who made significant contributions this past season in Bohannon, Toussaint and Ahron Ulis.
Even Tony Perkins played some at point guard.
That allowed Fran McCaffery to take advantage of certain matchups, and that was key to Iowa's success down the stretch.
Ulis didn't play as much in the postseason, but there were games in the regular season in which he was Iowa's best point guard.