By Pat Harty
IOWA CITY, Iowa – If you were to rank the five best players on the Iowa football team, who would they be?
Best doesn't necessarily mean the player with the most NFL potential, or with the most talent, but rather a player who has consistently performed at a high level and has shown a knack for making big plays at pivotal times.
This list could change during the course of next season, but at this very moment in week three of spring practice, here's my top five:
Tory Taylor, Jr., punter – The Australia native has been a model of field-changing consistency in two seasons as a Hawkeye.
He was raw as a punter and new to the American way of playing football when he arrived in Iowa City in the summer of 2020, but you'd never know it from how he has performed.
Taylor was named the Big Ten Punter of the Year as a Freshman in 2020 when he averaged 44.1 yards per punt, and he followed that up by averaging 46.1 yards on 80 punts last season.
He showed both power and finesse last season as 27 of his punts traveled at least 50 yards and 39 were downed inside the opponent's 20-yard line.
Every team relies on field position, but Iowa has a heavy reliance due to how it plays under Kirk Ferentz.
The Iowa offense also has struggled in each of the past two seasons, placing even more emphasis on field position.
Taylor's ability to shift field position has been one of the biggest keys to Iowa's success in each of the past two seasons, which includes winning the Big Ten West Division last season.
Iowa special teams coordinator LeVar Woods traveled thousands of miles and spent most of two days sitting cramped in an airplane to recruit Taylor, and it was worth every mile and all of the inconvenience.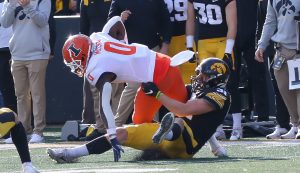 2. Jack Campbell, Sr., middle linebacker – This tackling machine from Cedar Falls enters his senior season as one of the top returning linebackers in the Big Ten.
Campbell led the nation with 143 tackles last season, and he also had two interceptions, six pass break-ups, six quarterback hurries and he recovered two fumbles, including one that he returned for a touchdown against Iowa State.
He excels in traffic, and in space, and rarely is out of position.
And though he's bigger than most linebackers at 6-foot-5 and 243 pounds, Campbell moves well for his size.
Iowa has produced a number of star linebackers under Kirk Ferentz and Campbell is already in that distinguished group, and should only get better.
3. Sam LaPorta, Sr. tight end – He led Iowa with 53 catches for 673 yards last season, and many of his catches helped to keep drives alive.
LaPorta has a knack for making difficult catches in traffic, and he excels at gaining yards after the catch.
He considered leaving a year early for the NFL before deciding to return for what should be a productive senior season.
LaPorta also has proven to be durable as a Hawkeye having missed just one game over three seasons due to injury.
He and sophomore Luke Lachey should form a nice one-two punch a tight end this coming season.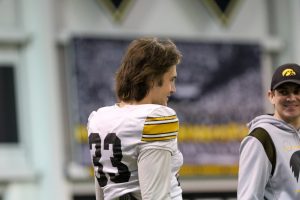 4. Riley Moss, Sr. cornerback – The Ankeny native also thought about leaving for the NFL before deciding to return for a rare fifth season of competition, thanks to the free Covid year.
Moss gives Iowa one of the most experienced players in the country regardless of position, having started games dating back to the 2018 season.
He was named the Big Ten Defensive Back of the Year last season and intercepted four passes despite missing three games due to a knee injury.
He returned two of his interceptions for touchdowns in the 2021 season opener against Indiana.
His presence gives Iowa a proven playmaker and a veteran leader.
5. Charlie Jones, Sr. receiver/return specialist – The Illinois native was named the Big Ten Return Specialist of the Year last season, and that by itself probably would've been enough to make the top five.
But Jones is also a reliable receiver as he had 21 receptions for 323 yards and three touchdowns last season. He also averaged 15.4 yards per catch.
His 100-yard kick return for a touchdown against Illinois last season helped shift the momentum in a game that Iowa would go on to win at home.