By Pat Harty
IOWA CITY, Iowa – Brody Brecht rarely had messes to clean up on the mound in high school.
But the few times when he did, the hard-throwing right hander from Ankeny was allowed to clean up his own messes, and more times than not, he was hugely successful.
The circumstances are much different for Brecht as a freshman pitcher for the Iowa baseball team.
"That's the biggest thing that I realized that you're on a short leash here in college," Brecht said Tuesday. "In high school, you could work out of a lot of stuff.
"But there's been times (at Iowa) where I've gotten taken out where I'm like, I could have worked through that. But it's part of the game. You don't make a mess or else somebody is going to have to clean up for you. So, I'm just kind of getting used to that."
Brecht is getting used to a lot of new things as a rare two-sport athlete in college, including having very little free time, especially since spring football started slightly more than two weeks ago.
In addition to being a pitcher for the Iowa baseball team, Brecht also plays receiver for the Iowa football team.
His role as a two-sport athlete, and being a full-time student, leaves him with little time to just hang out and relax.
"A little bit here and there," Brecht said of his free time. Sometimes, it depends on the day."
Brecht is learning to manage his time, and to prioritize things.
"You really have to make a list of what's important and what you have to get done today and what can wait until the weekend," Brecht said.
One of the challenges for Brecht is overcoming what he loses from playing two sports.
While his teammates in football and baseball have a sole focus, Brecht has to make sacrifices in each sport because there just isn't enough time for him to give each sport 100 percent of his attention.
"Obviously, I'm trying my best at both," Brecht said. "But we're prioritizing baseball right now, so obviously, I'm not going to be able to 100 percent be in all the football drills and everything.
"So, obviously, I'm taking little step back there. But then when fall (football) picks up, then I'm taking a step back in baseball and focusing on football. So, it's just kind of balancing the times right now and just trying to give it my all."
Brecht had a pretty good idea what to expect when he turned down a chance to be selected in the Major League Draft last summer to play both football and baseball at Iowa.
"I knew it would be tough," he said. "I've played a lot of sports my whole life, but not at this level, obviously. When I first started, it was really tough. But I've of gotten the hang of it, like with my schedule and everything. So, it's gotten a lot better."
Brecht, who was redshirted in football last season, has appeared in seven games for the Iowa baseball team this season, all of which have come in relief.
He has 19 strikeouts in 10 ½ innings, but he also has issued 12 walks and has a 4.22 earned-run average.
His fastball has been clocked at nearly 102 miles per hour, and while that gets fans and the media excited, Brecht doesn't pay much attention to it.
"I don't really worry about the velocity," Brecht said. "I'm just trying to throw strikes. I don't really look at the clock after I throw a pitch. Usually, I can tell by the dugout's reaction. I just try to do my job and that's to throw strikes and get the batters out."
Brecht praised all his coaches at Iowa for helping him navigate through the daily grind that comes with playing two demanding sports.
Both programs are working together and making sacrifices, so the 6-foot-4, 205-pound Brecht can pursue his dream of playing two sports.
Even though it's baseball season, Brecht still spends a lot of time with Iowa receiver coach Kelton Copeland.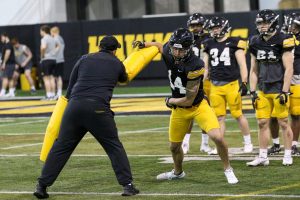 "He's been helping me a lot, just if I need to vent or if I need to talk to anybody, he's always been in my corner and always supporting me," Brecht said. "He's always told me that he wants me to fulfill my dream of doing two sports here. So, I can't thank him enough for what he's done."
Iowa pitching coach Robin Lund also has played a key role in helping Brecht pull off this daunting task.
"He's been great, too, just managing my workload and making sure I'm staying healthy and taking care of my body," Brecht said.
Brecht also has done his part to help the coaches by being open, honest and transparent.
"It's worked out great and so much of it depends on Brody and just making sure that he lets us know if needs to do something with football and he lets football know he needs to be doing something with baseball," said Iowa baseball coach Rick Heller. "Just him communicating and turning into a mature, young adult and speaking for himself and not just being the pleaser because when you do that you end up in a bad situation when you're just trying to please both and going that route. But so far, it's been good."
Brecht is coming off one of his best performances as he pitched two scoreless innings and had four strikeouts against Central Michigan.
He also is in line to pitch in relief in Wednesday's game at Bradley.
"He's really improved in the last couple weeks," Heller said.
As is the case with most freshmen pitchers, Brecht has struggled at times with locating his fastball, and with adjusting to batters that are more patient and selective at the plate compared to high school batters.
"It's basically fastball command for him and being able to locate his fastball early in the count so that he can get guys to chase up in the zone with his good fastball later in the count, and then being able to hit with his secondary pitch when he needs to," Heller said. "That's no different than a lot of the guys, but that's what most freshmen have to deal with the most, just how important it is to get ahead in the count then he gets the chases.
"But guys are coming in to every at bat against Brody saying alright, we're going to take until we get a strike. We're going to make him throw strikes, and he knows that."
Brecht and fellow freshman Marcus Morgan were two of the more heralded pitchers to sign with Iowa in years.
But Morgan also has struggled with throwing strikes and has allowed too many free bases with 12 walks in 14 innings.
"Me and Marcus were both kind of the top dogs in high school, so it's just kind of an adjustment," Brecht said. "We're actually learning to pitch out here and we can't just throw the ball hard. So, we've got to locate and hit with our off-speed and all that stuff."