By Pat Harty
IOWA CITY, Iowa – The way the Iowa football players describe it, some of the best conversations and story telling takes place during position meetings.
There is a level of comfort with players with whom you are familiar and spend most of your time around.
When the Iowa defensive linemen meet as a group, senior defensive end Joe Evans becomes quite the storyteller because he has quite a story to tell.
Because it's not often that an Iowa defensive lineman can tell stories about having played quarterback in high school.
Evans has gone from being a former star quarterback at Ames High School to now starting at defensive end for Iowa.
He came to Iowa as a walk-on linebacker in 2018, but then switched to defensive end in the spring of 2019 to help build depth and with the hope of getting on the field sooner.
Hope has since turned into reality as Evans has been a key contributor over the past two seasons, mostly as a pass rusher.
"I love this place," Evans said Tuesday. There's no other place I'd rather be. They did a great job of finding a role for me."
Evans hardly resembles the 200-pound quarterback that used to lead the Ames offense.
He now carries about 250 pounds on a muscular 6-foot-2 frame, thanks to Iowa's strength and conditioning program, and he is listed as a starter on the spring depth chart at defensive end, along with close friend and roommate John Waggoner.
Evans and Waggoner used to be high school rivals with Waggoner having graduated from perennial powerhouse West Des Moines Dowling Catholic.
And though Waggoner's team always won in high school, Evans still likes to remind him about the success that he had against Dowling's defense. They enjoy teasing each other and reminiscing about the good old days.
"He talks about it all the time," said senior defensive tackle Noah Shannon. "Him and John always go at it because they played in high school, Ames versus Dowling. They always go back and forth."
Shannon and Evans make up one half of Iowa's starting defensive line, but how they reached this point couldn't be more different.
Shannon came to Iowa as a defensive tackle on scholarship and he has played defensive tackle throughout his career.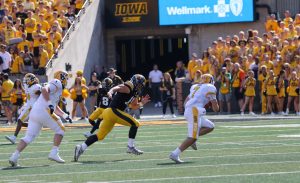 Evans, on the other hand, has climbed a more unusual path up the depth chart.
But he also symbolizes Iowa football under Kirk Ferentz in how he switched to a position where he has since thrived.
"He came out of high school and played QB to linebacker to defensive end, a traditional Iowa story," Shannon said. "Playing all these positions is really crazy."
Evans still has trouble convincing those not familiar with his background that he used to play quarterback in high school.
They look at him now and find it hard to believe.
"I'll be with my buddies and they'll be like, you know he was a quarterback in high school, and they'll be like, 'no way.'" Evans said. "But they didn't see me in high school when I was 200 pounds. I just look a lot different.
"But yeah, they'll definitely take a little step back and don't believe me at first. And then I'm like, no, I did play quarterback."
As a walk-on, Evans was just grateful for the opportunity and was willing to do just about anything to get on the field.
He was excited when the coaches asked him to switch from linebacker to defensive end because he trusted their judgment and because he knew about all the other players that had success after switching positions.
"For me, my mentality coming in here was to do anything I can to get on the field." Evans said. "I just think some of these guys, oh, I'm this position and I need to play this position. I just kind of came in with an open mind and if it switches up, things happen."
One thing that has suffered since Evans became a Hawkeye is his ability to throw a football.
"I go out and maybe throw the pigskin around with my brother or my dad and it's not whistling like it used to," Evans said. "But I've probably got about ten good throws left in me."
Evans and Shannon were among five Iowa defensive players that met with the media on Wednesday to talk about spring practice.
The others were defensive backs Riley Moss and Kaevon Merriweather and defensive tackle Logan Lee.
They all talked about the importance of being veteran leaders, and Evans believes that his experience as a high school quarterback has made him a better leader in college.
"At a young age, I was able to lead a team and lead an offense," Evans said. "So, just being able to do that and learn from my experiences I think has helped me being a defensive lineman, for sure.
"I think we're doing a great job of trying to help the younger guys and being more vocal in the room."
And while Evans' journey from high school quarterback to a starting defensive end at Iowa is highly unusual, it isn't unprecedented.
Former Hawkeye Parker Hesse made the same switch and would go on to be a three-year starter for Iowa.
Evans has been a key contributor for the Hawkeyes, but this coming season will be his first as a full-time starter.
He mostly has been used as a pass rusher, but his role should expand next fall now that former All-Big Ten defensive end Zach VanValkenburg has used up his eligibility.
"I'm just working on my fundamentals and just honing in on those this spring," Evans said when asked if he is now a three-down player. "I'm really working on the run game and just trying to work on all aspects of my game."
Evans credits former Iowa defensive ends and current NFL players A.J. Epenesa and Chauncey Golston for helping to pave the way for him to have success.
"We actually talked about this the other day at practice, just being able to learn from the older guys and how much that helped me," Evans said. "I think that's kind of where I took my step. Seriously just sitting down and watching.
"A.J. was such a huge help to me, especially that first spring and first year. A.J. and Chauncey, just thinking about those guys and what they meant to me is unbelievable."