By Pat Harty
IOWA CITY, Iowa – No matter how hard he tried to live in the moment, Iowa defensive back Riley Moss couldn't stop thinking about his future during the latter stages of last season.
Should he stay or should he go?
Should he take advantage of the free Covid year and return to Iowa for a fifth season as a cornerback?
Or should he pursue his dream of playing in the NFL?
Moss agonized over that decision to the point where it became a huge distraction and an inconvenience.
He ultimately decided to return to Iowa, but reaching that decision caused a great amount of discomfort.
"Over the last probably month (of the season) I was losing sleep and it was tough to focus on the things that I needed to focus on because it was such a big decision," Moss said Tuesday. "It kind of sucked, to be honest.
"Go to the NFL and make millions or stay. It's a win-win. But at the same time, you want to make sure that you're making the right decision for yourself."
Moss certainly had momentum on his side after having been named the Big Ten Defensive Back of the Year last season.
And there was a period when he was leaning towards leaving for the NFL.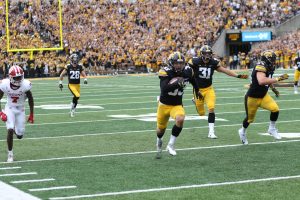 "That was the problem," Moss said. "Most of the season I was sold on leaving. And then I started really thinking about it and I started weighing the pros and cons and it was hard.
"I'll be honest with you, it sucked. I don't wish it upon anyone. But it was hard. I'm just glad I came out and made the right decision."
Moss and former Iowa defensive back Jack Koerner consulted with each other throughout the decision-making process.
Koerner ultimately decided to leave for the NFL as a fifth-year senior, while Moss felt it was in his best interest to return to Iowa for a fifth season.
"That was tough, and me and Jack figured out that we were going to do what's best for ourselves," Moss said. "It's supposed to be a selfish decision and we kind of figured that out later on. And he feels like he made the right decision and I think he did as well. And I absolutely think I made the right decision."
Moss said Tuesday that he let the draft become too much of a distraction, especially in the days leading up the Big Ten Championship game against Michigan and in the days leading up the Citrus Bowl against Kentucky.
Iowa lost both games by scores of 42-3 and 23-20, respectively.
"The thing that was on our mind was, are we staying or are we leaving?" Moss said. "It was tough for us to figure that out because we were kind of staring down the barrel of a gun there. It was like, we've got to decide soon, and that's not something we should've been focused on the night before the game.
"But it's tough, especially in this day and age. Agents are pushing you to make that decision early and sign with a team. So, you've got this whole map laid out and the night before the game you should be focused on the game and we were focusing on, are we going to leave? Or are we going to stay?
"But in terms of the Big Ten championship and the Citrus Bowl, yeah, we wish we could have those games back. Definitely winnable games in our eyes. But I don't that had too big of an effect on my decision to stay or leave."
Moss said he and Koerner had devised a plan in which they would prepare for the draft together in Florida. They even had the same agent lined up.
"That was tough, but we made the right decision for ourselves individually," Moss said.
Moss said he finally made the decision while staying in Orlando, Florida for about six days after the Citrus Bowl.
He then came back to Iowa City and met with Iowa defensive coordinator Phil Parker.
"I remember my meeting with coach Parker, he said I'm not going to pressure you to stay and I'm not going to pressure you to go," Moss said. "I'm just giving you facts so you can understand whether you want to stay or go.
Moss then met with Kirk Ferentz and that's when Moss made it official.
"After meeting with coach Parker, I met with coach Ferentz and I sat down with him and I said I think I'm ready for another year, another go at it," Moss said. "I've got some unfinished business to do."
Moss is now preparing for a rare fifth season of competition.
The Ankeny native has started 26 games at Iowa and appeared in 41 games overall.
He was honored as the conference's top defensive back last season despite missing three games with a knee injury.
He also had four of Iowa's program record 25 interceptions last season, including two pick sixes in the season opener against Indiana.
As for his academics, Moss already has graduated and is now taking a wide range of classes that include Acting for Success, Human Sexuality and a poetry class.
"I'm broadening my horizons, I guess you could say," Moss said. "It's been interesting."