By Pat Harty
IOWA CITY, Iowa – Despite growing up in California and having previously been committed to two schools from the Pacific-12 Conference, it seems that defensive back TJ Hall was always destined to be an Iowa football player.
It just took a while for things to sort out, and for a path to clear.
The same kid who made a verbal commitment to Arizona in early July 2021, and then de-committed later that same month before committing to Washington, is now among six members of Iowa's 2022 recruiting class who enrolled at Iowa in January and are currently participating in spring practice.
Maybe it was inevitable that Hall would ultimately become a Hawkeye because recruiting is mostly about building relationships and trust, and about finding the best place to excel and be happy.
Hall found that place at the University of Iowa, and he did so largely because of his father's long-time friendship with former Iowa offensive coordinator and former Western Illinois head coach Don Patterson.
Hall's father, Terrence Hall, was a star receiver for Patterson at Western Illinois in 2002 and 2003.
They have remained close over the past two decades, and that's why Terrence Hall reached out to Patterson about 2 ½ years ago and asked him to evaluate his son as a football prospect.
TJ Hall had just finished his sophomore year of high school football as a defensive back and receiver in Fresno when his father asked Patterson to evaluate him.
"He was simply wondering do you think my son can be an FCS player and what's going to enhance his scholarship opportunities?" Patterson said Thursday." What can he do to improve on those opportunities?
"That's what we talked about when he was a sophomore. We never mentioned Iowa. It was just all general stuff about what he needed to do to improve his stock in recruiting."
Terrence Hall also reached out to Patterson last summer, but this time, Iowa football was the focus of their conversation.
TJ Hall had used Patterson's critique to help become a sought-after recruit, but he was uncertain about signing with Washington and also had started to consider Iowa. So, his father wanted Patterson to see if Iowa would be interested in recruiting his son, and if so, then help to build a relationship.
"I had talked to coach, and I was like, you know what, does Iowa need a 6-2 corner?" Terrence Hall said Thursday in a telephone interview. "He's like, I don't know. Let me see.
"So, he looked into it, and he had Tyler Barnes check out his film and then Iowa reached out and started following him and then the ball started rolling."
Tyler Barnes is a son in law of Iowa head coach Kirk Ferentz and has served as Iowa's Director of Recruiting since 2016.
Barnes also reached out to Patterson last summer to see just how serious TJ Hall was about being a Hawkeye.
Iowa doesn't normally recruit in California, so Barnes, according to Patterson, didn't want to waste time if TJ Hall wasn't serious about playing for Iowa.
Barnes would soon learn that recruiting TJ Hall would not be a waste of time.
In fact, Iowa had some built-in advantages with TJ Hall that no other school, including Michigan, could match, and that was Terrence Hall's friendship with Patterson, and also Patterson's connection to Hayden Fry.
"It's the ghost of Hayden Fry because he wouldn't have hardly even heard about Iowa if it wasn't obvious to his dad that we were running the same plays that Iowa ran," said Patterson, who was an Iowa assistant coach throughout Fry's 20-year reign as the Iowa head coach from 1979 to 1998.
Patterson told Terrence Hall that Iowa was interested in his son, but just wanted some assurance that the interest was mutual.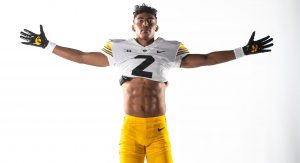 "I called Terrence and said, Iowa doesn't want to waste time. They don't spend a lot of time on the West Coast for obvious reasons," Patterson said. "But they just want some kind of indication that they wouldn't be wasting their time to pursue TJ.
"And Terrence said, 'coach, all I can tell you is I know it might sound crazy, but it really is true, ever since T.J. was a little boy, he's heard about my playing days at Western Illinois. And he's heard about the fact that I played in Hayden Fry's offense; that the offense we had at Western was the Iowa offense. It may sound crazy to you, but he's always felt a kinship with Iowa because in his mind, I played for Iowa, played for the Iowa offense is really what he meant."
Once the Iowa coaches realized just how serious TJ Hall was about being a Hawkeye, the relationship started to grow, and Iowa would soon become the frontrunner.
Hall took his official visit during the weekend of the Oct. 9th game against Penn State and he and his parents watched Iowa defeat the No. 4 team in the country 23-20 at a packed Kinnick Stadium. Fans then stormed the field to celebrate, leaving TJ Hall and his parents in awe.
"He had never experienced anything like that," Terrence Hall said of his son.
The coaching stability at Iowa also made a strong impression on TJ Hall, and on his parents.
Kirk Ferentz is the longest tenured head coach in the country and is preparing for his 24th season at Iowa.
He is also Iowa's all-time winningest football coach with a 178-110 record.
"They have the eye for talent, and for me personally, the coaching staff being there for over 20-plus years, that was big," Terrence Hall said. "And the connection from my coach to them, that was big. So, it was almost like a match made in heaven."
Brutally honest approach
And while Patterson helped to launch the relationship between TJ Hall and Hawkeye football, Iowa defensive coordinator Phil Parker helped to close the recruiting deal.
Parker also coaches the Iowa defensive backs and is known for being tough and demanding.
But his way also produces results, considering Iowa has had 16 defensive backs selected in the NFL Draft under Phil Parker.
"That was the number one thing," Terrence Hall said. "My son, he likes to be coached hard and we've known about how coach Parker likes to coach hard. And so, my son was like, you know what, that's the kind of coaching that I like. That's the kind of coaching that I want.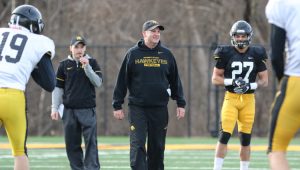 "A lot of people might shy away from that type of coaching, but he looks forward to it, that brutally honest approach. He loves it. He needs it. That was definitely a big part of it. He just wants to be coached by the best at the end of the day."
Terrence Hall said he has spoken to his son almost daily since TJ Hall arrived in Iowa City in January.
And he likes what he has been hearing from TJ.
"I try to talk to him once a day at least, I try to," Terrence Hall said. "It doesn't happen all the time being there is a two-hour difference. But I try to talk to him and just keep him encouraged and all those good things.
"But he says he loves it. Everything is great. The weather adjustment has been no problem. The team is great. The coaches are great. He has no problems with Iowa, or with Iowa City at all."
TJ Hall also has Don Patterson should he ever need him for anything.
"I never really thought about that because in the drop of hat I'll be there for him with my wife," Terrence Hall said. "But (Don) being there is a blessing. If there was an emergency, I wouldn't hesitate to call him."
Patterson, who lives in Iowa City with his wife, has told TJ Hall and his parents that he would always be there if needed.
"I made sure that the parents understood, and I made sure that TJ understood, if you think you'd be calling me up at the wrong time, that would be impossible for you to be able to do that," Patterson said. "If you have a problem, I want to do anything to help you solve it.
"So, don't feel like you have to wake mom and dad up in the middle of the night. You can call me instead. If you have any kind of issue, or if you just want to get out of the dorm for a while, let me know."
Patterson is close with both of TJ Hall's parents dating back to when they were all together at Western Illinois.
Terrence and his wife, Monique, were high school sweethearts in Fresno, and she accompanied him to Western Illinois and worked in the Western Illinois football office under Patterson.
"It wasn't just a connection with dad, it was a connection with mom and dad," Patterson said. "I think she had a high level of trust with me, and I know that Terrence did. She saw me as not just as Terrence's coach, but as the guy in charge of the football office, too. She saw me interact with all kinds of people."
Terrence Hall credits Patterson with helping him reach his potential in football, and for helping to prepare him for life after football.
"Coach has been a great mentor. Playing for him back at Western Illinois, he taught me a lot of things. Always has had great character and watching how he led our team. He meant a lot from that standpoint. He's always been up front and honest and has great integrity."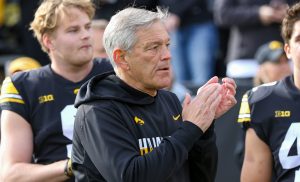 Patterson's opinion of Iowa head coach Kirk Ferentz also played a role in TJ Hall's decision to sign with Iowa.
Patterson and Ferentz spent nine years together as Iowa assistant coaches under Hayden Fry and Patterson still helps with analytics at no cost to the football program, and he also attends practice on a somewhat regular basis, along with all the home games.
"I think what did matter to both parents; I said this much I can tell you; Kirk Ferentz is one of the finest men I've ever known," Patterson said. "And if I had a son, I would be thrilled if he chose to play for Kirk. I did tell them that over the phone before they visited."
As for TJ Hall's potential in football, Patterson is reminded about another lanky defensive back who thrived at Iowa.
TJ Hall was listed at 6-foot and 170 pounds when he signed with Iowa.
"As I watched his senior video, I made the comment that he kind of reminds me a little bit of Merton Hanks," Patterson said of the former Iowa All-Big Ten defensive back and NFL standout. "Because he's a little bit longer than most corners and I think he's got better hands than Merton did because his dad had great hands. And he had a lot of success as a receiver in high school."
TJ earned all-conference and all-state honors as a senior and was named team MVP and conference specialist of the year. He played defensive back, receiver and quarterback in high school. His high school team also won three consecutive league championships.
Iowa All-Big Ten cornerback Riley Moss spoke highly about TJ Hall's potential earlier this week.
"TJ came in and he's been very impressive," Moss said. "He's got great feet, great hips. He probably needs to put on a couple more pounds, but he's came in and competed with the best of us."
Why wait?
TJ Hall passed up his final semester at San Joaquin Memorial High School in Fresno to get started sooner as a Hawkeye.
He and fellow defensive back recruit Xavier Nwankpa are both currently enrolled at Iowa and participating in spring practice.
Nwankpa attended Southeast Polk and was considered by many the top safety recruit in the 2022 class.
He didn't have to travel far to be a Hawkeye, unlike TJ Hall.
But Terrence Hall said his son was ready for college, so why wait?
TJ Hall in addition to being class president, also made the honor roll throughout high school.
"He had already completed everything, so we didn't see any reason for him to just sit around and just waste time.," Terrence Hall said. "It wasn't always the plan. But when we looked at everything and all of his requirements and he had already completed everything, we just tried to get the ball rolling. Why wait when you can go now?
TJ Hall, whose initials stand for Terrence Javaughn, is the oldest of four children and a source of pride for his parents, and for his siblings, who now wear Iowa jerseys to help promote the Hawkeyes in California.
"We're proud of him, me and my wife," Terrence Hall said. "We're very proud of the character that he has displayed over the years."