By Pat Harty
IOWA CITY, Iowa – Thirty things in no particular order about Hawkeye football history that might surprise you:
Since 1979, the Iowa football program has had just two head coaches, four defensive coordinators and five offensive coordinators.
That's nine different coaches over 43 years.
Louisiana State, on the other hand, has had 10 head coaches during that time, while Illinois has had nine.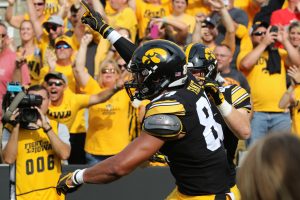 2. Noah Fant scored touchdowns on 19 of his 78 receptions over three seasons as an Iowa tight end from 2016-18.
To help put that in perspective, Tim Dwight scored 21 touchdowns on 139 catches over three seasons as an Iowa receiver from 1995-97.
3. Eddie Vincent and Larry Ferguson, both of whom played running back for Iowa in the 1950s, are the only players in program history that are ranked in the top 50 in career rushing yards to average at least six yards per carry.
4. Jake Christensen as an Iowa quarterback threw for 335 more yards than 1958 Heisman Trophy runner-up quarterback Randy Duncan; 2,950 to 2,615.
5. Frank Kinney Holbrook made history as the first African-American football player at Iowa from 1895-96, and approximately 75 years before Wilbur Jackson earned that same distinction at Alabama.
6. Sam Brownlee led a 10-2 Big Ten champion Iowa team in rushing in 2004 with 227 yards on 94 carries, an average of 2.41 yards per carry. He also didn't score a touchdown.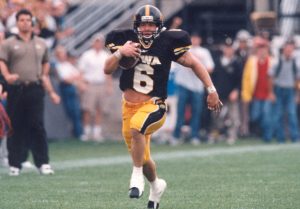 7. Tim Dwight is the only player in the history of college football to return punts for touchdowns against Ohio State, Michigan and Penn State.
8. The Iowa football team under Kirk Ferentz has had more players selected in the first round of the NFL draft (10) than in the seventh round (7). All-America center and Solon native Tyler Linderbaum is set to become Iowa's 11th first-round pick under Ferentz later this month.
9. Of the 79 Iowa players selected in the NFL draft under Kirk Ferentz, only four were receivers, just three were quarterbacks and two were running backs, while 60 played either offensive line (18), defensive back (16), defensive line (15) and tight end (11).
10. Iowa only had three players – Mike Wells, Fritz Fequiere and Scott Slutzker – selected in the NFL draft during a three-year stretch from 1994 to 1996.
11. Iowa had 18 players – Bryan Bulaga, Pat Angerer, Amari Spievey, Tony Moeaki, A.J. Edds, Kyle Calloway, Adrian Clayborn, Christian Ballard, Ricky Stanzi, Kal Klug, Julain Vandervelde, Tyler Sash, Rikey Reiff, Mike Daniels, Adam Gettis, Shaun Prater, Marvin McNutt and Jordan Bernstine – selected in the NFL draft during a three-year stretch from 2010 to 2012.
12. Quinn Early was on the receiving end of two of the three longest pass plays in the history of the Iowa football program; a 95-yarder from Chuck Hartlieb against Northwestern in 1987, and a 93-yarder from Mark Vlasic against Northwestern in 1986.
13. Ryan Donahue has two of the five longest punts in program history and six of the 25 longest punts overall.
Nile Kinnick and Reggie Roby each have one.
14. The Iowa football team hasn't traveled to a road game on the same day as the game since losing at Tulsa 27-20 in 1996. The Tulsa players said afterwards that they were motivated by Iowa arriving just hours before the game because they considered it disrespectful.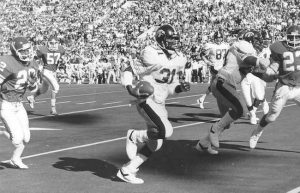 15. Bettendorf native Tavian Banks and Des Moines native Adam Robinson are the only Iowa natives ranked in the top 20 in career rushing yards at Iowa. Banks is ranked fourth with 2,977 career rushing yards, and Robinson is ranked 19th with 1,775 rushing yards.
New Jersey, on the other hand, has four ranked in the top 20: Albert Young (3,173), Akrum Wadley (2,872), Tony Stewart (2,562) and Shonn Greene (2,228), while New York has three: Owen Gill (2,556), Ronnie Harmon (2,271) and Jordan Canzeri (2,073).
16. Former Linebacker Brad Quast is the only non-defensive back ranked in the top 25 in career interceptions at Iowa. He is among four players ranked seventh with 11 career interceptions. The others are Brett Greenwood, Steve Wilson and Plez Atkins.
17. Tim Dwight, Marv Cook and Bill Happel are the only Iowa natives ranked in the top 20 in career receiving yards in the history of the Iowa football program. Dwight (Iowa City) is ranked third with 2,271 receiving yards, Cook (West Branch) is ranked 12th with 1,825 receiving yards, and Happel (Cedar Rapids) is ranked 15th with 1,685 receiving yards.
18. Chuck Long was a running quarterback in high school who attempted about five passes per game.
19. Forest Evashevski was 42 years old when he stepped down as the Iowa head coach in 1960, while Kirk Ferentz was 44 years old when he made his debut as the Iowa head coach in 1999.
20. At least nine of the 22 starters on the 1996 Iowa football team, and top reserve Tavian Banks, would go on to play multiple games in the NFL. The nine players were Tim Dwight, Damon Gibson, Mike Goff, Sedrick Shaw, Ross Verba, Jared DeVries, Matt Bowen, Tom Knight and Damien Robinson.
This is also the team that lost at Tulsa.
21. Scott Slutzker's 167 receiving yards against Penn State in 1995 is the most ever by an Iowa tight end in a single game, and ranks 11th in program history for most receiving yards in a game.
22. Scott Mullen is the only Iowa quarterback besides Chuck Long and Chuck Hartlieb to pass for at least 400 yards in a game. Mullen passed for 426 yards against Indiana in Kirk Ferentz's first season as head coach in 1999,
However, Mullen didn't throw any touchdown passes in the game and Iowa lost 38-31 at Kinnick Stadium.
23. Fort Madison native James Vandenberg is the only Iowa quarterback that didn't grow up in Illinois who is ranked in the top 10 in program history for most passing yards in a single game. His 399-yard performance against Pittsburgh in 2011 is ranked seventh all time.
Chuck Long (4), Chuck Hartlieb (3), Scott Mullen (1) and Jon Beutjer (1) fill the other nine spots.
24. Iowa under head coach Alden Knipe combined to finish 15-0-2 over two seasons from 1899 to 1900 and held 12 opponents scoreless and didn't allow more than six points in any of the games.
25. Iowa didn't have a head football coach in four of its first seven seasons as a varsity program dating back to 1889.
26. Brion Hurley has six of the 27 longest field goals in program history, while fellow Iowa City native Nate Kaeding has five.
27. Ladell Betts passed for 21 more yards as a Hawkeye than Deuce Hogan.
28. All five of Kirk Ferentz's children graduated from Iowa City High and earned degrees from the University of Iowa.
29. Defensive end Sean Ridley still holds the program record for most tackles for loss in a bowl game with seven. The Omaha native accomplished that against Wyoming in the 1987 Holiday Bowl.
30. Walk-on Jim Mauro led Iowa in receiving in 1986 with 30 catches for 600 yards.