By Pat Harty
IOWA CITY, Iowa – While it would be correct to call C. Vivian Stringer one of the greatest and most influential women's basketball coaches of all time, she is so much more than that.
She is a trailblazer and a pioneer for her sport, and for women's sports as a whole.
Stringer's decision to retire after 50 years as a college head coach wasn't a surprise because you could see it coming.
The 74-year-old coach had been on leave this past season because of COVID-19 concerns. She signed a five-year extension before going on leave last April. Her retirement becomes effective on Sept. 1, and she agreed to an $872,988 retirement buyout. Rutgers will name its basketball court in her honor next season.
Stringer finished with 1,055 wins, which is fourth all-time among Division I women's basketball coaches. She made four Final Four appearances and reached the NCAA Tournament 28 times while leading Cheyney State, Iowa and Rutgers.
She is the first coach to lead three different teams to the NCAA Final Four (Cheyney State, Iowa and Rutgers) and she was elected to the Basketball Hall of Fame in 2009.
Stringer became emotional as she talked to her team Friday night on a Zoom call.
"I am officially announcing my retirement," Stringer in a statement. "My life has been defined by coaching and I've been on this journey for over five decades. It is rare that someone gets to do what they love for this long and I have been fortunate to do that. I love Rutgers University for the incredible opportunity they offered me and the tremendous victories we achieved together."
Stringer spent more than half of her career at Rutgers, but she got her start in coaching at Cheyney State, alongside John Chaney, who coached the men's basketball team, before turning Iowa into a Big Ten power in the 198os.
Iowa's decision to hire Stringer was big news at the time, but mostly because she was black.
Iowa Women's Athletic Director Christine Grant took a chance on Stringer at a time when few with hiring power would due to the pressure. Grant was a visionary and a driving force behind racial equality and with the rise of gender equity in college athletics.
Grant would be rewarded for her progressive thinking as Stringer would go on to turn Iowa into a Big Ten power over 12 seasons, winning six Big Ten titles.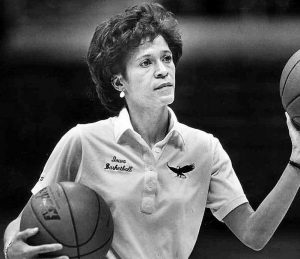 I covered the Iowa women's basketball team during the 1991-92 season, which was my first year at the Iowa City Press-Citizen.
The Iowa program at the time was one of the best in the Big Ten, and Stringer was a rising star in the coaching profession.
She had been at Iowa since 1983, so it had been almost a decade since Stringer was hired when I first met her.
Instead of holding a typical press conference in a press room in which the coach sits at a table in front of a room filled with reporters, Stringer would address the media from her office, unless it was a post-game press conference.
Reporters would come to her office and Stringer would answer questions as they all sat in a group.
I remember that she spoke softly and chose her words carefully.
She spoke with pride and confidence, but was never cocky or arrogant when talking about her achievements, or about Iowa's rise under her watch when she could've been.
The success that Iowa is having right now under Lisa Bluder is so impressive that it deserves comparison to the glory days at Iowa under Stringer.
The knock on Bluder until recently was that she had failed to come close to matching what Stringer accomplised at Iowa.
But with multiple conference championships, and with an Elite Eight appearance in the NCAA Tournament, and with two Sweet 16 appearances since 2018, Bluder is doing Stringer-like things at Iowa.
Stringer excelled in so many ways as a head coach.
She could inspire.
She could strategize.
She could teach.
And, wow, could she recruit.
Her recruiting classes at Iowa always included some of the top players nationally mixed in with a few local stars.
Some instate kids might have felt rejected or overlooked by Stringer, but it was hard to complain when so many of the players that came from out of state were elite, and would go on to be stars at Iowa, players such as Boston native Michelle "Ice" Edwards, who helped lay the foundation under Stringer in the mid-to-late 1980s as a high-scoring guard.
Stringer recruited players from all over the country, from states that included Florida, Michigan, Massachusetts, Maryland, Oklahoma, Indiana and Illinois.
She emphasized defense and toughness, and her formula for success worked brilliantly at Iowa where in 12 seasons Stringer won six Big Ten regular-season titles, twice finished second and won at least 20 games in all but her first and last seasons.
Her crowning achievement was leading Iowa to the NCAA Final Four in 1993, but it also came during one of the saddest and most difficult stretches in Stringer's life with her husband, Bill Stringer, having died barely four months earlier of a heart attack on Thanksgiving morning 1992.
Bill Stringer was only 47 years old when he died suddenly. He worked as an exercise physiologist at the University of Iowa and played a major role in helping Vivian raise their three children.
Bill made it easier for Vivian to meet the demands of coaching by often cooking dinner for the family and being there for the kids when Vivian couldn't.
He was her rock, and had been since they first met at Slippery Rock College as students and throughout their 21 years of marriage.
Vivian Stringer filed a law suit after her's husband's death alleging that her husband had received inadaquate care that led to his premature death.
Her relationship with Iowa never was the same after her husband's death, and by 1995, Vivian Stringer had left for Rutgers.
Her farewell press conference at Iowa was filled with sadness and tears.
"This has been a sad place for me, and I just want to start over," Stringer said at the press conference.
Stringer said her reasons for leaving Iowa were more personal than basketball related, and that she was putting the needs of her family before basketball.
Time has a way of healing emotional wounds and Stringer will always appreciate the impact that Grant, who passed away this past New Year's Eve at the age of 85, had on her coaching career.
"There's always a soft spot in my heart for the University of Iowa and Dr. Christine Grant for giving me my first major coaching position," Stringer said. "She was a strong believer in women's rights and that's a responsibility that I have championed and will continue to take up the fight for."
A native of Edenborn, Pennsylvania, Vivian Stringer has spent her life championing causes that are important to her.
In high school, she sued her school for not allowing her to be a cheerleader because of her race and she won.
Stringer has spent most of her life winning battles on and off the court.
She now heads into retirement knowing that she made a difference for so many young women.