By Pat Harty
IOWA CITY, Iowa – The power of the Hawkeye spirit is displayed in all sorts of ways, some of which gets widely recognized, like the Wave at Kinnick Stadium for example.
The Wave is now considered one of the greatest traditions in sports, and deservedly so because it carries a powerful message when at the end of the first quarter of Iowa football games the players and coaches from both teams, and the fans, turn and wave to the kids on the top floor of the University of Iowa Stead Family Children's Hospital.
But there are also many acts of kindness within the Hawkeye community that don't get much recognition, or any recognition at all.
I happened to learn about one such act and was inspired to write about it in this column because it shows the power of friendship and a side of Fran McCaffery and his players that often gets overlooked.
Most fans only see the players and coaches during the heat of battle, so it's easy to forget or ignore who they are away from the court – unless you're Durk Sterner and his wife, Jill Sterner, who is currently recovering from surgery in which doctors reattached three tendons to her pelvic bone using metal devices.
Jill Sterner was injured early on the morning of March 30th when she stumbled while stepping out of the bathtub.
"She pretty much did the splits and her tendons pulled clear away from her pelvic bone," Durk Sterner said Friday. "This was about six o'clock in the morning and I was still in bed, and I heard the thud and I thought, 'oh no, this can't be good' because she yelled, of course. She was in a ton of pain and crying."
Jill Sterner had what was described as major surgery on April 4 and she now faces a long and grueling recovery process that includes physical therapy at least twice a week.
Jill has been advised by her doctors to take it slowly, and that the recovery process could take up to eight months.
She spends a lot of her time now resting in bed, which isn't easy for somebody who is normally very active.
"She doesn't have to use a walker anymore, but she's on one crutch now," Durk Sterner said of his wife, who has worked for the University of Iowa for the past 25 years in different jobs. "She's ahead of her schedule as far as therapy just because she was always very active and always working out."
Jill Sterner is a diehard Hawkeye fan, and she has a special place in her heart for the Iowa men's basketball team.
Jill has gotten to know some of the current and past players and when they heard about her accident from a mutual friend, Fran McCaffery and the players wanted to do something to help cheer her up.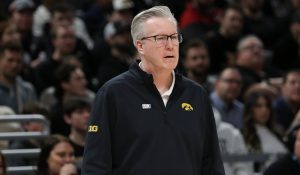 So, Fran and the players, including his two sons Connor McCaffery and Patrick McCaffery, twin brothers Keegan Murray and Kris Murray and Jordan Bohannon all signed a poster and then had it framed with the words the Hawkeyes printed next to a big gold heart on the poster.
"Jill, I hope you feel better soon," Fran McCaffery wrote.
The Schroeder family from Coralville also signed the poster, and it was Stacy Schroeder who told Fran McCaffery about Jill Sterner's accident.
Stacy Schroeder is close friends with both Fran McCaffery and Jill Sterner, so Durk Sterner reached out to Stacy to see if she could do something to help cheer up his wife.
And then about two weeks later, Stacy gave Durk the framed poster to give to his wife.
"She was pretty tickled," Durk Sterner said of his wife. "She was like, 'wow, that's pretty cool.'
"The players were thinking about her. She wasn't just a person that works. They know her and care for her."
Stacy Schroeder and Jill Sterner have been friends for years, and Jill helped Stacy cope with the devastation from losing her son, Austin "Flash" Schroeder to cancer in 2015.
Austin Schroeder was diagnosed with cancer right about the same time that Patrick McCaffery learned in 2014 that he had a malignant tumor on his thyroid.
Austin and Patrick were close friends before they were diagnosed with cancer, and they would become even closer while battling the dreaded disease together, as did their families.
The true value of a friendship often shows during times of adversity and tragedy.
Jill Sterner did what she could to help Stacy Schroeder during her time of need and now Stacy is doing the same for Jill because that's what friends do.
Jill still faces a long recovery, but she also knows that a lot of people are thinking of her and wishing her the best, including her favorite basketball team.