By Pat Harty
IOWA CITY, Iowa – Iowa athletics director Gary Barta apparently longs for the good old days when schools and athletic administrators had more power, control and influence over student-athletes.
Name, image and likeness with help from the transfer portal has turned the world that Barta once benefited from upside down and Barta is now thinking of ways to go back in time, even though, it'll never happen for lots of reasons, not the least of which would be the threat of legal action.
That's the only way to explain Barta advocating for NCAA institutions to bring back one year of ineligibility for athletic transfers as a way to curb what he calls "the wild, wild west" confluence of name, image and likness with the transfer portal.
"If we can't totally control name, image and likeness, then let's go back and put a one year … if you transfer, you can transfer, you don't have to lose your scholarship," Barta said Thursday on the school-produced "Fight For Iowa Podcast. "But you must sit out a year because we can control that, and that, I think, would slow down the name, image and likeness deals.
"A booster isn't going to offer a student-athlete a big sum of money if they know if they come to their university, they have to sit out a year. But at the same time, once the student is there, they can put together a name, image and likeness package that they benefit from."
The problem with Barta's idea, besides that it sends a terrible message to student-athletes, is that it just isn't realistic under the current circumstances because there is no going to back to the way it was before.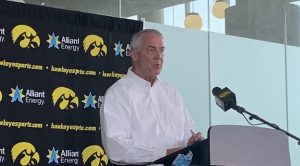 The passing of name, image and likeness was long overdue, and was created in the spirit of fairness, and as the result of growing pressure over decades.
The NCAA resisted the changes for years and was left helpless last June when the United States Supreme Court unanimously upheld lower court findings that the NCAA's regulatory scheme regarding certain player benefits violated the Sherman Act.
Schools like Iowa are now trying to adjust to this new environment, but with Barta wanting to bring back one year ineligibility for athletic transfers, it seems that Iowa is struggling to adjust and needs someone to blame and to punish for its shortcomings.
And while there is reason to be concerned about the rampant tampering officials see throughout football and men's basketball with NIL and with open transfers, Barta's idea just seems to be a desperate attempt to gain back some of the control that was lost.
"Allowing movement of student-athletes will continue and allowing student-athletes to benefit from their name, image and likeness will continue," said Barta, who has been Iowa's athletics director since 2008. "But we've got to get it with some rules. Right now, it's free agency without rules.
"Several years ago, we as an NCAA, made a commitment that when a student-athlete signs a scholarship agreement with us, we must honor that scholarship agreement for four years. If they don't pan out athletically the way we thought, as long as they don't break rules and they stay academically eligible, we have to guarantee that four-year scholarship.
"One of my partial solutions is once the student-athlete signs that scholarship agreement, he or she is now committed to the University of Iowa. We'll allow them to transfer, but they have to sit out a year. That's my answer to holding some sort of accountability. So, it goes both ways."
Actually, it doesn't go both ways because Barta could resign from his job at Iowa, which pays him nearly $1 million annually, and take a new job without any restrictions.
The transfer portal was established in 2018 and was made to help student-athletes again more exposure during the transfer process, and to make it run smoother.
Its impact, along with name, image and likeness has shifted the power from the athletic administrators to the student-athlete, and it's been a dramatic shift with far-reaching consequences.
The NCAA ignored NIL until it was too late, and now has no power or leverage to negotiate.
Iowa appears to be overwhelmed by the impact from name, image and likeness, but instead of getting on board with it, Barta wants to go back in time.
There certainly isn't anything wrong with making student-athletes be accountable, but student-athletes also transfer for different reasons.
Barta's idea just seems out of touch with the new reality.
There probably are other athletic directors that agree with Barta, but aren't willing to say it on the record for fear of a public relations disaster.
The transfer portal certainly has flaws, but it's also here to stay, as is name, image and likeness.
So, instead of advocating for one year of ineligibility for athletic transfers, Barta and his cohorts should be thinking of ways compete in this new world.
Barta's statements on the Fight For Iowa podcast, in addition to being outdated and short-sighted, will also now probably be used against Iowa in recruiting.
And that's the last thing Iowa athletics needs right now.