By Pat Harty
IOWA CITY, Iowa – If you were to pick one Iowa player that has stood out the most under Kirk Ferentz from a performance and from a mentality standpoint, who would it be?
My answer would be Bob Sanders by a long shot.
Nothing against all the other players that have flourished under Ferentz because it is a long and distinguished list of Hawkeye star power.
But Sanders is just different, and in a class by himself.
His rise from an undersized and lightly recruited defensive back who picked Iowa over his only other scholarship offer from Ohio to being arguably the greatest defensive back in program history, and a future NFL All-Pro, is the stuff of legends.
A native of Erie, Pennsylvania, Sanders is credited with changing the tempo in practice when he arrived at Iowa in 2000 and that carried to the field.
Former players have said that to me about Sanders, as has Kirk Ferentz in so many words.
Sanders only stood about 5-foot-8, but he was wrapped in muscles and would go on to thrive in Iowa's strength and conditioning program.
Sanders played the game with controlled violence, sort of like a heat-seeking missile the way he pursued ball carriers.
His style probably wouldn't work as well in today's game due to all the rule changes, but it was a fun to watch unless you were the unfortunate one being tackled.
I remember grimacing from the press box in response to some of Sanders' most brutal hits, just hoping the player he tackled would be okay.
Sanders wasn't a dirty player, but he also showed no mercy and was relentless.
He had a lot of help in rebuilding the program under Ferentz, but Sanders led way more than any other player, thanks to his playing style, work ethic, toughness and courage because it takes courage to throw your body around the way Sanders did.
And that makes him in my opinion the most impactful player under Kirk Ferentz.
**********
Now let's move on to the most impactful player under Hayden Fry, and while it was a tougher decision than picking Sanders was for Ferentz, the edge goes to former quarterback Chuck Long.
My final three contenders came down to Long, Andre Tippett and Reggie Roby.
Long is the pick because of everything that he accomplished behind center and because of when he played for Fry.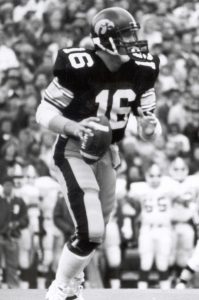 Long led Iowa during its glory days under Fry from 1982-85 and he was the first Big Ten quarterback to pass for 10,000 yards in a career.
Fry was credited with changing the Big Ten's three-yards-and-a-cloud-of-dust mentality, but it was Long who executed the game plan.
It was Long who completed 65 percent of his passes, who threw 74 touchdown passes and who finished runner-up for the 1985 Heisman Trophy after having led Iowa to the Big Ten title that season and to a 10 wins.
Fry and Long worked splendidly together, and it also helped having the brilliance of Bill Snyder as the offensive coordinator.
They helped to change the way football was played in the Big Ten, and with exception to a handful of losing seasons, Iowa has been a solid program ever since.
**********
Moving on to Forest Evashevski and just like with Fry, this was a difficult choice.
My three finalists were Calvin Jones, Alex Karras and Randy Duncan, with Jones getting a slight edge over Karras.
Jones was part of the "Steubenville Trio" that came to Iowa in the mid-1950s from Steubenville, Ohio, along with running back Eddie Vincent and end Frank Gilliam.
They helped lay the foundation under Evashevski, who was in his second season as head coach in 1953 when Jones, Vincent and Gilliam joined the team.
Jones was all set to attend Ohio State, but the chance to play with his two close friends at the same Big Ten school was too good for Jones to pass up.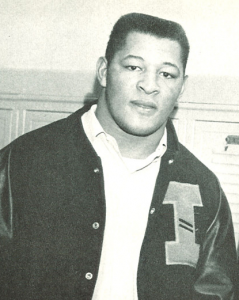 So, he had a late change of heart and would go on to become part of the now legendary "Steubenville Trio."
Evashevski, unlike most head coaches at the time, recruited multiple black players during his nine seasons as the Iowa head coach from 1952 to 1960.
And he was often rewarded for his pioneer spirit, especially in Jones' case.
Jones would go on to become a two-time consensus All-American as a two-way lineman and was the winner of the Outland Trophy as a senior in 1955, the first player from Iowa, and the first black player to win the award that goes to the nation's best interior lineman.
Jones also made 22 All-America teams and his No. 62 is one of just two numbers in program history to be retired.
He still is the only player in program history to make first-team All-American three times.
Jones would go on to play one season professionally in Canada, but he died in a plane crash on Dec. 9, 1956 after playing in the East-West All-Star game.
He was just 23 years old.
**********
The other number to be retired belongs to Nile Kinnick, who is the obvious pick for the most impactful player under Eddie Anderson.
Kinnick is the only player in program history to win the Heisman Trophy, earning that distinction in 1939 while leading the legendary Ironmen to a 6-1-1 record.
You name it and Kinnick did it for the Hawkeyes, from running to passing to blocking to kicking to punting to tackling.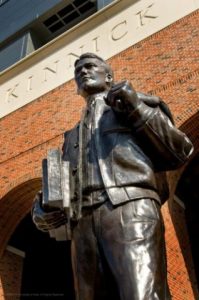 His No. 24 is retired, and Iowa's stadium is named after Kinnick, who died during a training flight while serving as a United States Navy aviator in World War II. His plane crashed off the coast of Venezuela on June 2, 1943.
The fact that Kinnick died so young at the age of 24 while serving his country, and with so much promise and potential made him a legend.
His Heisman Trophy speech still is considered arguably the best of all the Heisman speeches, and it's played on the video board just minutes before the start of Iowa football games at Kinnick Stadium.
Kinnick was named the Associated Press Male Athlete of the Year in 1939, beating a field that included New York Yankee legend Joe DiMaggio.
Kinnick was also inducted in the College Football Hall of Fame in 1951.
**********
Speaking of legends, Fred "Duke" Slater would certainly qualify as one and he is the pick as the most impactful player under Howard Jones, who coached at Iowa from 1916 to 1923.
Slater played tackle and was a first team All-American in 1921 and a member of Iowa's 1921 team that finished 7-0 and that held all but one opponent to seven or few points.
He joined the NFL the following year, becoming the first black lineman in league history. He played 10 seasons in the NFL for the Rock Island Independents and the Chicago Cardinals garnering seven all-pro selections.
Slater would go on to become an attorney in Chicago and was the second African-American judge in Chicago history.
When Slater arrived at Iowa in 1918, eligibility rules had been suspended due to World War I. Slater was able to play football as a freshman and earned four letters at Iowa from 1918 to 1921.
Iowa compiled a record of 23–6–1 during Slater's four years on the team.
He not only dominated in the trenches, but did so despite not wearing a helmet.
Iowa's Slater Hall is named after Slater, as is the playing field at Kinnick Stadium.