By Pat Harty
IOWA CITY, Iowa – The sport of basketball combined with Fran McCaffery's influence have helped to change the course of Courtney Eldridge's life.
Eldridge reflected on his journey, and on his new job, during a zoom conference with the media on Tuesday.
It was his first interview with the media since being elevated to an Iowa assistant coach under Fran McCaffery in late April.
Eldridge has been on the Iowa staff the past six seasons, serving as the program's video coordinator from 2017-19 and director of recruiting and player development the last three years.
He was elevated to assistant coach shortly after former assistant Billy Taylor resigned in April to become the head men's basketball coach at Elon University.
Eldridge and Fran McCaffery have a relationship that dates back to when Eldridge played point guard for McCaffery at North Carolina-Greensboro from 1998 to 2002.
Eldridge didn't just play point guard for Fran McCaffery, he played it a very high level and is one of just three UNGC greats to have their jersey number retired.
He helped Fran McCaffery get to where he is today as a head coach for a Big Ten school, and now McCaffery is helping Eldridge get to where he hopes to be some day in coaching.
"Coach McCaffery has been very influential in my life, just seeing how he comes in the office on a day-to-day basis," Eldridge said. "Wins, losses, he is a great family man and a role model of mine, father figure of mine, and somebody I look up to with tremendous respect in the way he carries himself."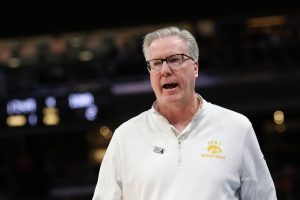 "I hope to kind of emulate him one day."
Fran McCaffery has shown in his 12 seasons as the Iowa head coach that loyalty and familiarity both mean a great deal to him when looking to hire an asssistant coach.
Fran McCaffery is now searching for another assistant to replace Kirk Speraw, who announced earlier this month that he was retiring after having spent the past 12 seasons on the Iowa staff.
It's reasonable to assume that McCaffery will hire somebody who has a connection either to McCaffery, to Iowa basketball or to both.
Most head coaches are like McCaffery in that they hire coaches who they know personally
A native of Boston, Massachusetts, Eldridge came to Iowa six years ago because he had a connection to Fran McCaffery.
They both trust each other and share a mutual respect.
Eldridge has embraced every role given to him by Fran McCaffery, and has spent the past six years preparing for this moment, and for this opportunity.
"Those hours spent in the video room, I can't put a price tag on how important it was to me to really get in at that level and really study that," Eldridge said of his role as Iowa's video coordinator. "I recommend that for a lot of people trying to get into this business to really get in that video room and study."
Following his celebrated college career, Eldridge played professional baskeball in Brazil, Poland, Italy, Belarus, Turkey, and the Dominican Republic. In addition to working men's basketball youth camps, he was a high school boys basketball coach at East Boston High School and Saint Joseph Prep School in Brighton, Massachusetts.
Eldridge helped UNC-Greensboro post three winning seasons, including a 20-win campaign in 2002. He was part of the Spartans' 2001 NCAA Tournament team that won the Southern Conference Tournament title and finished with a 19-12 record. As a senior, he led the Spartans to the SoCon North Division co-championship and an appearance in the National Invitation Tournament with a 20-11 record.
Eldridge was a two-time SoCon First Team selection, as well as a two-time SoCon All-Tournament recipient. He is the Spartans' all-time leader in assists (584) and is third in program history in steals (226). Eldridge is UNCG's single season assists leader with 182 in set in 2002, while also holding the second (179 in 2001) highest mark in school history. His 82 steals in 2001 and 78 in 2002 rank third and fifth in a season, respectively. Eldridge is 13th all-time in UNCG scoring history with 1,329 career points and fourth all-time with 395 career free throws made.
In many ways, Eldridge defied the odds as an undersized and lightly recruited point guard, and he now uses that same chip-on-the-shoulder mentality to coach, and to recruit.
"I know that I maybe don't have the best resume that some other coaches might have, but I think my twelve years of playing experience is very valuable," Eldridge said. "I'm able to relate to our guys and build relationships with guys from all over the country, and all over the world for that matter."
Eldridge played a key role in the recruitment of four-star point guard Dasonte Bowen, who signed with Iowa this past November.
Bowen, who is from Worcester, Massachusetts, attends Brewster Academy in New Hampshire and has been close to Eldridge for most of his life. Eldridge has been a mentor for Bowen, and their bond gave Iowa something that no other school could match.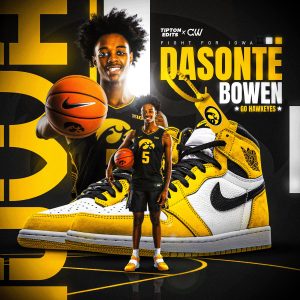 Iowa was also the first school to offer Bowen a scholarship, and that was largely due to Eldridge getting Fran McCaffery involved early in the recruiting process.
"I've known Dasonte almost since before he was born," Eldridge said. "I know his older siblings. His father, Ray, is a Boston city police officer, so I played for him in the Boston Police Athletic Leagues growing up. So we do have a special bond that extends beyond the basketball floor.
"I first took coach McCaffery to see him when he was like 15 years old. Took coach to watch him play down in Georgia and coach said, "I'll take this kid right now." He was going into his sophomore year and we just kind of stayed on him and monitored him and he just got better year and year out and developed somewhat of a skill set that we haven't had at the point guard position since I've been here."
Eldridge hopes that Bowen's decision to attend Iowa will convince other players from the East Coast to do the same.
"I'm excited about him. I can't wait to get him on campus here in a couple weeks," Eldridge said of the 6-foot-3 Bowen. "I've got a lot of high expectations for him and everybody back home is excited that him and I are together here. And hopefully, it builds kind of a bridge back from the East Coast to Iowa."
Eldridge spoke highly of the assistant coach whose job he just filled, calling Billy Taylor an "awesome role model." They first met when Taylor was an assistant coach under Fran McCaffery at UNC-Greensboro.
"He was my assistant coach at UNCG and probably the coach I hasdthe best connection with," Eldridge said of Taylor.