By Pat Harty
IOWA CITY, Iowa – There seems to be a growing belief that Iowa Hawkeye athletics is struggling with both name, image and likeness, and with the NCAA transfer portal.
While the NIL concerns might be justified based on the lack of noticeable progress in that area, the concerns with the transfer portal, mostly in relation to football and men's basketball, seem misguided and premature.
Because for as long as Kirk Ferentz and Fran McCaffery are head coaches at Iowa in football and men's basketball, respectively, the transfer portal will be used mostly to fill a specific need rather than to overhaul a roster or to look for a quick fix.
And that's how it should be at a school like Iowa where football and men's basketball are both developmental programs in which most of the players get better over time.
The transfer portal certainly has its value, and Kirk Ferentz and Fran McCaffery have both used it to address specific needs, but they also have been very selective in doing so.
Iowa needed help on the defensive line a couple years ago and Ferentz added Zach VanValkenburg and Jack Heflin from the portal. VanValkenburg would go on to be a multi-year starter and an All-Big Ten selection for the Hawkeyes at defensive end.
Iowa also added receiver Charlie Jones from the portal, and he has since developed into arguably the best return specialist in the Big Ten.
Fran McCaffery added former guard Bakari Evelyn and current forward Filip Rebraca from the portal, and it both cases, it has paid dividends.
Evelyn was a key player off the bench in his only season as a Hawkeye in 2019-20, while Rebraca started every game last season and is expected to start again next season.
McCaffery was hoping to add a post player from the portal this spring, but so far, he has come up short.
That could prove to be a major problem, especially if Kris Murray decides to stay in the 2022 NBA draft, but don't expect Fran McCaffery to panic or change his approach to the portal.
Iowa already has two post players on the current roster in Josh Ogundele and Riley Mulvey, so it's not as if the cupboard is bare.
The problem with roster overhauls and with quick fixes is that it's hard to build chemistry and trust with players always coming and going.
Kirk Ferentz and Fran McCaffery both take pride in building relationships and developing players over time through hard work, focus and repetition.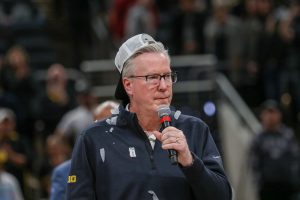 The risk with both the portal and with NIL is that they can disrupt a team's chemistry by creating resentment between players.
Kirk Ferentz and Fran McCaffery are both determined to not let that happen under their watch.
Some might accuse them of being out of touch and too old-fashioned or too stubborn to adjust to the times.
But it's more a case of them both sticking to their values and beliefs and understanding the environment in which they work.
If Kirk Ferentz and Fran McCaffery both had their way, there probably wouldn't be a transfer portal or name, image and likeness.
Neither has been shy about voicing their concerns about the negative impact from both the portal and from NIL.
The problem with NIL, however, is that neither Kirk Ferentz nor Fran McCaffery has any say or influence about how it should be handled, at least publicly.
It's all up to the donors and former players to make it happen.
It seems unlikely that Iowa would ever be a groundbreaking force with NIL, but it also can't just dismiss it because other teams would use that against Iowa in recruiting.
You hate to think that Iowa might lose a star recruit from not having a competitive NIL deal to offer as an enticement.
But as far as the transfer portal goes, Kirk Ferentz and Fran McCaffery are both handling it the right way under the circumstances.
And it's hard to argue with the results with the Iowa football team having won the Big Ten West Division last season, and with the Iowa men's basketball team having won the Big Ten Tournament and 26 games overall.
Iowa will add a tight end from the portal this summer in response to having lost two tight ends to attrition.
That's how Kirk Ferentz chooses to use the portal, and Fran McCaffery is the same way.
They both would prefer to build from the ground up, and with players they recruited from high school.
That approach might not be as exciting as using the portal to build a roster, or for a quick fix, but it seems better for the long run.